One of the finest nonfiction writers and educators Alaska has ever produced has left us.
It was way too soon. Barely in her early 60s, author/essayist and Professor Sherry Simpson passed on the morning of Wed., Oct. 21, the result of a rapid decline after doctors discovered an inoperable brain tumor. Sherry soon fell into an irreversible coma and slipped away.
For decades, Sherry touched so many lives. The shock of losing her so suddenly has stunned Alaskans and non-Alaskans alike, including her grieving family, her friends, colleagues, her students and former students.
For those familiar with Sherry's work, this literary giant dazzled readers, no matter what she wrote about, with uncanny insights into the human condition cascading off the page, fueled by a ferocious work ethic, a brilliant mind, and a tender heart. 
For example, in 2003 Sherry published an essay about Christopher McCandless, the 24-year-old who hitchhiked to Alaska and wandered into the woods just north of Denali National Park and Preserve in the early 1990s, only to starve some weeks later in an abandoned city bus. McCandless was made famous by author Jon Krakauer's 1996 bestseller Into the Wild and in a subsequent movie about him years later, directed by Sean Penn.
The sanctimonious Alaskans among us mocked McCandless mercilessly for years, until he faded from memory, for naively believing the Alaska wilds are benign and forgiving and not potentially lethal. Sherry's spot-on essay on McCandless first appeared in this newspaper before finding immortality in a literary magazine. 
Sherry's takeaway on McCandless, as you might have guessed, was more nuanced than say, a radio talk-show host in Anchorage. But Sherry did grow up in Alaska (Juneau) and was no snowflake. In fact, she managed to get in a few jabs at McCandless herself, along with friends who had snow-machined out to the famous bus with her to check it out almost two decades ago.
While she grew up in Alaska and hung out with bears for years and mostly wrote about hardy Alaska subjects, Sherry was an intellectual. What follows are a couple excerpts from her McCandless essay to illustrate Sherry's ability to inject the universality of the human experience into almost any topic:
"There's a reason the Natives sometimes starved in the old days—and they knew what they were doing. There's a reason that many homesteaders and Bush rats collect welfare to supplement hunting and fishing. There's a reason we gather in cities and villages. So many people want to believe that it's possible to live a noble life alone in the wilderness, living entirely off the land—and yet the indigenous peoples of Alaska know that only by depending upon each other, only by forming a community, does survival become possible."
Further along in the thick of her concluding paragraphs, the author attempts to get inside McCandless's head:
"Too late he learned that the hard part isn't walking toward the wilderness to discover the meaning of life. The hard part is returning from the consolations of nature and finding meaning anyway, a meaning lodged within the faithfulness of our ordinary lives, in the plain and painful beauty of our ordinary days."
The first time I became aware of Sherry, she was awkwardly clutching a softball bat at home plate, flailing it around, and doing much more talking than swinging. She had just hired on in the newsroom at the Fairbanks Daily News-Miner in the summer of 1984. (I had become a News-Miner reporter just a short time before that.)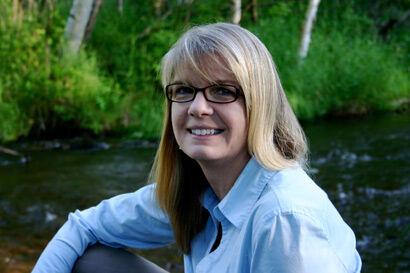 Young and vigorous journalists populated the News-Miner's newsroom in those days, and we were all enjoying a summer pick-up softball game at a local park. Sherry's batting skills did not portend a future in professional sports, even if she was obviously enjoying herself.
It has been said that first impressions are often accurate about a person. On that warm evening under Fairbanks's glorious summer sun, Sherry struck me as a happy-go-lucky young woman who bantered like a ditsy college kid.
Looking back across the decades, I understand today that my snap judgment failed to spot Sherry's highly sophisticated, self-deprecating wit, which has always infused her writing and teaching and everyday life, including as a very young woman (and likely scatter-shot throughout her childhood and adolescence as well).
Sherry did not enjoy the constraints of composing routine news stories such as reporting for the cops or business beats, something she reiterated to me even decades later. But over in the News-Miner's features department, writing every day helped cultivate that other-worldly wordsmith's voice her readers would come to love and admire in the ensuing years.
Even early on, Sherry's voice revealed a special rare gift of a superlatively talented writer even as she was developing the chops necessary to spring out of daily deadline writing and into her next career move and where she really wanted to go. 
In both her writing and her daily life, Sherry's heart spelled out the intangibles of tenderness and kindness. I am reminded of this by a powerful memory of Sherry from our News-Miner days when in the mid-1980s, she and her husband Scott Kiefer's humble home in Fairbanks tragically burned to the ground. The couple lost everything (including Scott's coveted music collection).
Since Scott and I are about the same size, I gathered some of my own clothes at home and brought them to the News-Miner to give to Sherry when she returned to work. When she did, I approached the little room on the edge of the newsroom where the features creatures worked their craft. Sherry was sitting with her back to the door when I entered. Her light blond hair flowed down the length of her back, obscuring her face as she tapped on her computer.
"Sherry, I'm so sorry," I said.
When she heard my voice, she swiveled around. On this day, after life had just summarily devastated her and her husband, Sherry's eyes were swollen, ringed like a raccoon in raw-skinned red. I tried not to react to the shock of this profound manifestation of what she and Scott had been going through the previous few days. 
Yet despite the bewilderment that catastrophic events inevitably impose, Sherry's kind and gentle politeness, her grace and dignity, her humanity, her humility, still shone through. Amid the excruciating pain of losing everything they owned, here was a woman obviously grateful for what she still had, as she focused the entirety of her attention on the person in her presence and not on herself.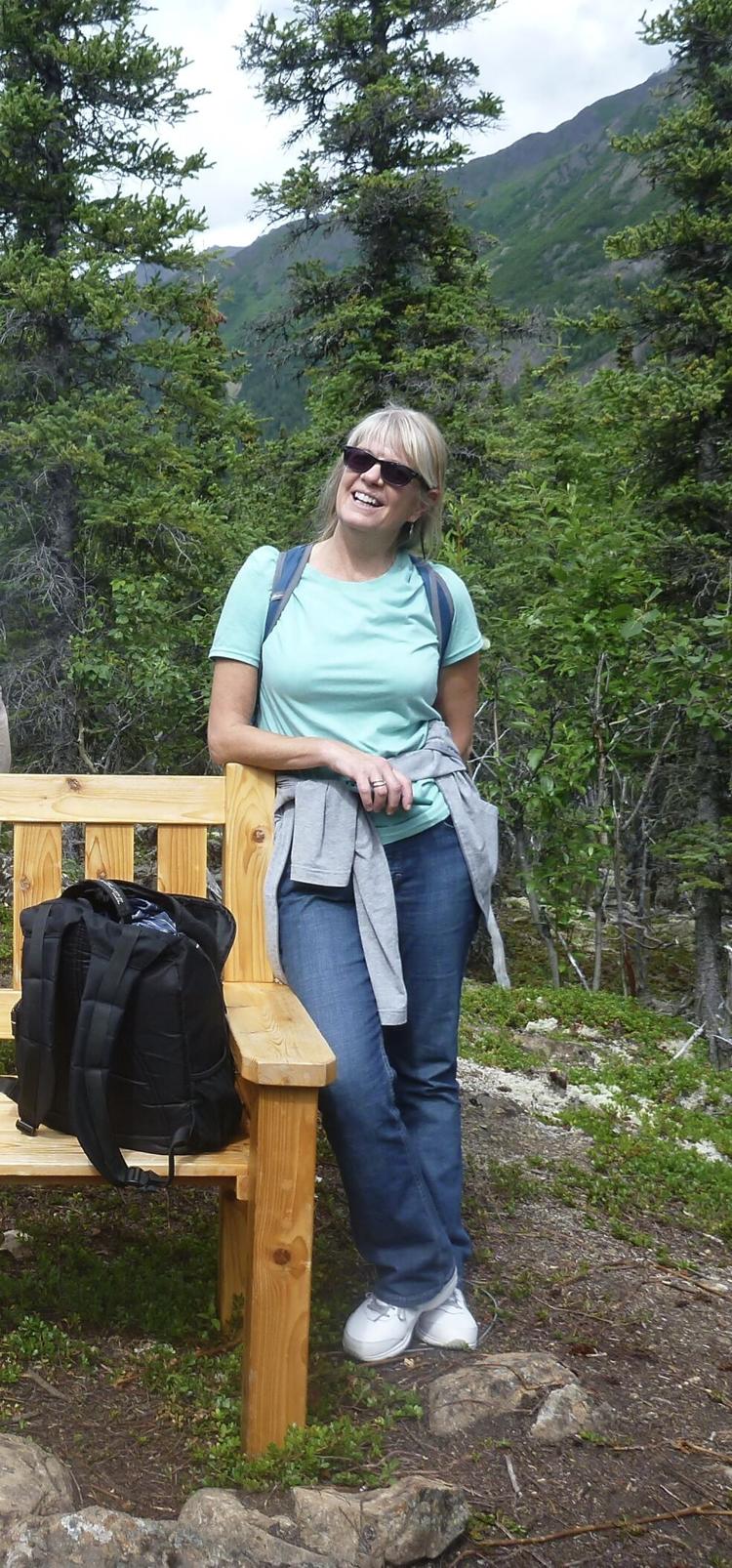 Years later that quality of attending to other people would propel Sherry straight into the hearts of innumerable, adoring students.
In fact, Sherry was our daughter Tiffany Creed's professor and mentor. In 2018 Tiffany completed the three-year, low-residency Master of Fine Arts program in nonfiction creative writing at the University of Alaska Anchorage. Tiffany studied in the program from Kotzebue (in Northwest Alaska) but traveled to Anchorage to meet with faculty and fellow students each summer for extended on-campus sessions.
Sherry was a co-founder of the program and a long-time lead faculty member. (She had studied journalism and biology as an undergrad at the University of Alaska Fairbanks, and years later—and ready to move on from daily journalism—earned her MFA in nonfiction creative writing, again at UAF.) 
In workshops that Sherry led, when students read their work, "Every student was treated as the most important person when their work was being discussed," Tiffany told me recently. "And usually after the workshop, people gravitated toward her to talk to her. I felt the same way. I wanted to talk to Sherry. It felt like perfectly placed attention. I wondered how she could give so much care and attention to so many people."
"Sherry was not overly sweet or angelic," said Tiffany. "She was just good."
Indeed, Tiffany added, if Sherry had been too sweet, too angelic, "I probably would not have connected with her as much as I did."
Sherry and her goodness have left so many people who loved her dearly, and of course no one more than her devoted and wonderful husband, Scott, who deserves much credit for supporting and inspiring Sherry to do her very best work every day of her remarkable life. Scott, as 50 percent of a legendary team, you both changed the lives of so many.
May your beloved wife and best friend forever rest in peace.
John Creed is a freelance writer/editor and University of Alaska professor emeritus. He taught English, writing, and journalism at Chukchi College in Kotzebue for 30 years.