For the past weeks this column has been devoted to keeping readers who are sheltering-in-place, thought-provoked with American Art. With the Pandemic strangling the country, and no live museum exhibitions to stroll and critique, I have been digging through my art library combining social/political aesthetic themes with current events. This week's tug-of-war ensued: 1-hunkering down to keep the virus at bay, or 2-returning to work to re-start the sagging economy. With both sides opposing one another prudently/selfishly, the scenario eclipsed the Fiftieth anniversary of the Kent State shootings, which convinced me to search through imagery describing important historical events, where Americans harmed each other for political reasons. According to the New York Times, April 1, 2020, "About 2 Million Guns were Sold in March in the U.S. as Virus fears Spread." Why are we so paranoid of each other?
Last Wednesday, I was happily writing along, and suddenly, my world temporarily changed. I got a taste of what the threat of virus can do up-close. Within the span of an hour, husband Dave, the guy who does photos for this column, developed a high fever, sweats and chills. Backstory: the week before he'd complained of severe indigestion, but no temperature. With the warning over media to avoid seeking medical help unless you spike a fever, Dave toughed-it-out. A week later, Dave's symptoms came back with vengeance. Wearing three sweaters and a blanket, he became delirious. I called Providence Hospital and talked to the triage nurse, who decided Dave needed to be seen ASAP, as his symptoms resembled Coronavirus. I declined an ambulance and drove him the two miles from our house to the ER, slugging him to stay awake, and making him recite the alphabet backwards — a drinking song from his college frat days. Approaching Providence's ER, we were greeted by security-police who swarmed our car wearing hazmat suits. A medical person opened the passenger door and lifted Dave into a wheel chair. After parking, I entered the ER (only 5 feet) where my temperature was taken. I followed Dave and his attendant to the next station (another 10 feet) where a nurse popped up and mused, "…looks like you two have been together a long time." She took Dave's temperature and announced, "You're heading for the Covid-ward." Another attendant whisked Dave and his 103 temperature into the bowels of the hospital. I figured, I'd never see him alive again!
I drove home to feed pets and wait. I later learned, once in the ER, Dave was put on an IV, blood was taken multiple times, blood thinners injected abdominally, CAT scan-Sonogram- X-ray, and of course the infamous virus nasal swab. Somewhat unusual, the ER phone bank allowed me to talk to him. They also advised me to immediately shower, just in case. Thankfully, Dave's Covid-19 test came back negative. Because he had some unknown infection, he and his intravenous antibiotics were admitted into a hospital room--no visitors, no flowers, no pizza.
The Providence staff: doctors, nurses, techs, pharmacist, security, and case worker, went out of their way to make up for the togetherness Dave and I were denied. While Alaska hospitals, thankfully, don't have the panic that New York facilities have, reality of the virus is the same. Once I had set foot into a Covid arena, the Pandemic I had only experienced via television became more real. I am one of the lucky ones; I got to pick Dave up two days later and go back to writing this column portraying four art scenarios--Americans who believed they were in the right, but were convoluted and definitely did not play-nice.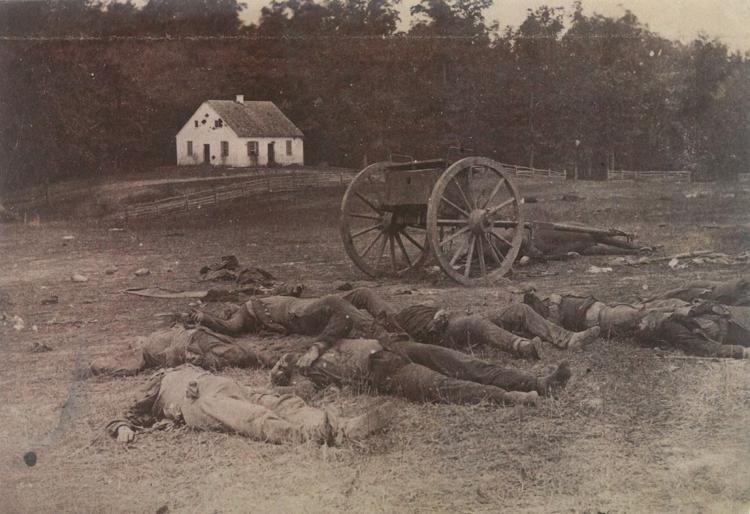 Alexander Gardner's 'Confederate Dead, Antietam, 1862' is a photograph showing corpses next to an abandoned caisson on barren land, which was once productive soil. The farmhouse riddled with bullets sits in the background. True, the Union won this Maryland battle which allowed Lincoln to issue the Emancipation Proclamation. However, looking at these dead young men around 150 years later reveals the senseless carnage and waste neighbors brought upon neighbors. Whether these men are Southerners or Union soldiers is immaterial today.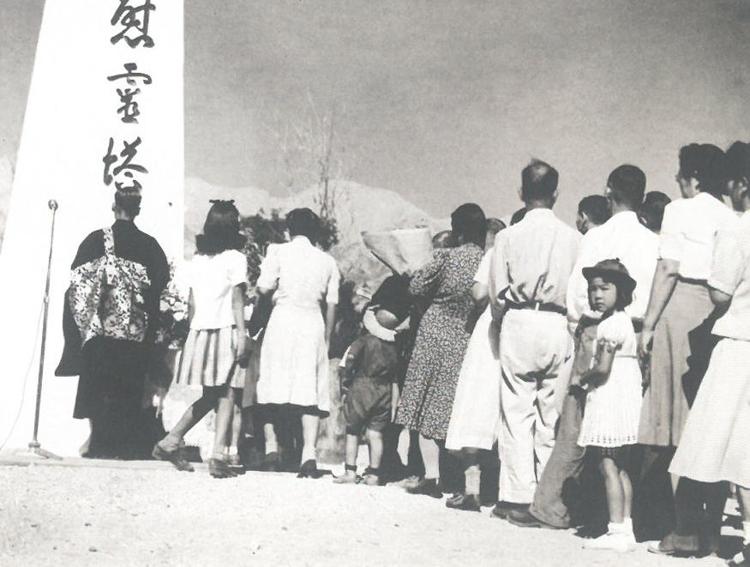 Toyo Miyatake's 'Untitled, 1945' is a photograph of Japanese-Americans interned at Camp Manzanar, California. Miyatake, and family, were among 100,000 sent to camps after the Pearl Harbor. With the help of his visiting friend Ansel Adams, Miyatake was allowed to document camp life. In the present, some are blaming all Asians for the Pandemic, and once again causing irrational hurt.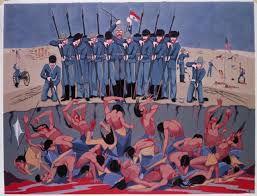 Oscar Howe's 'Wounded Knee Massacre, 1960', was originally rejected from a contemporary Indigenous art show because it was not considered 'Indian' enough. Although the figures of soldiers and 'Native Americans' are Modernist-flat, it reminds me of a Renaissance piece depicting heaven and hell. Howe paints this gouache on paper in red, white and blue, so the colors of the United States saturate the victors and their spoils, demanding the viewer to think about what did 'We' originally stand for, have we learned anything, and which painted space would be considered Hell-1890?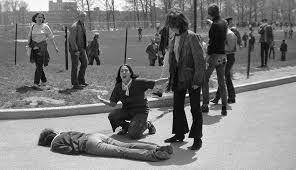 John Filo's 'Anti-Vietnam War Photograph, 1970' depicts one student kneeling over a dead student on the Kent State campus. Protestors gathered to demonstrate against Nixon's expansion of the Vietnam War into Cambodia. Four were killed by National Guard troops invited on campus to curtail violence. Late Sixties anger found its way onto most campuses — cocoons of tolerance and intellectual pursuit for all youth. Even at Harvard where husband David was in graduate school, police clashed with students—this author had a gun pointed at her. There's some irony that the Fiftieth Kent State Commemoration was brought down this time, by a virus.
Why can't we embrace our differences? After all Covid-19 loves everyone. Again, thank you Providence Hospital for helping David recover, understanding that family separation during the Pandemic is emotionally traumatic, and showing the community that there are Americans who tip the scales towards goodness.
Mini Sleuth: Alexander Gardner's 'Confederate Dead, Antietam, 1862'at Chrysler Museum of Art, Norfolk Virginia; Toyo Miyatake's 'Untitled, 1945'at Whitney; Oscar Howe's 'Wounded Knee Massacre, 1960' at Dwight Eisenhower Presidential Library Abilene, Kansas; John Filo's 'Anti-Vietnam Demonstrator Shot, 1970' Associated Press; NYTimes, https://wwwnytimes.com/interactive/2020/04/01/business/coronavirus-gun-sales.html.
Jean Bundy is the Climate Change Envoy for AICA-International
Email: 38144@alaska.net