Recently, on a sunny Sunday, husband Dave and I drove up-up Rabbit Creek Road, to the home and studio of award-winning Nature photographer, Carl Johnson. His Anchorage Museum class had been terminated because of Covid-19. So, Dave was making up a class, while I came along to enjoy the Inlet from on high. Carl and wife Michelle have a log home with an adjacent log studio/gallery complete with a rooftop greenhouse for growing tomatoes. Michelle, whom Carl met at the Fourth Avenue Marketplace, greeted us with rhubarb/raspberry ice tea served in Pilsner glasses worthy of a still life painting.
While Dave pondered over Lightroom, I browsed Johnson's photographs of the Aurora Borealis, and three tiered landscapes. A mini landscape lesson—Foregrounds have shrubs and creeks; Middle grounds have alder and rolling hills; Backgrounds have snowy/jagged peaks—making Alaskan scenery unique.
Johnson was born on Ellsworth Air Force Base, South Dakota where he learned to appreciate Nature in the Black Hills. He trained as a photographer in the Navy, followed by photo classes at the University of Minnesota, where he eventually went to law school. He came to Alaska in 1999 and worked as an attorney while shooting weddings, sports events, and portraiture, and of course wildlife. Johnson, who has frequently been a canoe guide, loves to photograph and paddle. In 2008, he and Michelle bought 'Alaska Photo Treks'.
Johnson's 'Where Water is Gold' should be read on multiple levels. It's a coffee table book with gorgeous vistas surrounding Bristol Bay (7,400 people of many ethnicities inhabit Bristol Bay) together with wildlife who call the 46,000 square miles home and workplace. Bill Sherwonit, one of Johnson's literary contributors, writes that Bristol Bay is a vital avian crossroads.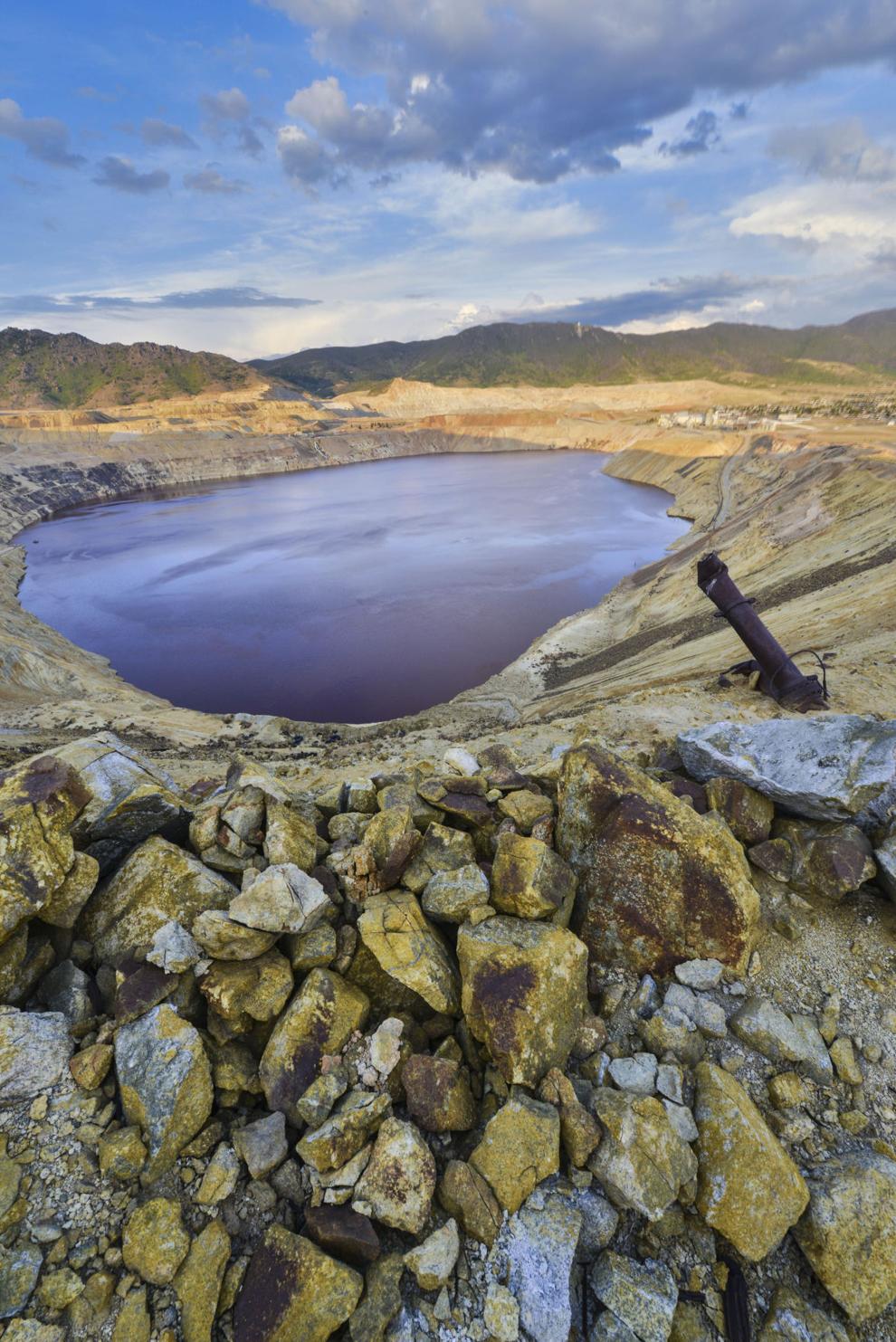 The book begins with a regional map, which helps visualize National Parks, Preserves and Refuges encompassing the many rivers which flow into Lake Iliamna (ninety air minutes from Anchorage) spill into Bristol Bay and out to the Pacific. There are writings about inhabiting place; other essays predict what would happen should Pebble Mine become reality and leach into waterways. Sherwonit writes, "Bristol Bay's greatest treasures are its fish and the inland and marine waters that allow dozens of species to thrive, including many harvested in commercial, sport and/or subsistence fisheries, such as halibut, herring, rainbow trout, northern pike, whitefish, Arctic Char, Arctic grayling, lake trout, and Dolly Varden. What really defines this region and underscores its value are the five species of Pacific salmon—Chinook, Chum, Coho, Pink, and Sockeye—that return to Bristol Bay's river systems each year, an amazing spectacle in an age when many wild salmon runs around the world have been depleted, if not destroyed."
Sherwonit continues, "Bristol Bay accounts for nearly 'half' of the world's wild Sockeyes." This translates to billions of dollars filtering through Alaska and beyond. "Bristol Bay is home to the world's greatest population of large wild Rainbow trout," offering sports fishing, and adding to the Alaskan economy.
Contributor Dave Acheson adds, "The offshore fisheries of Bristol Bay—huge cash crops such as pollock, cod, and halibut that are shipped worldwide—depend on an inshore ecosystem that remains healthy."
To residents who endure high shipping costs, fish is a major subsistence food source. Multi-generational Lake Clark residents Anne Coray and Steve Kahn preserve salmon to assure year round eating (and community sharing). A favorite stir-fry is jarred salmon, boiled pasta and kale or chard from their garden.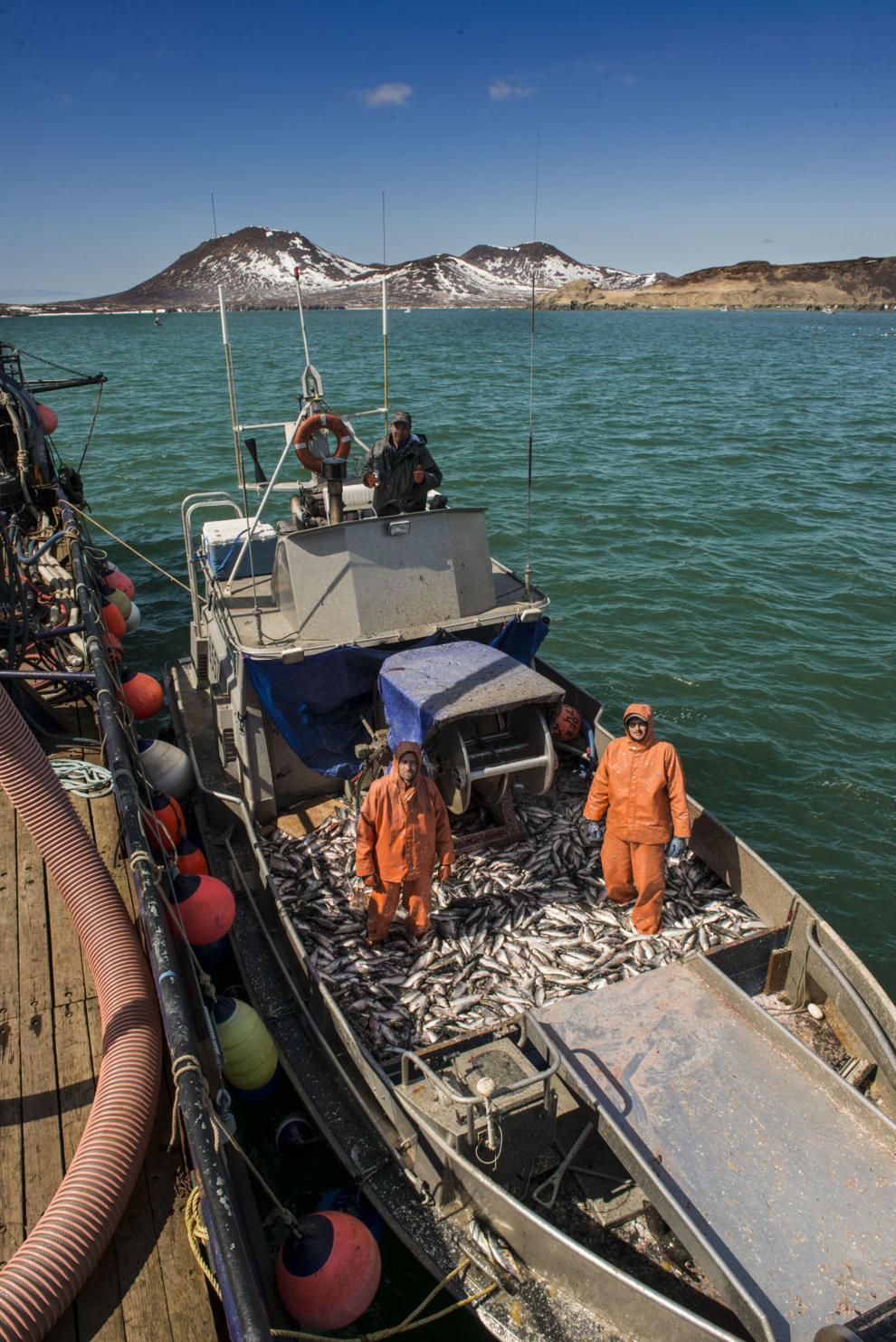 The Pebble Mine project, imagined since 1988, is potentially a catastrophic disaster. To extract minerals an open-pit would be dug to over 3,000 feet. 750 feet of earthen walls have to be constructed to dam the eight square miles of a toxic lake that would appear. Contributor Erin McKittrick lectures, "The earth provides the water and oxygen. The mine provides the rock. Together they are a recipe for toxic waste….acid still flows from mines dug by the Romans."
Minerals (North Aleutian Basin) of increasing remunerative interest were reopened to leasing by the Bush administration in 2003. The Obama presidency extended protection, but the Trump administration is happy to rape and pillage. Dillingham's Yup'ik elder, Tim Wonhola speaks about Bristol Bay, "We hunt on it, walk on it, swim in it; the land becomes part of us and we become part of it." McKittrickinsists, "No matter what happens at the Pebble deposit, acid mine drainage will continue to be an issue."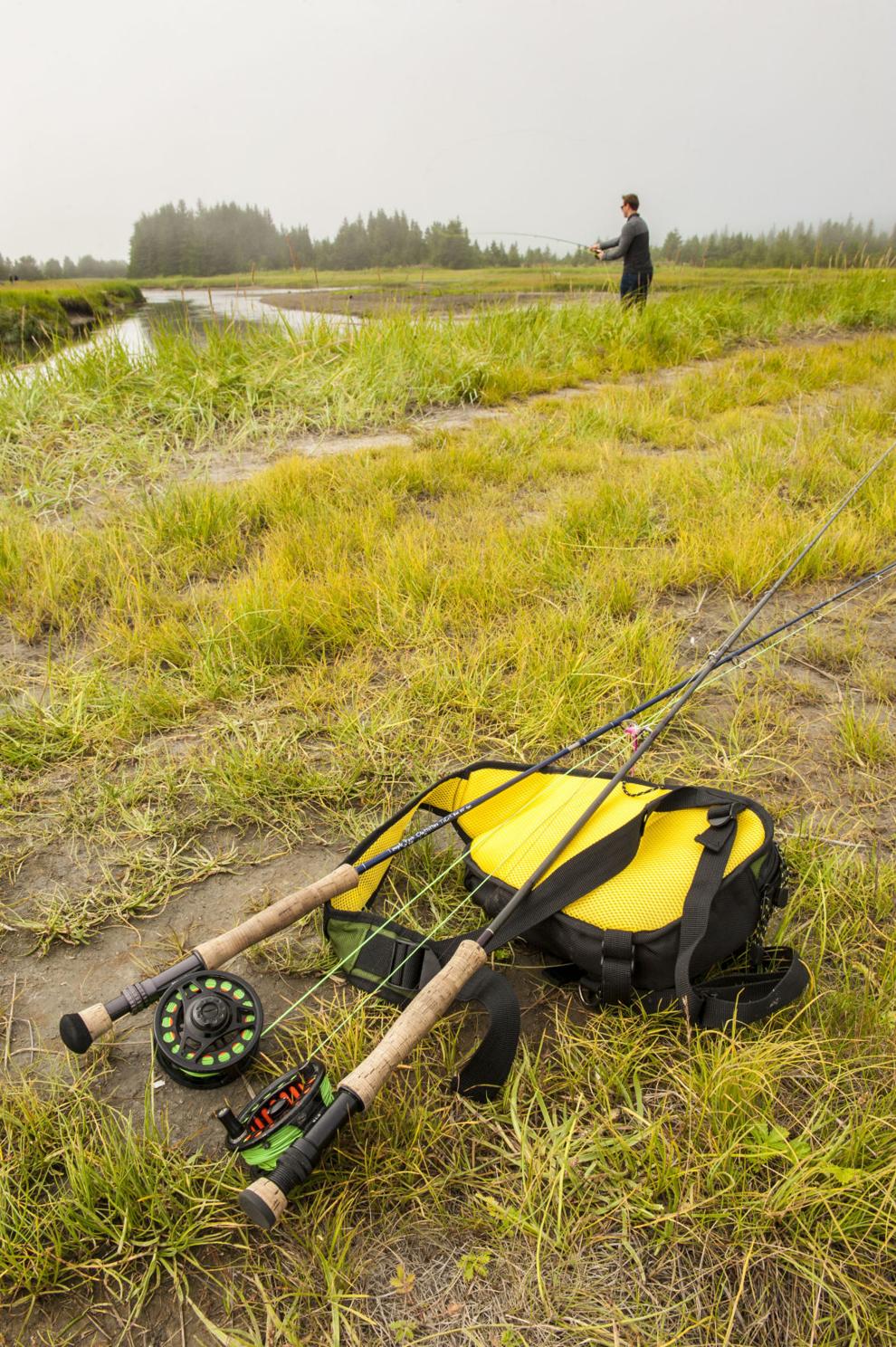 Three of Johnson's artworks complement book verbiage. Photo One: A floating processing ship receives and packages herring near Togiak, an example of the frenetic short-lived fishing season that provides food and employment for locals and those from out of state who fly up for seasonal jobs. The verdant ocean against the remaining snow-melt in the distance reminds viewers that the fishing industry and environment can cohabitate provided making money and preservation are balanced. Photo Two: A lone man fly fishes on Silver Salmon Creek (part of Lake Clark National Park's four million acres) enjoying recreating away from crowds in a pollution free environment, which needs to remain that way. Photo Three: Berkeley Pit, located in Butte Montana, has been closed since 1982. Johnson's gorgeous image fools spectators into thinking they are observing a crystal clear recreational lake. Sadly, the onlooker is looking at Berkeley's acidic water and heavy metals (900 feet deep) which continue to threaten local water supplies. Ironically, it has become a tourist destination complete with gift shop, but seriously a death sentence for migratory birds. This could be Alaska!
Chefs are becoming choosy about what they serve guests. Kevin Davis, chef and owner of Seattle's, Blueacre Seafood exclusively purchases Pacific Northwest fish. Igiugig's Tribal Council President Lydia Olympic, who helped build an anti-Pebble Mine campaign nationally, speaks, "Our traditional Native culture is already threatened and this mine would destroy our subsistence way of life and our spiritual connection to our land and waters." Public outcry continues, but Democratic victories in November 2020 are sorely needed.
Mini Sleuth: 'Where Water is Gold' by Carl Johnson is available on Amazon. Visit Arctic Light Gallery & Excursions at www.arcticlight-ak.com, or call 907.748.7040 for a gallery visit.
Jean Bundy is Climate Change Envoy to AICA-INT.