As the Halloween season concluded, Anchorage had two theater companies performing live Rocky Horror Picture Show acts throughout the city. Mad Myrna's, long-running live musical performance opened October 15th and runs through November 20th and newcomer Sparkles Productions offered a four-day shadow performance at the Lakefront Hotel that closed on Halloween night.  
Sparkles Production is the brainchild of east coast transplant Thomas Pietsch. Pietsch, who studied musical theater, stage production, and dance, envisioned a theatrical alternative for those, in Anchorage, who are passionate about theater but inexperienced in acting.  Sparkles Productions is a place where they can learn the craft and gain experience on stage.  
"We allow newbies to become thespians," said Pietsch. "We want to bring out performers that may not have a well-known name or standing within the community and build them up to the amazing performers we know they can be."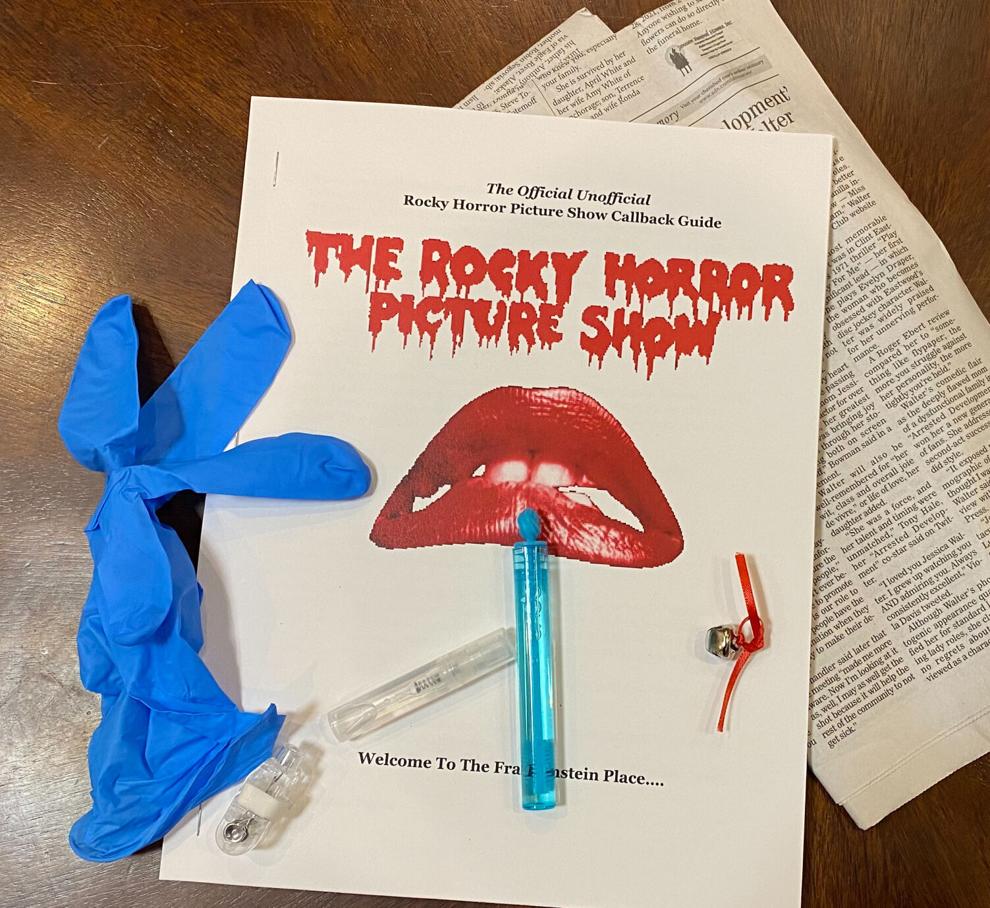 Pietsch secured a business license in 2020 and the Sparkles Production project began in earnest by offering shows of all levels, from cabarets to musicals. Look for their upcoming schedule, on Facebook, including performances of Tim Burton's The Nightmare Before Christmas later this year. For 2022, in addition to their annual Kabaret fundraiser at Koot's, they plan to perform classics such as Hocus Pocus and Clue On Stage as well as a dinner theater murder mystery.
Pietsch knew his decision to produce an additional Rocky Horror show would be potentially controversial in the tight-knit theater circles of Anchorage.  To provide an alternative, he acquired the rights to show the movie and for cast members to sing live songs along with the film.
"Basically, [we created] a hybrid version of the shadow performance, with also props and audience callbacks," he said. "We are hoping to make this an annual thing."
When Richard O'Brien penned the musical, it is unlikely he forecasted the huge cult following that would follow.  Completed on a budget of $1.2 million, the film has grossed $113,774,976 worldwide, according to IMDB.  O'Brien would later co-write the screenplay and act as Riff Raff in the movie.
First performed as a theatrical musical in London in 1973, where the Guardian newspaper reviewer penned "[n]ormally I find camp exploitations of old movies highly resistible because they imply a wholly unjustified feeling of cultural superiority. But this show won me over entirely because it achieves the rare feat of being witty and erotic at the same time."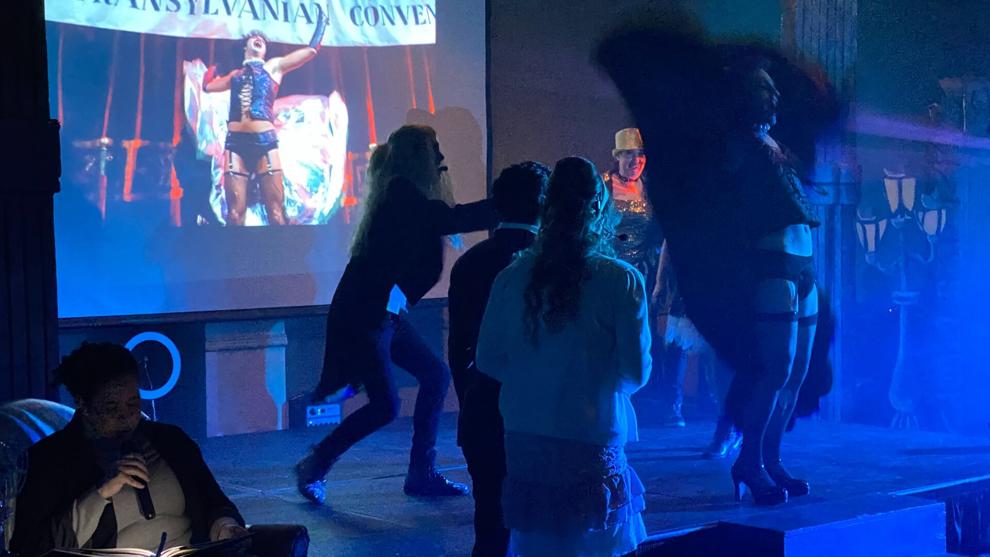 On August 14, 1975, this magical formula of wit and eroticism was brought to the big screen in London with future Hollywood heavy hitters Susan Sarandon (Janet), Barry Bostwick (Brad), and Dr. Frank-N-Furter himself Tim Curry, who played the lead in the theater musical as well. Pair this acting power with Bat of Hell crooner Meatloaf who plays Eddie and a cult favorite was born. The USA theatrical release was in September in Los Angeles and in April of 1976 in New York City.
Attending a live viewing with full participation creates a unique experience for those who attend shadow performances. Throughout the film, the audience yells out callbacks and introduces props at specific times during the film. Essential props include rice, a newspaper, a flashlight or lighter, a spray gun or bottle, rubber gloves, noisemakers, confetti, toilet paper, toast, a party hat, a bell, and cards.  
Sparkles Production VIP tickets included seating in the front two rows, a filled prop bag, a 35-page audience callback script, meet and greet with the cast, and some special Rocky Horror swag.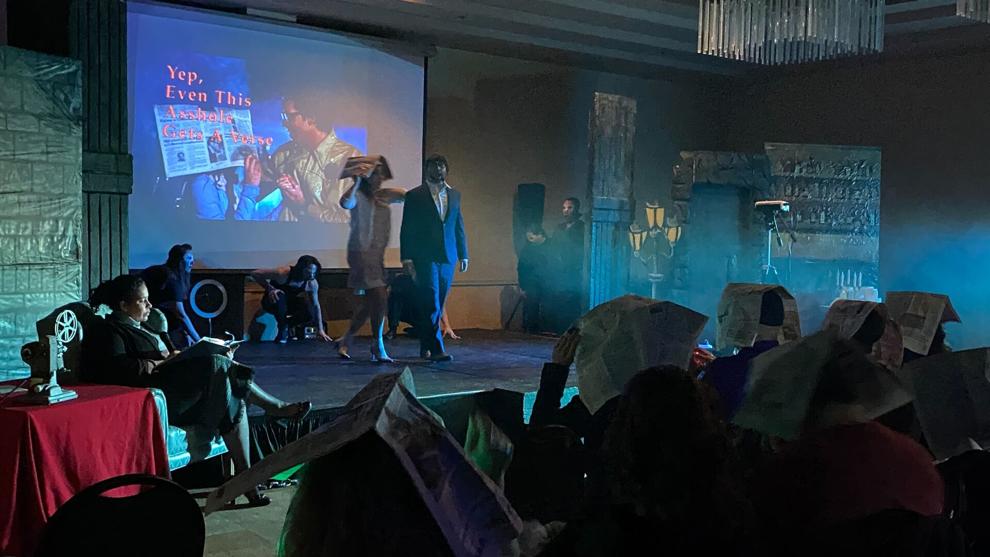 The Rocky Horror Picture Show held a special place for my teenage years. As a high school senior, I enjoyed the participatory nature as we watched the movie at the now-closed theater at 10 Exchange Street in Portland, Maine. At 18, I was cast as Brad in a shadow performance group.  
But recent events may have tarnished these fond memories. During a recent scroll through Amazon Prime, I realized members could stream The Rocky Horror Picture Show for free. For someone who grew up throwing toast and toilet paper, having the ability to stream the film at home taints its appeal for me. The guilty pleasure of a cult classic is now replaced with home access while sitting on the couch. When you can jump to the left and take a step to the right in your living room, I don't think I want to do the time warp again.
Although, with two unique live options available in Anchorage each Halloween season, returning to a live performance has me shivering in anticipation.