It's hard to think about the upcoming summer, when everyone is sheltering-in-place, looking out windows onto a cold and drab Anchorage spring.
Thinking about taking watercolors outside soon, is a positive way to get through these stressful times. My favorite paints are actually acrylics, which have improved in intensity since I was first introduced in high school, back in the late Sixties. Acrylics consist of round, plastic molecules, which are very forgiving as mistakes can be easily painted over without a design appearing overworked. However, acrylics turn gummy in hot sun, or when temperatures outside dip below 20 degrees in dry Alaska winters. So when conditions aren't favorable, resort to watercolors.
I use good quality art materials but keep supplies to a minimum—less is more. Papers come in several thicknesses with slick and rough surfacing. I use Arches 300 lb. Cold Press (22 x 30 inch) paper which has a medium rough surface and takes lots of scrubbing and splashes without warpage (can be cut). I like a flat brush that holds less water but others like a round thirsty mop —two or three sizes are plenty. Artificial bristles have come a long way, hold their shape, and are cheaper than natural hairs. House brand brushes from an online store like Dick Blick are a safe choice before trying pricier brands.
I choose Winsor and Newton's tube watercolors (Daniel Smith is good too) although dried paint in cakes can be purchased. Stick to one brand and you'll learn how pigments uniquely behave when diluted with water. I buy few colors, choosing to do my own mixing. A cardboard color wheel is a cheap way to discover how different hues affect each other. Two tubes or a warm and cool of red, yellow and blue will get you started. For example: I'll purchase red heading to blue, red to yellow, blue to red, blue to yellow, yellow to red, yellow heading to blue. I also buy several brown shades (mustard and cocoa) which will darken primaries and are less deadening than black. White can be used, but it will kill the paint's transparency. For your first try, I'd avoid deep staining hues like phthalos and cadmiums as they are very hard to sponge off paper. Remember, it's only paint on paper and you can toss it and start all over.
Although an old dinner plate can be used, there are many sizes of palette on the market. If you plan to paint outdoors, a plastic palette with a lid is sensible. The day before you plan to work, squeeze paint onto the palette and let it dry. After painting, rinse remaining palette pigments and allow them to dry for reuse. Painting with fresh squeezed pigments is fine but is messy and uses more paint. Setting up an indoor still-life is easy: kitchen gadgets, garage tools, desk items, etc. all work. Adding fabric from an old sheet or towel allows light from a home lamp to bounce off folds, and provides complexity to your set-up.
Thumb tacking or clipping your watercolor paper onto an odd piece of plywood and then sitting at your kitchen table or desk surrounded by your paints and water jars will make you feel like a pro. Although you may want to purchase an easel in the future, a few propped up books will provide a slant, if desired.
Now you're ready to start. Although pencil leads are available from very hard to soft, I sketch in my design with a medium-hard graphite pencil (HB) that moves nicely over bumpy paper, leaving an image that's visible. A white plastic eraser and a pencil sharpener: hand-twisting, electric, or a knife are useful. A roll of paper towels and a couple of discarded food containers for water become my only other supplies. A camera is nice if you want to document your progress or bring the outdoors into your indoor painting area—no rain, wind or bugs.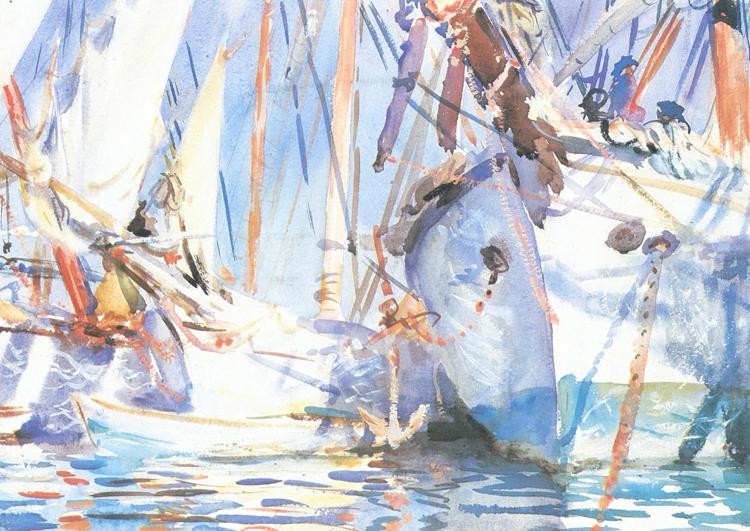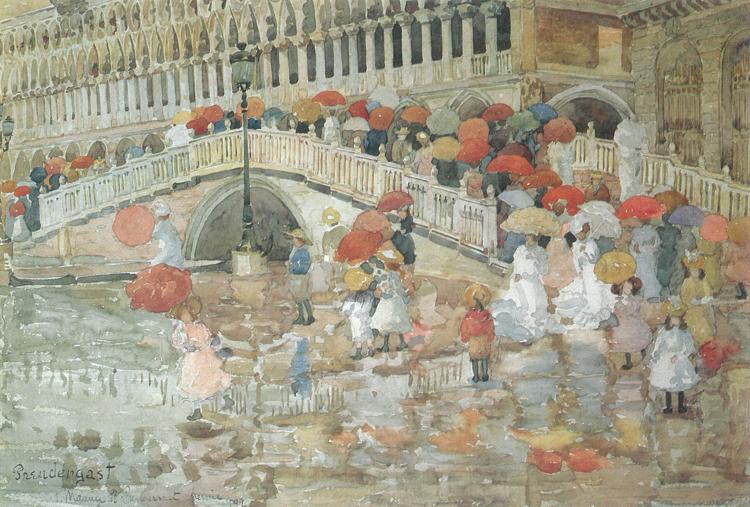 Purchasing a few books and visiting your local museum are good ways to see how other artists render—there's no one way to watercolor. Jeanne Dobie's 'Making Color Sing', in print since 1986, is a must for your studio library. She explains how to juxtapose colors for optimum vibrancy using transparent hues. John Singer Sargent's (1856-1925) 'White Ships, 1908', uses the white paper as a color, allowing it to push through a variety of loosely painted oranges and browns that contrast with several hues of blue. Maurice Prendergast's (1859-1924) 'Umbrellas in the Rain,1899', reveals a tighter composition where patches of vibrant red umbrellas help the viewer's gaze to cross a Venetian bridge, while diluted red umbrella reflections are seen in the water. One of my favorite Alaska works is 'Street in Ketchikan, 1937' by Prescott Jones (1904-1981). Jones' blackened-primaries reflect a typical WPA palette as he paints the Southeast Alaskan frontier town, complete with sailors on leave, looking for fun.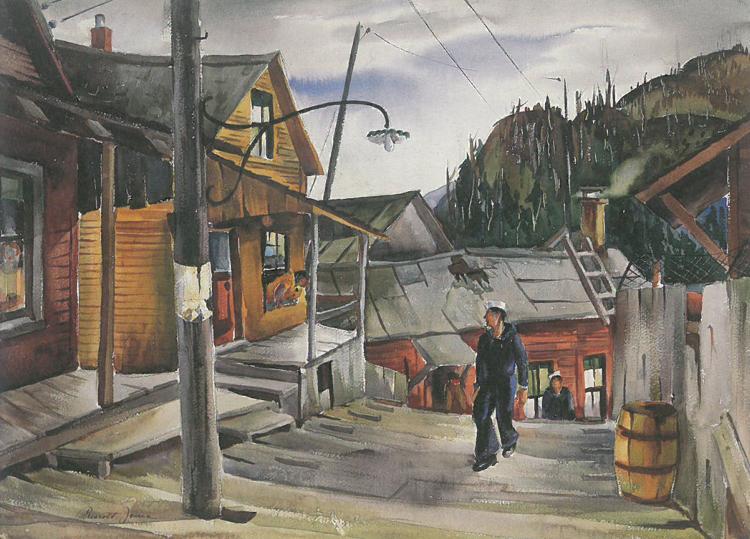 The best places to discover contemporary watercolor artists are in children's books. The other day, I was strolling through Costco, challenged to piece together my weekly menu, as federal stimulus packages had provided extra cash, which further cleaned off grocery shelves, almost empty from disrupted supply chains.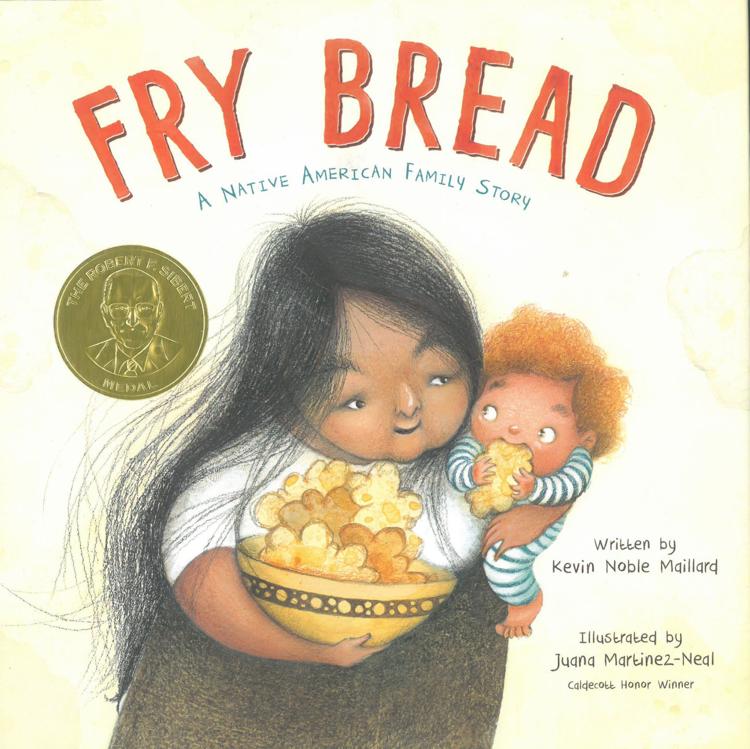 I came upon 'Fry Bread, A Native American Family Story' by Kevin Noble Maillard, illustrated by Juana Martinez-Neal. Rendered in brown, orange, blue and black with an occasional spot of bright red (not gloomy like WPA murals) the book exudes Native American ambiance, as kids enjoy baking with Elders. Maillard expresses, "The story of fry bread is the story of American Indians: embracing community and culture in the face of opposition." What an uplifting message for all of us — hunkering down!
So buy some watercolors and splash your way through these social-distancing times.
Mini Sleuth: 'Making Color Sing' by Jeanne Dobie is available on Amazon. 'Fry Bread' by Kevin Maillard is available at Costco and Amazon. I bought five copies!
Jean Bundy is the Climate Change envoy for AICA-international.