The following contains paintings and reportage from Sharon a Friend, my solo exhibition at Pleiades Gallery, New York City. It is with deepest gratitude to Sharon who endured several recurrences of cancer, that I share this piece, to further understand the underpinnings of this horrible disease.
I knew Sharon through our attorney husbands. She was slender with a short, grayish shag and would appear at parties in pastels, always tasteful, very engaging with anyone. San Diego, Fall 2003, the four of us flew to a bankruptcy conference. Sharon and I came for some sun and one evening we were all laughing with over thick steaks and broccoli that oozed butter, the way the lights drip into San Diego Bay. Tom and Sharon talked about winding down to travel more.
Some weeks later back in Anchorage, Sharon called to say they wouldn't be attending our Christmas party. She had found a lump while bathing—in Vegas, while celebrating their 40th wedding anniversary. Time passed and Sharon verified a lump and some lymph nodes had been removed, fluid had been suctioned from her lungs, chemo was out, radiation and hormone therapy were in. In January 2004, she and I began a year-long project. Rules were simple: I would take notes while painting her, but stop anytime she requested.
It's January 26, 2004 and I am in Sharon's dining room drinking coffee and noshing blueberry coffeecake, while perusing art books by cancer victims. Sharon emerges from her garage with a box of masks she had crafted during her first bout, 15 years ago. She also points to a stuffed blue bear wearing surgical garb, whose purpose is to act as a patient's 'whipping boy'. She shows me yellow pills and paperbacks on advanced stages. Sharon talks about the cruelty of cancer; friends desert you. She likes kitsch and jokes about being buried in her Lion King cookie jar. Sharon shows me breast scars, bluntly explaining procedures for reconstruction and invites me to come along to radiation. I leave her condo overwhelmed.
It's February 11, 2004 andwintersun was radiating into Sharon's kitchen as she poured tea and sliced banana bread. She was back from a Vegas trip. Sharon was happy to be pain-free, while describing her guardian angel. As a former nursing student, she felt simpatico with her doctors; she desired care from those who didn't predict an outcome — it was about hope. Sharon is a Hospice of Anchorageboard member. We talked about the origins as possibly Chaucerian. Her latest project was to become Catholic and renew marriage vows with Tom. Bone scans were elevated.
On February 23, 2004 Sharon had experienced three weeks of radiation which had made her tired and nauseous. She made tea; cake on the counter got forgotten. Sharon worried about a truck wandering the neighborhood and fretted over the Costco sofa which seemed too big. Medications were causing hot flashes and radiation was burning her skin.
On March 1, 2004 Sharon and I sat drinking tea. She was doing a puzzle, concentrating on matching colors. Sharon's blood work was now good and hormone therapy was reducing tumors. She felt in command and craved a banana split from Cold Stone Creamery.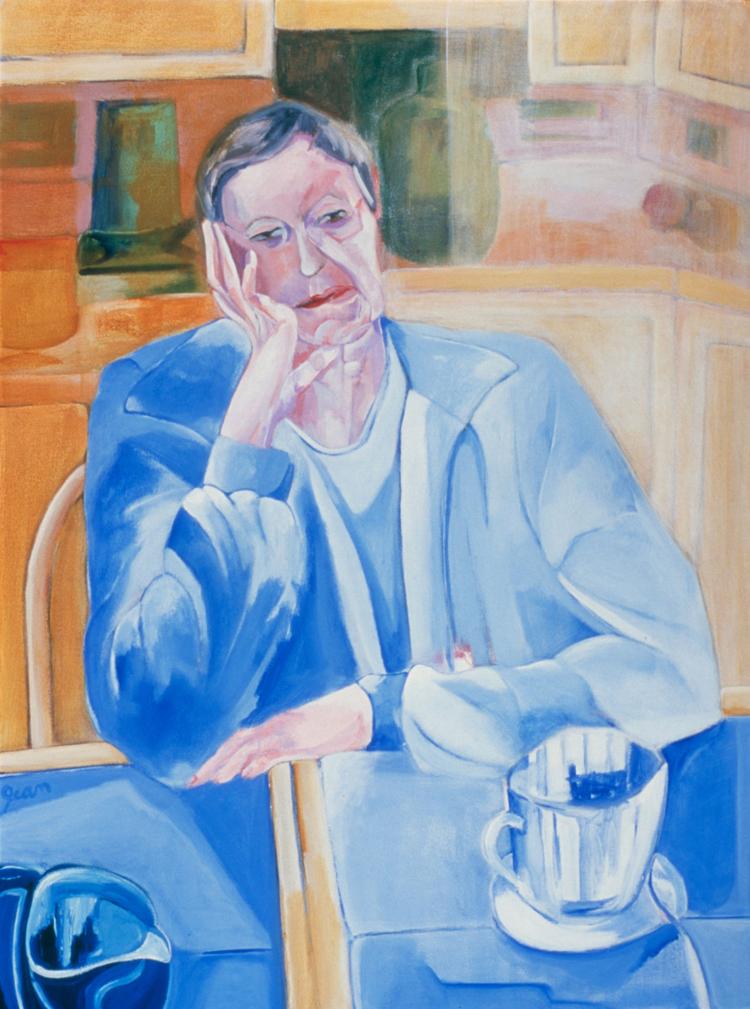 March 12, 2004 I had brought my own mug of tea. Sharon asked me to photograph her ches. She only had a few more weeks of radiation left. She regaled about routine breakfasting with survivors and appreciated the conferencing that was occurring between her doctors. She called them "her team."
March 23, 2004 and I followed Sharon to Alaska Regionalfor a radiation session. Walls were aluminum-gray, there was a big fish tank and a sunflower puzzle lay on a coffee table. Occasionally someone would stop and pick up a piece. Others just sat and stared. It seemed surreal. We headed back to the 'deck' where a row of blue foam 'nests' lined the entrance to machinery. Nests are form-fitted, allowing patients to return to the same position under the apparatus. Like a horse entering starting gates, red lights flashed as Sharon took her place. An attendant told me I had eight seconds to leave.
March 29, 2004 and Sharon's house was full of Easter eggs and bunnies. She proudly showed me her radiation certificate, exclaiming many fail because of the monotony. But finishing treatment also meant future uncertainty. She had started seeing a Naturopath. Her cat continued to throw up furballs as she spoke about Tom speaking at a conference in a few weeks.
April 30, 2004 and Sharon told me her medication was really working, pushing back the cancer. Her latest diversion was cross-stitching. The May cancer luncheon/gala was approaching and she couldn't wait to preside over her support group's table. I was not invited.
June 21, 2004 and Sharon was about to travel again, this time to a Seattle wedding, friends of her kids. She continued making plans to renew vows with Tom. Sharon joined the Red Hat Society because, she said, "it celebrated who you are."
June 28, 2004 and Sharon served me Bisquick muffins while pouring iced tea. She had acquired Red Hat paraphernalia — red boa, red hat — and was going to their Vegas convention. Sharon mused about her upcoming wedding reception, contemplating cake and wine in the St. Patrick's vestry as she worried about her condo sump pump not functioning.
August 13, 2004 and Sharon and Tom had just returned from visiting a judge in Chicago. They had dined at Lawry's.Tom's recent bankruptcy book had done well at a convention. Sharon had a bunch of blood tests coming up.
August 25, 2004 and Sharon was excited about her wedding. She showed me her pale blue floor length wedding dress, with a jacket and the rhinestone pin given to her by the judge's wife. Sharon's brother, the motorcycle rider, was coming as was her sister who had acquired a third husband.
September 24, 2004 was the night before the wedding at Sharon's condo. Relatives chatted at the kitchen table and crammed the Costco sofa. Some planned to sleep on the floor. Grandchildren whined and bounced everywhere. One woman came alone from North Carolina without her professor husband; another from Seattle arrived with her moving-man spouse. Like a seasoned curator, Sharon produced her masks and explained their significance: panic, organized chemo, always living with sunshine and darkness. Abruptly, she chided a relative for rearranging the masks. Another glibly asked about her worst experience. Sharon calmly explained, 'panic' while treatments and daily pills meant 'survival.'
September 25, 2004 and the priest in a small chapel kept the wedding up-beat. Sharon's vows sent Kleenex rustling while the long kiss from Tom brought applause.
November 19, 2004 and Sharon continued on maintenance drugs. A prolapsed bladder sent her to the emergency room.
June 22-27, 2005 and Sharon now required a by-pass so I went to see her at Providence. Sharon was hooked to a drippy machine and taking lots of pills including shots to increase her iron count. She was wearing her red beret and purple scarf, but would not be going to the Vegas Red Hat convention. Sharon missed Felix, her cat. She wanted me to bring over some wine. She wanted to visit Rome.
November 27, 2006 and over the phone Sharon loudly chortled about being wheeled through airport security. In spite of on-going pain and tumors crushing her urinary tract, Sharon was planning to fly to San Diego.
Jean Bundy AICA-USA is a writer/painter living in Anchorage