Grocery shopping has become an entire afternoon of frustration. Husband Dave and I joke we're eating so much spinach, we're becoming magnetized. Drive-in banks used to be a quickie-stop for that odd check from some organization not onboard with credit cards — not anymore. We waited an hour in a Wells Fargo line-up of cars, with only one teller sending the pneumatic jars back and forth. With the blame-game running as rampant as the virus, my sanity turned to another era—The Great Depression, when art was also needed.
The Works Progress Administration (WPA) was established in 1935, six years after the start of the Depression, under Franklin Roosevelt. He succeeded Republican Herbert Hoover who couldn't resolve the country's financial debacle. Sound familiar? Federal Project Number One employed artists who illustrated, composed or wrote about hard working and independent minded Americans—commonly celebrating labor. People and objects rendered were tubular, using dirty-primaries (not unlike France's Ferdinand Leger, 1881-1955). In Anchorage's Old Federal Building, Arthur Kerrick's (1901-1960) mural 'Alaska Landscape, 1942' is a good example of WPA work. At the Metropolitan Museum Thomas Hart Benton's (1889-1975) 'America Today, 1930-1931', is a gallery surrounded with Jackson Pollock used as the male model. A long narrow panel over a door depicts Depression era social inequality. Citizens beg for food and drink while Capitalists in Monopoly-esque top hats drip money. While some WPA collaborations included oral histories involving former slaves, the US government promoted the Indian as a symbol of national identity, employing artists who rendered them childlike (Ganteaume 18). It would take more time before Native Americans would start being equitably recognized.
In 1935, the U.S. Treasury Department invited artists to paint murals. J. Ward Lockwood's (1894-1963) 'Pioneers in Kansas, 1935' was made for the Wichita post office depicting an Indian about to shoot a White settler on horseback (Ganteaume 124,125). Also in 1935, René du Harnoncourt became general manager of the New Deal Indian Arts and Craft Board (IACB), designed to emphasize Indian craftsmanship as fine art, no longer tourist Kitsch (Moore 11, 13). In Southeast Alaska, Totem Pole parks became another WPA project, initially met with disapproval by Alaska Natives because some poles were to be moved from original sites with context forgotten. In 1937, the Civilian Conservation Corps' (CCC) labor force was required to be 50% Alaska Native when constructing the now accepted parks (Moore 15).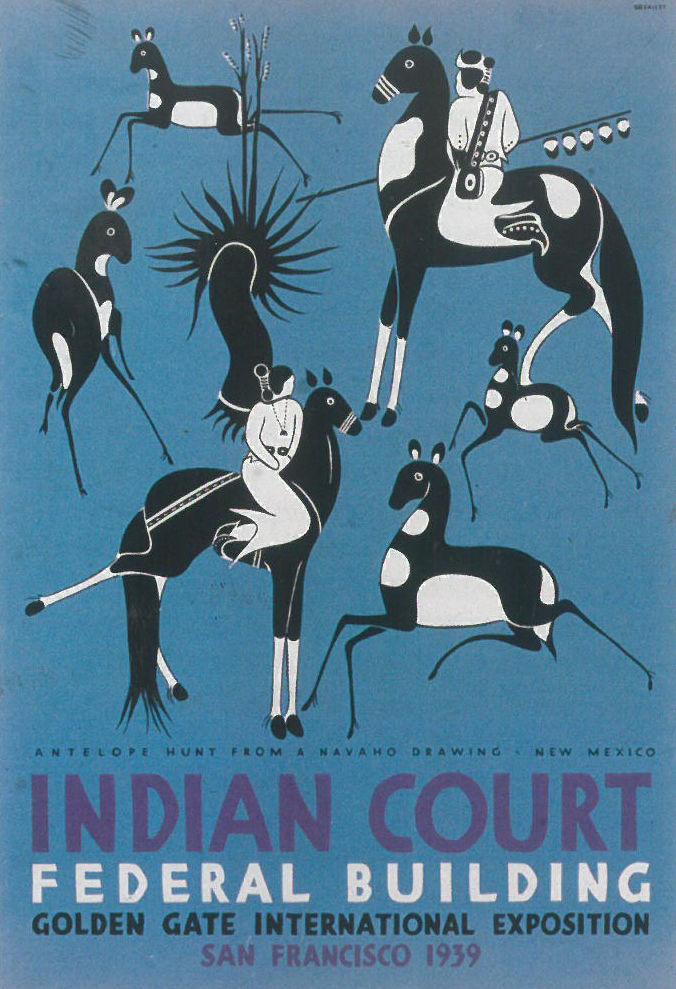 In 1939, du Harnoncourt, now administrator for the IACB, further recognized the uniqueness of Native American art. However, he commissioned Louis Siegriest (1899-1985), a white artist, to use Indian designs for the Golden Gate Exhibition poster, 1939-1940 (Ganteaume 130, 131). Of note: Not using a Native American to create a poster would be unheard of today. In 1941, René du Harnoncourt, now director of MoMA, curated 'Indian Art of the United States' one of the first exhibits to truly appreciate Native art.
Also taking advantage of Depression art opportunities were artists lucky enough to flee oppressed Europe. Established foreign artists like Walter Gropius (1883-1969) taught at Harvard, while Lazlo Moholy-Nagy (1895-1946) founded the Institute of Design in Chicago. Others less known found jobs, for example, at the progressive Black Mountain College (1933-1957) in North Carolina, that would see Social Realism move into post-war Abstract-Expressionism (Ab-Ex). During the Depression, Black Mountain College was needed room, board and creative employment/comradery for artists like William and Elaine deKooning, and the Bauhaus' Josef and Anni Albers.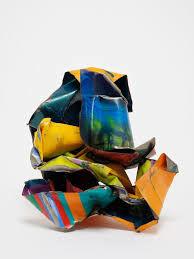 John Chamberlain (1927-2011) attended Black Mountain College, from 1955-1956, making Ab-Ex sculpture out of discarded metal, while learning to write poetry. He read D.H. Lawrence and was influenced by sculptor David Smith. Chamberlain explained, "Curiously, it's only recently that I've noticed that I'm still making sculptures in the way I made the poems….I guess that's part of my definition of art. Art is a particular madness where you are using a means of communication, which means are recognizable to other people, to say something they hadn't heard, or hadn't perceived, or had repressed (Black Mountain Chamberlain)." Just published, 'Black Mountain Chamberlain' contains reprints of his original typewritten poems, including pencil edits. Here's a taste of Chamberlain's verbiage with actual spelling and punctuation.
"Poem One: the street giggled at the girls/ that giggled southern sounds thru/ their faces painted like mayan/ hieroglyphics, beat tattoo on/ saturday night and the street died/ the death of a ragdoll; all the/ sawdust went to their heads. Poem Two: last night 1 tied the moon/ to the sky to light/ my way a rocky road, in a/ clearing to the left not un-/ lit a daisy nodded/ thank you, for letting me/ show myself and 1 myself/ shown back in the light 1/ tied with a slipknot that/ slipped around a half round/ moon. Poem Three: supermarket/ in this cage of inertia/ breaking their backs over/ canned ham vacuumed-packed/ morons conscientiously put/ pickles on a shelf./ shoving cans to the right/ bottles to the left"
Depression era art, together with the arrival of immigrant artists, changed U.S. artistic genres forever. Essence of Black Mountain with its lack of grades, and student/faculty friendships, leached into many American schools. Black Mountain further contributed to adult summer art camps, which had been gaining popularity since the late nineteenth century when women began acquiring autonomy. A week or two at summer camp gave me a mom-break, and propelled me into graduate school for art. It will be interesting to see how the Coronavirus pandemic will impact creativity worldwide. Please contribute to your favorite art group. As Harry Hopkins (1890-1946), FDR's federal relief administrator, said when responding to those who thought giving to artists was a boondoggle: "Hell! They've got to eat just like other people!"

Mini Sleuth: Special thanks to Princeton University Press for giving me 'Black Mountain Chamberlain', edited by Julie Sylvester; 'Officially Indian' by Cécile Ganteaume; and 'Proud Raven Panting Wolf' by Emily Moore, are all on Amazon. Thomas Hart Benton's 'America Today' can be viewed on the Metropolitan Museum website; Inquiries about financial relief for artists can be Googled.
Jean Bundy is Climate Change Envoy to AICA-INT