Joanna Lilley, a poet and novelist based in Whitehorse, Yukon Territory, will begin her upcoming 49 Writers "Milk Run Tour" of Alaska next week with stops in Juneau, Cordova, and Anchorage. She'll offer workshops and readings or talks in all three cities. We're so pleased to be welcoming our literary neighbor from the Yukon. To register for one of the workshops or learn details about her public 49 Writers appearances, visit http://49writers.org/joanna-lilley-class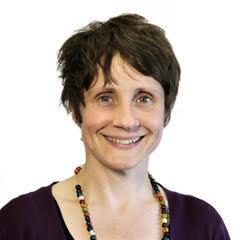 I was at work a couple of weeks ago, waiting for a meeting to start, when I sneaked a look at Facebook on my phone. My heart jolted. I'd been tagged in a post saying that a house I'd lived in as a child was going to be demolished. There were 24 hours left to submit objections. For the rest of the day, I did my best to tamp down my grief by focusing on my work and by reminding myself not to be silly. It was only a house. A house in southwest England where I'd lived for five years as a child; just one of ten homes my parents had moved us to by the time I was thirteen.
At home that evening, after a run in the woods with my dog, I posted my objection on the planning application website. I didn't post a letter like other people had, people who had fact-based, constructive comments for and against demolition. Instead, I posted a poem – the first poem that appears in my poetry collection, If There Were Roads.
The poem, called The Devonian Period, was inspired by my love and longing for Devonia House, the house that is going to be torn down, and the landscape to which it is fastened. It's just inside the boundary of Dartmoor, one of Britain's fifteen national parks. (I'm using the present tense while I still can.) I adored living on the moors, where sturdy grasses are cropped by ponies, sheep and rabbits; where the land rises open to the sky; and where granite boulders, rough under my palms, pile on top of hills called tors.
That landscape feels like my genealogy. It was my prologue to why I moved to Wales, Scotland and, ultimately, Canada. Emigrating was a deliberate decision that took years of planning and paperwork. Canada is my home now and yet I haven't been able to shake off the nostalgia I feel for so many of the places I inhabited in England, Wales and Scotland – a sense that I have left wisps of myself on the moors, among the hills and in the crevices of drystone walls.
It was these chimerical wisps that led to the poems that became the book, If There Were Roads. I've even wondered if they aren't my remnants at all but perhaps tendrils of other beings, human or animal. It's true I was preoccupied by my attachment to the places I have lived in but I also wanted to move away from myself – just, perhaps, as I have relocated geographically – and attempt to perceive and tell of others' experiences in those places I was shifted from or chose to leave.
Emigration is so often a privileged experience, a carefully researched choice, the converse of fleeing, of being a refugee, of closing the door on your home, knowing you can never go back, and stepping into a boat you don't know is even seaworthy or, if you manage to reach another shore, if the inhabitants of that land will let you disembark. I have borrowed that imagining from my father who, although he in truth believes everyone should live where they were born, is feeling such sorrow for the hordes of humans who have no home, who are not welcome in their birthplace.
When I finished writing If There Were Roads, I was foolish enough to believe it was my 'place' book and that now I had written it I would move on to other themes. But place, I realize, is part of everything I write – fiction as well as poetry – and most likely always will be. I think it is part of everything everyone writes. In the novel I have just published, Worry Stones, the settings – Iqaluit in Canada; Brighton and London in England; and Peebles, Edinburgh and the Highlands in Scotland – are just as much characters as the human beings. So is the house, called Willowbrae, that the protagonist, Jenny, can't bear to leave.
Jenny isn't me. Worry Stones is her story, not mine, but we share a loyalty and love for the structures that sheltered us and our families. The creaking step, the rattling window, the moss between flagstones. Evidently, If There Were Roads is not all I have to say about place. I find myself gathering all the information I can about my vanishing home, Devonia House. I'm screen-grabbing webpages and downloading images and those letters of support and objection. I'm thinking I might spend Christmas delving into the boxes of photographs I brought with me to Canada over a decade ago. I'm thinking maybe If There Were Roads is going to have a sequel.
Born in the south of England, poet and novelist Joanna Lilley emigrated to Canada in 2006, responding to her urge always to go north by settling in Whitehorse, Yukon. She finds herself writing about place a great deal and feels that settings can be as important as characters in a poem or story. Her fourth book and debut novel, Worry Stones, was published in October 2018 by Ronsdale Press and she's also the author of the short story collection, The Birthday Books(Radiant Press), the poetry collections If There Were Roads (Turnstone Press) and The Fleece Era (Brick Books), which was nominated for the Fred Cogswell Award for Excellence in Poetry. Joanna's third poetry book, a collection of poems about extinct animals, will be published by Turnstone Press in spring 2020. Joanna has an MLitt Degree in Creative Writing from the Universities of Glasgow and Strathclyde in Scotland and is a Humber School for Writers graduate. Joanna has helped to present four poetry festivals in Whitehorse and is a co-founder of the Yukon Writers' Collective Ink. Find Joanna online at www.joannalilley.com.