In the last quarter of a century, the Alutiiq Museum (Museum) in Kodiak, Alaska has grown and flourished and remains highly successful in its mission to preserve and share Alutiiq culture. Today the museum houses 250,000 objects, some are stand-alone, others are part of various collections, the objects include everything from paint specks from archeological sites to masks and 2-D works. Thanks to the Rasmuson Foundation's Art Acquisition Fund, the Alutiiq Museum has added three new pieces to its permanent collection. With the $10,350 in grant funding the Museum bought "Back Side of Ugak Island, oil on hardboard by Bruce Nelson, 2018; and two pieces by Linda Lyons, "Spirit of the Merganser", oil on panel, 2018, and "Sunset at Pyramid Mountain", oil on canvas, 2019. Since the fund's 2003inception, the Alutiiq Museum has received $215,303.50 in grants to purchase 137 works by 41 artists.
According to Alutiiq Museum Executive Director April Counceller, as an accredited museum, the Alutiiq Museum has an official selection process that includes a collections plan and policy that is carried out by a selection committee made up of community members and further vetted by the Board of Directors. The Museum collects within the guidelines of selecting works that are aligned with its mission, "We limit our acquisitions to pieces that depict Native culture, or are by a Native artist, or are pieces that depict the Alutiiq world in a broader sense. For instance, the painting by Bruce Nelson, who is not Alutiiq but is a well-known local artist depicts Alutiiq environment in a very realistic way. We imagine using it in various contexts not just in an art exhibit," said Counceller.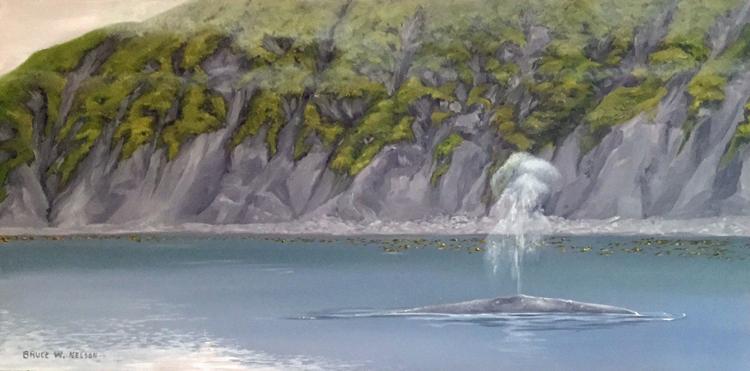 Counceller said the Aluttiq community prides itself in being open and welcoming other cultures, and "We [Museum] want to be advocates for Alutiiq art but at the same time serve the Native community within the context of a broader multicultural community." This sentiment is reflected by Bruce Nelson, "It is very important to myself and other artists to have the Museum collect art on a local level as a source of income for the artist and to keep a record of art through history, as styles change and each different artists approach, also as mediums change through time."
Making art, curating, and collecting are activities that require awareness of the ever-evolving socio-political and cultural dynamics. In particular, the issue of cultural appropriation is one that is forefront of Alaskan entities, and one that should also be on the minds of everyone, and for many, this requires thought, balance, and sound judgment informed by history. According to Counceller, " The appropriation issue is difficult, but the organization [Museum] as whole belies in truth in labeling, it is really important to protect the intellectual property of indigenous artists."
For artist Linda Lyons, an Alutiiq artist with ties to the community of Karluk, reflecting the struggles of her ancestors and exploring identity is an act of decolonization, "My ancestors are of Russian and Alutiiq heritage. The Alutiiq people of Kodiak, Alaska were greatly impacted by the colonizing forces of Russia; their language and culture nearly extinguished. Cultural and religious assimilation involved the destruction of ancestral knowledge language and ceremonial relics. I acknowledge the assimilated icons of the colonizer, yet bring forth, as equals, the spiritual symbols of my native ancestors." The Alutiiq Museum press release stated the following about Lyon's work "Spirit of the Merganser", "By combining elements of Christian iconography with Alutiiq tradition, the artist suggests that they are equally important. She is asking us to consider traditional Alutiiq beliefs on the same level as Western beliefs. The duck is particularly symbolic as birds are spiritually powerful animals in the Alutiiq world. This is because they can travel through all layers of the universe — fly through the air, walk on land, and swim in the ocean. Birds were often the personal helpers of Alutiiq hunters and bird imagery is common in Alutiiq art."
The new acquisitions by the Alutiiq Museum are important additions its collection because it furthers the conversations between past, present, and future; between cultures and diverse traditions. Counceller, who has been at the Museum on and off for about 15 years, with the most recent tenure since 2015, has noted that the Museum has "Definitely changed, with more [Native] people making Native art; fewer non-Native artists making Native-style art, in part because of the awareness of the importance of cultural arts to the Native community," she adds that there is "a broader appreciation and awareness of what Alutiiq art looks like and there is better training for young people in the community who are interested in different topics." The Alutiiq Museum certainly plays a big part in raising awareness, creating opportunity and spaces for cultural resiliency. These activities result in acquisitions like these and also help fuel voices like that of artist Rebecca Lyon who uses contemporary materials like plastic to render traditional items, thus making connections between different cultures, times, and identities. Counceller believes that the more established artists are just as likely as the younger artists to push the boundaries of traditional materials. Even Linda Lyon's work on canvas is non-traditional, because traditional western painting was not part of the Alutiiq culture, "Alutiiq culture had graphic arts, we painted on things," says Counceller, "but yet when you look at her [Linda Lyons] work, you know it's Alutiiq."
The Alutiiq Museum is growing and it sounds like its bursting at the seams with its 250,000 objects, a reflection of a community that is just as vibrant and prolific. The new pieces will be on display during the summer.
The Museum is open Tuesday-Friday from 10 am to 4pm, and on Saturday from noon to 4pm.