Edgar Allan Poe sits, relaxed, in a wing back chair. Shadowy figures flank him, echoing the facts of his life. All around there is a steady motion as his memories flood into the room. Each time a new character appears, Poe observes them the same, whether they are a character he created, a person that he actually knew, or perhaps a combination of the two. The truly nightmarish moments of his memory are those that are based in reality, while the hellish creations he gave life to in his stories seem to comfort him. Waiting, patiently and beautifully, death has come for Poe one last time.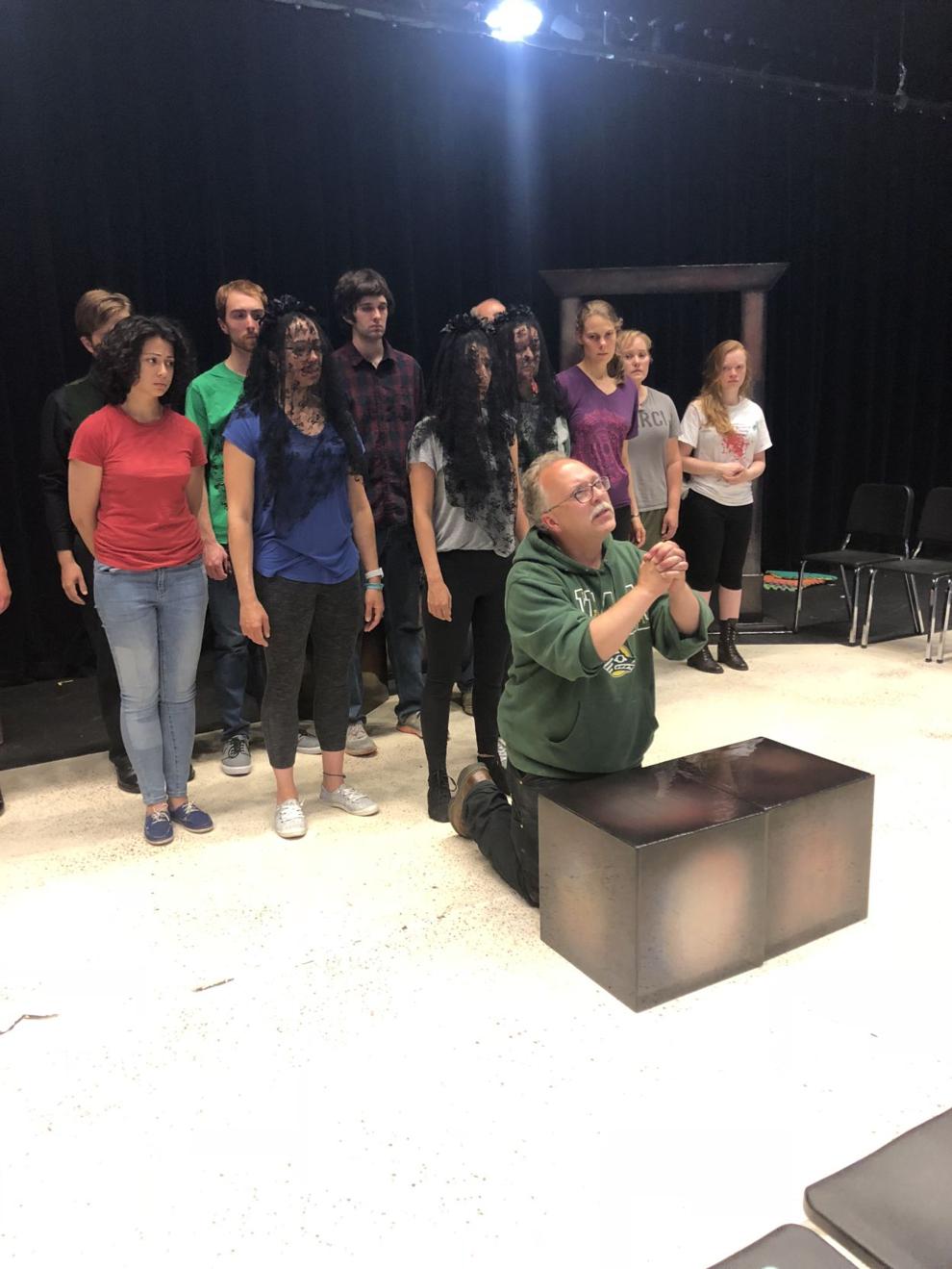 TBA Theatre is taking The Death of Edgar Allan Poe by local playwright Shane Mitchell to the Edinburgh Fringe Festival later this month for a week of performances. The script is 20 years old, and has been modified throughout the years as more research tools have become available. It has been produced many times in town, as well as being produced at Cornell University. It can also be seen perennially at the Edgar Allan Poe museum in Richmond, Virginia. With its historical relevance and educational component he originally envisioned the script to be a performance piece for teens and said "I wrote it for them, and on one hand they got it. There is a level at which a teen gets the sense of the gothic, the put upon, the oppressed that Poe is, better than adults do." The 21 artists that are taking the show to Scotland are largely adult, and made Mitchell realize, "an adult cast understands the idea of a lifetime of loss, a lifetime of grief, of a sense of mourning that never leaves."
This will be the first time that a group of Alaskans this size will be performing at the Edinburgh Fringe Festival, an annual event first established in 1947 as an alternative to the Edinburgh International Festival. It is an open access festival, which means that there is no selection committee, and any type of performance may be performed. There will be sections for dance, circus, cabaret, musicals, opera, children's theatre, spoken word, music, musicals, exhibitions, and the largest section will be comedy. In years past names like Eddie Izzard, Robin Williams, and Dudley Moore have made their debut at the "fringe" as it is called. In 2017 there were 53,232 performances of 3.398 shows in 300 venues at the festival. Every year in the month of August, the population of the city swells from around 500,000 to over 2 million.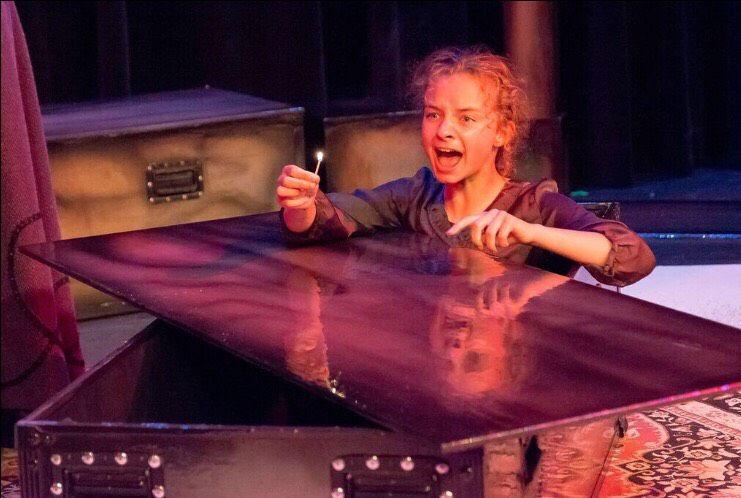 Director Erin Dagon Mitchell has been to the festival before and is excited to bring over this show. She has a team that has created an efficient set, that will need to be set up and torn down in less than fifteen minutes before and after each performance. This happens while the venue is seating the audience. The venue is one of the oldest for the festival, C Venues' C Too Main House, and will play host for eight performances. Perhaps most impressive is the schedule for the group when they first arrive. Leaving Alaska  late in the evening on Aug. 9, they will fly for almost 24 hours and arrive in Edinburgh on the 11th, at 8 a.m. They will pick up the two cases that contain the set, and also double as set pieces, and then from 11 p.m. to 3 a.m. they have tech rehearsal. The next day, the artists will have a performance of 'The Raven' by Poe on the Royal Mile to promote the show, before having their first performance that night at 6:15 p.m.
The director has been able to have rehearsals with the cast that delve into who each of the 34 characters in the one hour show represent, and they have come to the conclusion that each one is part of the writer, whether it is a person from his life or a character he created. "We are Poe" she recalled, while explaining the process the actors went through. "Everyone is part of Poe's psyche. These are reflections of him, and things that he created. It's not Poe's mother, it's his perception of her. It's not John Allen — Poe's step-father — it's who Poe thought he was."
The circumstances surrounding his passing are not the focus of the script, and instead it is a reflection of what may have been going through his mind in those moments. The actors will portray moments from some of his more well known works, including 'The Raven', 'The Tell-Tale Heart', mixed in with historical moments that may have inspired some of his works, such as 'The Fall of the House of Usher'. Strong stand out performances from local actors like Billy Worthy portraying Red Death, and a heartbreaking turn from Kaichen McRae, speaking about being buried alive. The youngest member of the cast, 17 year old Grace Fahrney, uses her physicality to portray what is arguably Poe's most famous creation, 'The Raven' with a silent intensity.
The legend of Edgar Allan Poe is much of the reason why this play was selected to be performed. Not only was the venue looking for a serious theatre company to perform a serious piece, they were also asking for something that was quintessentially American. "Many people are surprised that he is American. I had someone refer to him as Sir Edgar Allen Poe," Mitchell told me, smiling.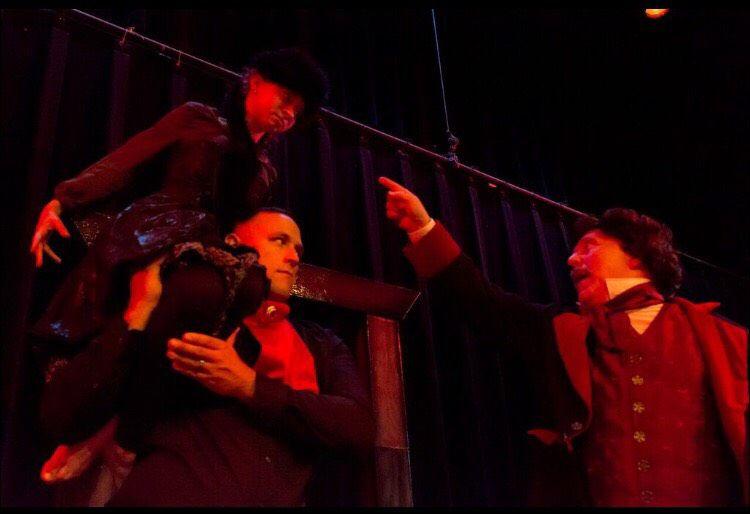 His contemporaries in other countries loved him and admired him, but he was born in Boston, in 1809. Poe is credited with being the creator of the detective fiction genre, and heavily influenced the science fiction genre. He was best known for his short stories and poetry and his focus was on the gruesome and macabre. His death is also shrouded in mystery, being that in 1849 he was found delirious and wandering the streets of Baltimore, wearing clothes that were not his. When discovered he never was able to clarify the circumstances that had brought him to that point, and according to legend his final words were "Lord, help my soul."
For the playwright, taking this script overseas is about more than just the festival, or his work being seen on a larger scale. He feels that "America has got a black eye. I don't like that. It does not represent me, or you, or almost anybody that I know." He knows that the arts are transformative. The artists that will be taking the trip are strongly on each side of the political spectrum, but for this they are all coming together with one purpose. The unifying power of the arts.
The other success of the journey will be what each person making the trip will be able to bring back to Alaska and share with others. Within the cast there is representation from many of the major theatre companies in town, and while they will have a busy schedule at the festival, there will also be time to attend workshops and other shows. This will be a time when individuals like Colby Bleicher of ACT and Blue Chair Productions will be able to see new work that she may want to bring back for local performances. "Literally, you are talking about all of us. This is a cross section of Anchorage, and it will benefit everyone"
Locally, TBA Theatre is often seen mainly as a children's theatre company. Much of this is likely largely due to the summer camp that the company puts on each year. "I don't think any theatre should be just children's theatre. Theatre is theatre. Then it's either good theatre, or it's not," Erin Dagon Mitchell said. "I am hoping that this international credit and attention allows people to see that we are more than."
TBA is also the number one producer of original work in the state of Alaska. She does enjoy that between the summer camp, and more adult themed shows like Hamlet, and the upcoming all Shakespeare season, they are able to cast families in their productions and have not only spouses performing together, but also parents with their children.
The company is still short of their fundraising goal, but they will attending the festival shortly. A grueling rehearsal and work schedule here at home, will continue in Edinburgh, and still these two have not received any sort of negative attitude from the actors that they are taking with them. They are "All Team Poe. No whiners, nobody is self involved, no divas." They are hoping that being Alaskan will provide some sort of draw for the hundreds of thousands of people that will be attending the festival. For now they continue to perfect this iteration of The Death of Edgar Allan Poe.