What a thrill to be back at the 'actual' Anchorage Museum this July Fourth weekend, hearing 'real' voices from locals and tourists, cheerfully strolling while commenting about the art.  It felt like being awakened after a yearlong big nap, having experienced very bad nightmares. The exhibition 'Ron Senungetuk: A Retrospective (thru October 3, 2021)' is a soupçon of this artist's oeuvre. Senungetuk (1933-2020), who hailed from Wales and later Nome, attended Sitka's Mt. Edgecumbe before getting a BFA from Rochester Institute of Technology.  Obtaining a Fulbright, he studied at what is now the Oslo National Academy of the Arts. He also met his future wife Turid, a metalsmith, in Norway. 

 In 'Looking North', Kes Woodward critiques Senungetuk's, 'Two Spirits (UA purchase, 1994)' which draws attention to Native alcoholism; he writes, "Ron grew up in a Inupiaq village but studied in Norway on a Fulbright Fellowship, so you see this overlay of Scandinavian craftsmanship that is as much a part of the piece as its Inupiaq heritage or the social commentary. Even when he's dealing with a subject that is very hard to talk about, tense, and full of conflict, it's still done with Ron's characteristic precision and very tight craftsmanship (Looking, 103-108)." 
At the Senungetuk show, looping videos capture him lecturing at various stages of his career. I paraphrase: Senungetuk surmised that some of the best Alaska Native work was made 5000 years ago as utilitarian wares.   He may have been one of the first to realize all generations of Native aesthetics ought to move beyond the label of mere craft and into fine art. Senungetuk also reflected upon the 1918 Influenza Epidemic, which killed many talented Natives, who were thus deprived of making art, with traditional themes about the animal world being on equal footing with man. When asked about his legacy, he insisted-- design doesn't care about legacy. Senungetuk was adamant that the Indigenous should be allowed to merge genres of other cultures into their work.  
Another looping video shows Senungetuk in his studio, gouging into sanded planks, followed by staining with primary color tones. Of interest: are his hand-made brushes, allowing him to control pigment when pushed into narrow grooves. Senungetuk tied a strip cut from an old sock onto a shim, which apparently splatters less in tight spaces.
This exhibition also showcases a few Senungetuk bracelets and necklaces (silver, gold, ivory). But the main attraction is carved wooden panels, blending Alaska Native art/craft heritage with Post-War Modernism. 

'Bering Strait Visions, 1999', (Alderwood, paint, aluminum) is an abstraction of plants, animals and humans co-existing. Minimal staining of grays and browns describe flat imagery, which flows from left to right, connecting both frames, only to be stopped by a person depicted on the left and a jelly-fish-esque creature on the right. Amoeba-esque swimmers ooze around prehistoric vegetation much like the work of Ab-Ex Arshile Gorky (1904-1948).  
 'Bering Strait Imagmeuw, 2015' (Silver Maplewood, pigment stain) becomes graduated horizontal brown lines with some concavities stained blue. This abstract reminds viewers of flowing water, diverging currents, and striated mud flats after tides recede. Gouged wood remaining natural in color is found in both frames, and behaves like a snow-laden landmass which is slowly melting back into the sea, as it cyclically does every spring, represented by the blue gouged wood—or a sophisticated nod to Climate Change.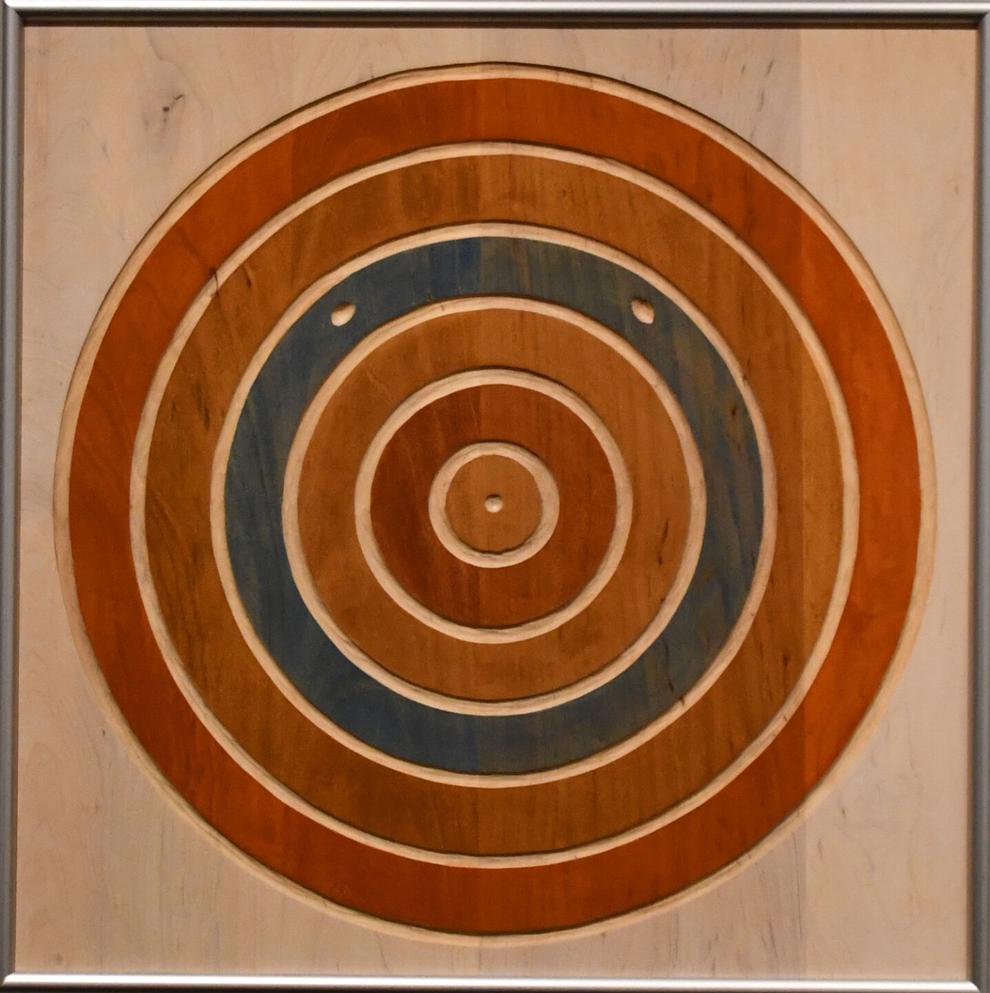 'Coming Up for Air, 1995', (White Maplewood, acrylic paint) is concentric circles in various shades of red with one painted blue. Jasper Johns (b.1930) dart-board-esque works may come to mind, except for three subtle white holes, possibly construed as two eyes and a mouth.  If viewers stare long enough they will see an otter peering out of, let's hope, crystal clear water where predators don't exist. Like Johns, Senungetuk was searching for art that went further than the Formalists or Abstract-Expressionists who saw color and line devoid of narration. 

'Whaling Whales, Whaling Celebration, 1991' (Maplewood, oil stain, aluminum) is a triptych in blacks and browns on clear wood, which  feels akin to the Eleventh Century Bayeux Tapestry. In Senungetuk's piece, men in whaling boats paddle furiously to harpoon whales. A whale in the first panel attempts escaping spears.  Sea creatures in the middle panel resemble seabirds, while others may be stand-ins for injured sea mammals or forlorn crew members.  Onlookers may discover a similarity to Picasso's Cubist/Surreal 'Guernica, 1937'. Senungetuk's piece is not the aftermath of the Spanish Civil War, but another example of 'survival of the fittest' or what it's like to co-exist in the animal kingdom, where some are sacrificed, while others survive.
According to 'Painting in the North', "Ron Senungetuk has perhaps the most extensive national and international exhibition record of any Alaskan artist. His woodwork and metalwork were being exhibited nationally by 1954, even before he completed his schooling. Before 1960, his work had been included in exhibitions on the East Coast, in California and France…. [He was a] leading interpreter of Native Alaskan art and arbiter of its place in the mainstream of international contemporary art (Painting, 133,134)." Senungetuk, who retired from the University of Alaska, Fairbanks in 1988, helped establish their Native Art Center in 1965. Of interest: UAF, with its studio of Indigenous and contemporary tools, is one of the few American universities to offer an MFA in Native Arts.
I was privileged to experience Ron Senungetuk when he taught at Haystack Mountain School of Crafts, Deer Isle, Maine, summer, 1986. I also viewed his work in the show 'Place of Origin' when I reported on the Arctic Arts Summit, Rovaniemi, Finland (June 2019). Of note: the Anchorage Museum is a great summer destination for lunch and visually realizing Anchorage culture is returning after its long Covid snooze.
Mini Sleuth:  'Painting in the North' by Kesler E. Woodward, U. of Washington Press, 1993, and 'Looking North', ed. by Aldona Jonatis, U. of Washington Press, 1998, available on Amazon. 
Jean Bundy is a writer/painter in Anchorage. She is on the Board of AICA-International.