'Made of Stone (thru October 25)' is a very small but very unique show on the first floor of the UAA/APU Consortium Library, next to the Alumni office. The name of the show seems appropriate to the way UAA has been treated this summer—abrupt financial cutbacks followed by some financial reprieve, have made those who work at UAA feel like they are 'Made of Stone' and thus unwanted/unheard. In a few months, the University Bookstore, that gorgeous and welcoming glass entrance to the campus, will be turned into Enrollment Services. UAA swag is headed for the Alaska Airlines Center, textbooks will be picked up in a basement, and hopefully Rachel Epstein's fabulous book talks will continue in the C-Library. While all of this is sad for alumni like me, who often head to the bookstore for a t-shirt, a spiral notebook, or to check out what textbooks an art course is using—no more! Exhibitions like 'Made of Stone' are not only a pleasure, but a hope that intellectual pursuit has not been obliterated with all the belt-tightening.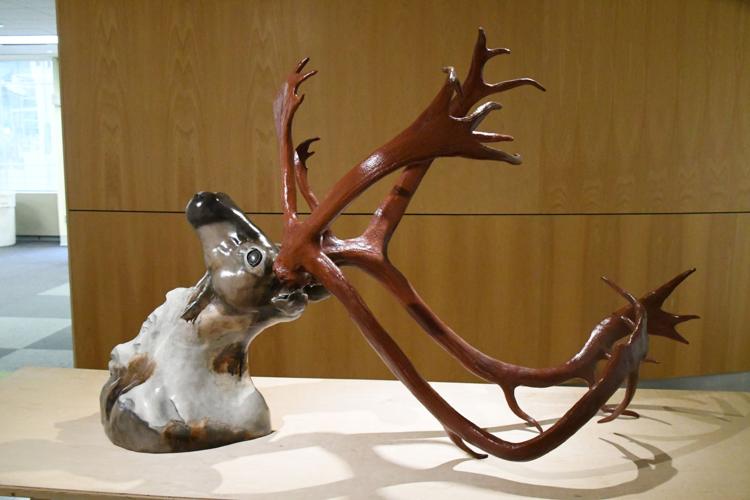 In 'Made of Stone,' professor Alanna DeRocchi's three representational sculptures: an emaciated Polar Bear, a dead Reindeer (maybe a Caribou) , and two sliced Walrus heads lie on minimal plywood tables, surrounded by Jonathon S. Green's, (UAA artist-in-residence) abstract prints (lithographs and Intaglio) which resemble amoeba-esque rocks with protruding straw-like appendages. Formally, each artist's pieces are exquisite while their individual genres (DeRocchi's representational sculpture and Green's abstract printmaking) complement each other. Green's work is black and white with many shades of gray to give depth. The viewer becomes perplexed as whether his objects could come alive or once were alive, maybe as part of a larger creature living in some mystical place.
DeRocchi's animals are hyper-anatomically correct and thus haunt. Her starving Polar Bear drags itself, as it resists gasping for its last breadth. Her Reindeer (Caribou) proudly reveals its beauty even though shot for someone's trophy collection. It reminds me of the children's story, "Thidwick the Big-Hearted Moose" by Dr. Seuss who almost becomes a decoration in a snooty Ivy League clubhouse. Seuss was ahead of his time when it came to Climate Change issues, seen through his light-hearted stories and comedic pictures. De Rocchi's severed Walrus heads have multiple meanings. They could reflect poaching, or the remains of subsistence hunting, or all that is left of a Walrus when Climate Change interferes with their habitats. But the eyes of these clay animals seem real and their species deserves to be saved, as do Green's abstractions of cell-like creatures.
DeRocchi is no stranger to the local art scene. She had a solo show at the Anchorage Museum last year and a moose she constructed resides in the Museum's Alaska Gallery for kids and tourists to get-up-close to. DeRocchi's artist statement taken from her Museum solo show also works for 'Made of Stone': "As a maker, my career has led me to often question how we interpret and how we give value to objects we encounter. They can provide education, comfort, or a means of personal expression. My own ceramic work is presented to bring attention to how my subjects exist as objects, despite their animal, landscape, or domestic subject matter. I look to museum displays of artifacts and taxidermy dioramas for influence on creating a narrative through observation and speculation. Museum collections offer a reflection on the past and allow us to make connections to our own current connections and beliefs. This organization of artifacts and objects give new life to such material things. In a way, it saves them from the tragedy of being forgotten. Taxidermy can also convey this, in animals that are no longer sentient beings, but objects. Yet through this, they somehow remain physical--for interpretation. Each object I create represents a memory or a significant experience that is no longer tangible in my everyday life. In four short years of living in Alaska, I have experienced some of the most inspiring and formative moments in my life thus far, which I could not have discovered elsewhere. This exhibition documents these experiences surrounding loneliness, death, loss, expectations of relationships and sex, and the mundane. Each piece serves as a record of a particular person, place, or thing that has captured emotion and helped shape my identity."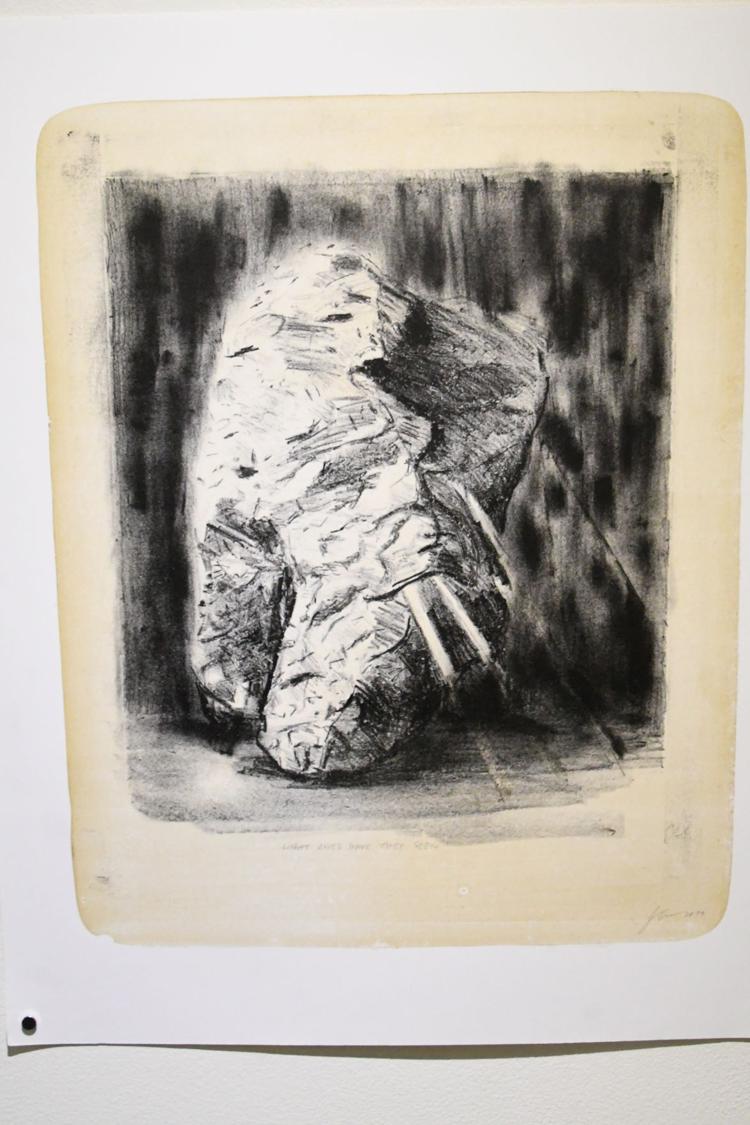 DeRocchi and Green are two artists who are addressing Climate Change. They are not scolding, but letting the audience unravel Global Warming metaphorically. Artists who want context in their work are increasingly using Climate issues to not only complement their work thematically, but call attention to this escalating problem. This petit show is power-packed and well worth a detour to UAA's library. Of Note: I went to see this show on a weekend and had to park and enter on the East side of the building. Taken from Green's show placard: "Jonathon S. Green's research and practice is concerned with Climate crisis in the era of the Anthropocene. The Anthropocene is our new geological epoch—defined by the impact and domination of humanity on the earth….A collaboration between mineral and stone informs the body of work exhibited here." Taken from DeRocchi's placard: "This recreation of the once sentient beings into inanimate objects produces an unsettling encounter of stillness and disconnect. Through their transformation, the animal remains physical and their story oddly lives on, saving them from the tragedy of being forgotten." The Sleuth says---Go see this show!
Jean Bundy aica-usa is a writer/painter in Anchorage