30 Asian American artists have one day to make six new plays  in Theater Mu's second annual virtual festival 
FRIDAY, NOV 19 - SATURDAY, NOV 20, 2021 
The virtual TwentyPho Hour Playfest is back, and once  again, Theater Mu is uniting 30 Asian American artists from across the country to  make six brand new, 10-minute plays in exactly one day.  
The playwrights this year are the Mu Tang Clan, Theater Mu's playwright incubator  program designed and led by Mu's Mellon Foundation Playwright-in-Residence,  Saymoukda Duangphouxay Vongsay. Besides Vongsay (Kung Fu Zombies Vs. Can nibals), the Mu Tang Clan consists of Marlina Gonzalez (Kuwentuhan, a bilingual  storytelling podcast), Keiko Green (Exotic Deadly: or the MSG Play), Kathryn Haddad  (Zafira and the Resistance), Alex Lin (39 Revolutions), and Susan Xu (Yellow  Trilogy plays).  
TwentyPho's other participants include Jennifer Weir (TaikoArts Midwest), Emily  Kuroda (Gilmore Girls), Greg Watanabe (Broadway's Allegiance), Brian Kim (Mu's  The Korean Drama Addict's Guide to Losing Your Virginity), Leslie Ishii (Perseverance  Theatre, Alaska), and Mia Katigbak (National Asian American Theatre Co., New York).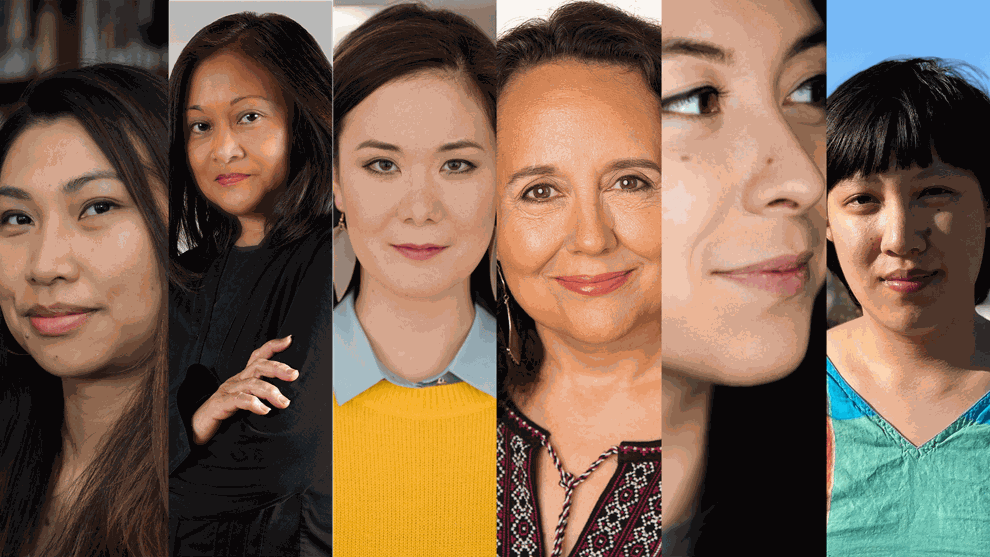 "During last year's Playfest, I was so proud that such groundbreaking and innovative  short plays were being created in such a quick and exciting way in Mu's virtual  theater," says Theater Mu Artistic Director Lily Tung Crystal. "This year, the Mu Tang  Clan has been supporting each other's work for five months now, and we're looking  forward to spotlighting their collective skill and the impact of their voices. 
"As we move back to in-person theater early next year, the Playfest will be our last  virtual artistic event for a while," Tung Crystal adds. "That makes it especially exciting  as we close out the nearly 50 virtual projects we've done in the last two years. It 
gives us the opportunity to work with Asian American theater artists from around the  country and introduce our local artists to viewers nationwide. And we can continue  to connect with the AANHPI [Asian American, Native Hawaiian, and Pacific Islander]  communities and audiences we've built around the world." 
TwentyPho Hour Playfest kicks off with a virtual Mu-tini Hour Nov. 19, 7 p.m. CST,  where people can meet the cast and artistic crew and each playwright is randomly  assigned their actors, director, and prompt.. (One example from last year: "And that's  why I never buy low-sodium Kikkoman.") Then after a furious day of work, ticket  buyers can log onto Theater Mu's private streaming service to watch the six world  premieres Nov 20, 7 p.m. CST. 
TwentyPho Hour Playfest is supported by presenting sponsors RBC Wealth  Management and Best Buy. 
Contact Lianna McLernon (lianna@theatermu.org) with any requests such as  photos, interviews, or press tickets. 
TICKET INFORMATION: Theater Mu uses Pay As You Are ticketing, which asks that  audiences who can cover the fair market pricing of the event ($20) do so. If an  audience member needs to pay less, they can—as little as $5 per ticket. The Friday  Mu-tini Hour is free and open to anyone via Facebook Live; you do not need a  Facebook account to watch it.  
For more information or to reserve your tickets, visit www.theatermu.org or leave a voicemail at 612.789.1012.
THEATER MU is the second largest Asian American theater company in the nation. Founded in 1992, Mu tells stories from the heart of the Asian American experience, presenting a fusion of traditional and contemporary artistic influences, which range from classics to up-and-coming voices in our community. Theater Mu's continuing goal to celebrate and empower the Asian American community through theater is achieved through mainstage productions, emerging artist support, and educational outreach programs. Theater Mu is a member of the Consortium of Asian American Theaters & Artists as well as a member of the Twin Cities Theatres of Color Coalition, proudly standing alongside New Native Theatre, Pangea World Theater, Penumbra Theatre, and Teatro Del Pueblo. www.theatermu.org