Win tickets to the Anchorage International Film Festival by clicking here.
Feature films with a movie star like Lili Taylor, and a supporting cast with a number of recognizable faces aren't the norm for an Anchorage International Film Festival entry, but 'Paper Spiders' will be making its final festival stop this week in Anchorage before heading into theatrical distribution.
Directed by Inon Shampanier and written by his partner and wife Natalie Shampanier, 'Paper Spiders' explores the issue of mental illness, in general, and more specifically delusional paranoia.
Stefania LaVie Owen plays Melanie, a high school senior, who comes to realize and then try to cope with the erratic behavior and mental torment exhibited by her mother, played by Taylor.
"In the beginning of the story, the girl is not aware of her mother's delusions, claiming her neighbor is taunting her. Then, gradually, the claims become more bizarre and she realizes her mother has a delusional disorder," Inon Shampanier said. "It's difficult to help these people because they refuse to believe they have a problem. Trying to convince paranoid people that they have a problem usually only results in resistance and rage, but it's a very loving relationship by her to help her mother."
The story was inspired by the relationship between Natalie Shampanier and her mother when she was growing up.
"It's something that's very close to our hearts," Imom said. "We were very fortunate to have NAMI (National Alliance on Mental Illness) involved, and the national director for NAMI participated in the first panel of the world premiere. We're talking to the Anchorage chapter of NAMI and they will probably be involved as well. We really hope to shed light on not only the issue of mental illness in general, but growing empathy and sympathy for people who have this."
Shampanier said this is his third film and second he's directed. His previous efforts he considered to be more 'thrillers', and both 'The Millionaire Tour' and 'Beautiful and Twisted' can be found on Amazon. This was his first film working with an A-list actor the caliber of Taylor.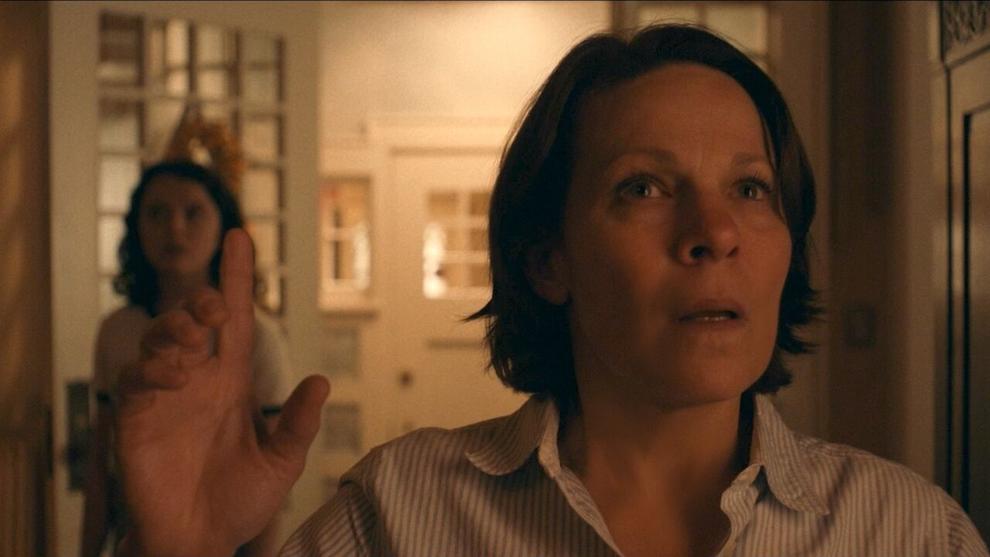 "We had terrific producers and people just really responded to the subject matter. They really wanted to be involved in a movie with an important story and a lot of  entertainment value. The subject matter is very painful, but we put in as much humor as possible,"  Shampanier said. "We wanted to keep it honest and authentic. Lily Taylor was wonderful to work with… You know when you cast great actors they're going to deliver a great performance, but you never know what relationships, what chemistry they're going to have. Lily and Stefania, on screen as well as off-screen, created something really special together."
Shampanier said the film closed production at the beginning of the year, just before the pandemic hit. It's made promoting the film considerably more of a challenge, and even though it might be easier to attend more festivals virtually, Shampanier says it's just not the same. Paper Spiders was able to be screened live at two festivals — Warsaw, Poland and Boston, where the film took first place in Best Film, Best Screenplay, Best Ensemble Cast and Best Actor for Taylor.
"I was really hoping to have a year of touring festivals in-person, screening the films to a live audience," he said. "It's wonderful to do these virtual festivals but you don't really know who's watching. Here and there, through social media you get to hear some very warm words, but you feel the experience a lot less."
Prior to Covid, Shampanier had planned on coming to Anchorage physically to screen his film and talked with audiences, but that will have to wait for his next film.
"Anchorage is our last festival of the year so it will be nice to wrap it up. This festival has been so supportive and so has the NAMI chapter of Anchorage. I hope this reaches audiences and hopefully helps people dealing with family members who have mental illness and make them feel a little less alone. A lot of people who have seen it say, 'this is my story.'"
Paper Tigers is available to watch as part of the 20th annual Anchorage International Film Festival Dec. 4-13. Log on to anchoragefilmfestival.org to get your tickets for this show and the dozens of other entries.