Covid-housebound humans are chafing at the proverbial bit to travel, if only to the next town. Many people are confronting boredom by making bread. But, have they really watched how the off-white elastic goo transforms into a network of beehive-esque cells, sequestered in a cave-like crust, until a sharp knife pierces into the memories?
Roni Horn's 'Island Zombie, Iceland Writings' [Zombie] turns boredom into an asset. Since 1975, Horn (b.1955) has traveled to Iceland many times, and observed/written about "the possibility of infinity (3)" which began as a child when she read Jules Verne (1828-1905,) who imagined the entrance to the earth's center was situated on this Nordic island (2).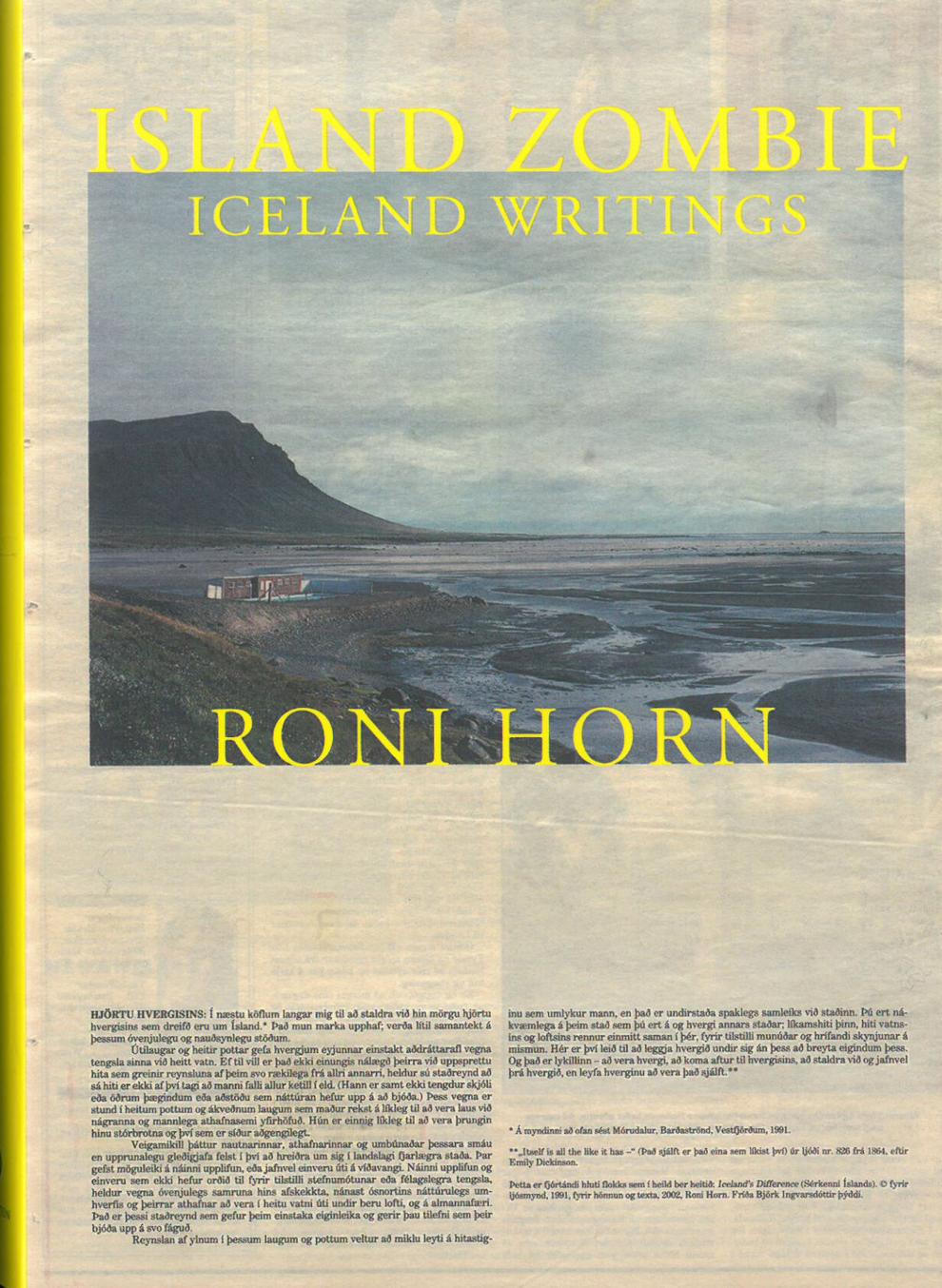 'Zombie' reads like a prose poem, beginning in 1978 when Horn got a Yale grant to spend six months in Iceland living in a tent and traveling on a motorcycle. She routinely returns, always observing/journaling, "Everywhere I look—north, south, close and far—I see the same thing. An unusual position to be in, an unusual place too; but is it a place at all? Is it the place that doesn't change or is it boredom—my mind busily extinguishing all difference out there? There's a mirror in boredom and the reflection makes it impossible to distinguish between myself and the place I'm in. Somewhere along in time I started to look the other way. Maybe it was in the beginning. Maybe I started out looking the other way and that's why I can't recognize the place I'm in. Or maybe I haven't just come to a place that draws me out. Maybe I've only been in a place that keeps me seeing in, not out, and as long as I'm in a place like this I may never arrive (93)."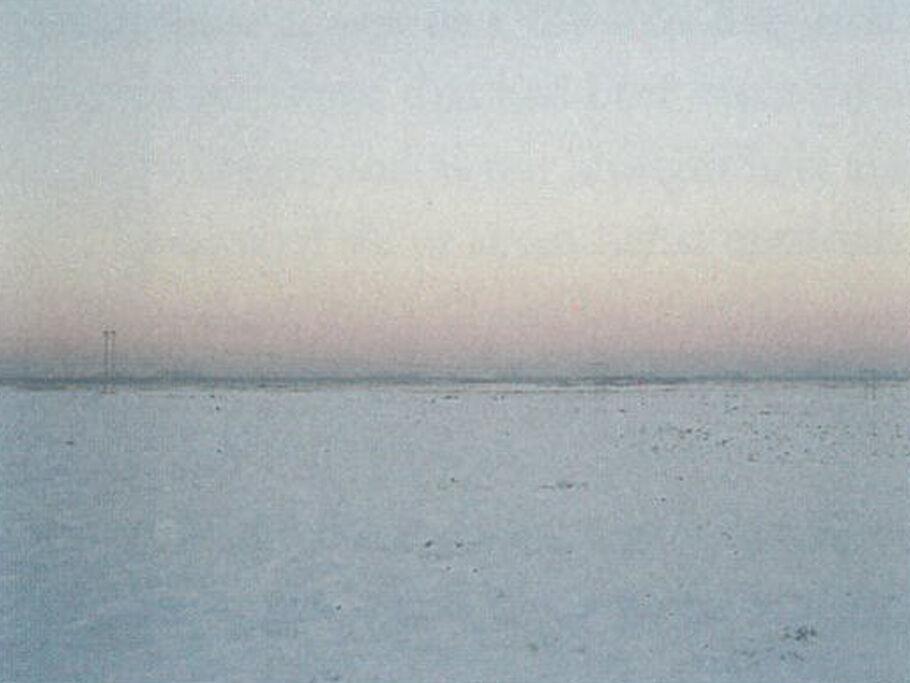 'Place' is a common visual and literary trope. It defined Turner (1775-1851) who positioned foregrounded objects against oceanic or urban backgrounds. And there's Wordsworth (1770-1850), who scribbled for the right verbiage like a painter marking in his beat-up sketchbook. What if you deliberately took yourself to a strange location and spent not just hours, but years studying what most people would consider a waste of time/space?
Horn writes, "Except for short interludes, I was outside 24/7, exposed to the inclement weather, the riotous force of wind, and the loud whining of the two-stroke engine. The roads, not made for distance, made travel demanding and slow…. I developed an exquisite sensitivity to the landscape and the weather. Indoors I became anxious when I turned my back on a window for fear I might miss something (1,127)."
In 1982, Horn resided six weeks in the Dyrhólaey lighthouse (2). She describes, "I'd been living on the bluff only three weeks when I ran out of reading material. I searched the lighthouse for possibilities. Up in the tower I found the repair manual for the electric generator… and 'True Life, Unsolved English Murder Mysteries'…. The mood was intensified by the thick fog that was presently enveloping the bluff….I sat in the dismal bare-bulb light staring into the darkness, into my reflection in the glass. Intermittent bursts of white swept past the window and over the bluff, racing round the room and washing over my face (17)."
Birds abound in Iceland and once when dozing on a beach, a large brown bird landed on Horn's stomach. She remembers, "It casts a shadow over my face. I lift my head as the bird takes a peck at my chest and wonder is this in life or in death? I panic and the bird spreads its wings, digging its perch in a little deeper as it takes off (13)."
As in Alaska's Aleutian Islands, wind plays the protagonist's part. Horn speaks about Icelandic meteorology, "The weather is here indeed—a Freudian slip of ecology….Weather with its amoral, wanton violence is lethal here. Weather moves rivers and makes them, too. Weather blows roads away or turns them into mud…. Cars are blown off roads… and people are picked up or knocked down by sudden gusts (15)."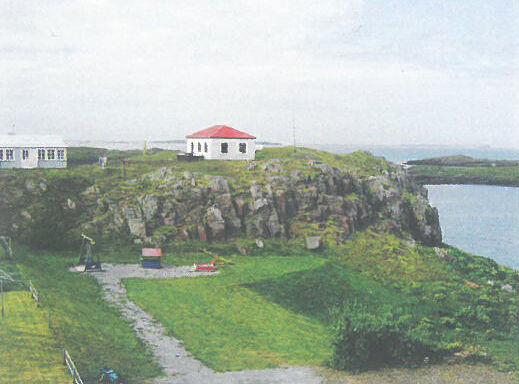 Horn has experienced Icelandic wrath, "High up in the mountains the day is dark and cold. Raining a thick, silent rain, the road is muddy, and the wet earth cakes the motorcycle and my legs….With no warning I hit an unmarked switchback and I'm in the air… previewing the scene of the accident. I land soundlessly in a lake, with the motorcycle between my legs, the water up to my seat, and the engine still running. Engaging the clutch, I inch forward slowly, waves splashing at my waist….I'm up the embankment and out of the lake, smooth and quick as a shortcut….I set up camp early in the evening. I'm exhausted and vulnerable. I slide into my tent and feel the day's events dispelling from my body. I ache with the tension of almost feeling dead…. The tent offers no protection against the wildness I sense around me. (25)."
It might surprise, "There are no trees in Iceland. Their absence brings out the remarkable nature of the landscape…. But when this absence combines with the right atmospheric conditions, Iceland grants omniscience to the visitor free of superior forms (19, 21)."
On occasion Horn bunks-down in a hotel admitting, "I'm too dirty to sleep. I need a shower. At this late hour the hotel is shut down and the staff is gone. Wandering around barefoot, I find the swimming pool [She heads to the locker room showers]….The pressure is strong, the water soothing and hot, and with the usual smell of sulfur. But the showers are short and the water hits at waist level.... So, I slump on the cold tile floor; the water rinses over me. (29,30)."
Horn has been hired by a Danish fisherman to 'salt and stack codfish fillets' (39). She gave a graduation speech at the Iceland Academy of the Arts, Reykjavik, wittingly saying they would probably have preferred Dolly Parton (125). And she interviewed residents like Margrét Ásgeirsdóttir (b.1955) who told of delivering mail in a blizzard. Exhausted, she fell asleep in a snowdrift. Ásgeirsdóttir remembers, "Then I woke up with a bulldozer clearing the snow close by and it had drifted right over me" (177).
Although Horn sees blowing litter as needed texture upon a desolate landscape, she worries that Iceland "one of the wealthiest countries per capita in the world, with low unemployment, and one of the cleanest, most ecologically intact modern countries in the world, is choosing to take on a strategy that will ensure the loss of these qualities (43,189)." Like everywhere, progress means pollution-- Climate Change!
'Zombie' gets repetitive on occasion, which doesn't detract, as everyone backtracks before tackling new challenges. I felt experiencing 'Zombie' was best as a macro-read rather than worrying about which Horn aesthetic experience happened on which trip. Reading 'Zombie' in Covid-confinement changed my view of this past year, not as a total waste, but a chance to recharge and reflect.
Mini Sleuth: 'Island Zombie, Iceland Writings' by Roni Horn at Amazon. Thanks to Jodi Price at Princeton University Press.
Jean Bundy, is a writer/painter in Anchorage, and Climate Change Envoy at