Last week's Notre Dame de Paris inferno proves that art is the greatest metaphor for Globalism. On Place Jean Paul II, many ethnicities stood, prayed and cried, while millions worldwide watched on electronic media, as firefighters saved most of the structure. Instantly monies poured in from all parts of the earth, because people worldwide want to feel a part of rebuilding a monument which has endured the historical dichotomy: pain and euphoria. Notre Dame, like all art objects, is for everybody, and likewise closing borders whether in Europe or the U.S. will prevent the exchange of aesthetic ideas. After all, the fire didn't care about cultural divides; it just enjoyed melting lead and smoldering centuries old wood into charcoal.
To recap essay 'Nationalism (Selfishness) (Part 1, April 8)' in mid-March I had gone to Paris for the annual AICA-INT (art critics) conference at the Sorbonne. Heading back to Alaska through England, husband Dave and I also took several side trips out of London. Even as visitors, it was impossible not to be absorbed into Brexit-mania. Trafalgar Square was full of protestors chanting for both sides of the dispute. Museum-goers heading into the National Gallery and adjacent Portrait Gallery were all chatting up Brexit too. In the National Gallery café, I observed a woman wearing a yellow Brexit T-shirt getting scant attention from servers and nasty looks from Brits having afternoon tea.
At the Portrait Gallery, photographer Martin Parr's exhibition 'Only Human (thru May 27)' examines 'what it means to be British', a phrase overused by both sides of the Brexit debate. The original intent of this museum was to highlight the English rich and famous, which it still does. However, in Post-Modernity the institution takes note of ordinary folk who after all make up most of the United Kingdom. Parr's show has pro-Brexit and anti-Brexit galleries, but all photos in each section could have been transposed, proving it is hard to detect a Brexiteer, just like it's not always easy to know who is a Trumpian. Again, like the Trump scenario, viewers have their own opinions and don't seem to change teams even when new information surfaces to the contrary.
Like many postmodern photographers, Parr does not pose people. His gigantic candids loom at visitors, sometimes grossing them out. According to the Parr catalog, "he probes the clichés of British life—cups of tea and English breakfasts… umbrellas…a young rugby player in his bespoke finery at Harrow, then again covered in mud after winning a match…rain at Wimbledon, showy hats at Ascot…or the riotous interior of a limousine on a hen night, complete with naughty novelty blow-up doll (Parr 135)." Parr also shot British expats who have maintained Englishness abroad: India, Sri Lanka. And he attended the Republican National Convention, 2016, capturing Americans. Young, old, LGBTQ, multi-cultures and those who believe think they're aristocratic, are all poked at through Parr's lens, creating the theme that we are all in this earthly togetherness tableau. I came out of the exhibition thinking it was an anti-Brexit show, but then I went in with that view too.
The next day, Dave and I boarded a Waterloo Station train for a ninety minute ride to Salisbury Cathedral. Built in the mid-thirteenth century, it is one of the finest examples of Early English church architecture (originally Catholic, now Anglican due to Henry VIII's tantrum). The edifice houses one of four remaining original copies of Magna Carta. Standing in the transept looking upwards through rows of thick columns, to the vaulted ceiling, it's amazing that medieval man could build without power tools or Advil. Salisbury's cafeteria is a glass atrium sandwiched in between two arms of the building. Gazing skywards while slurping homemade soup and noshing chunky bread, buttresses appear to magnify while their placement could easily be understood.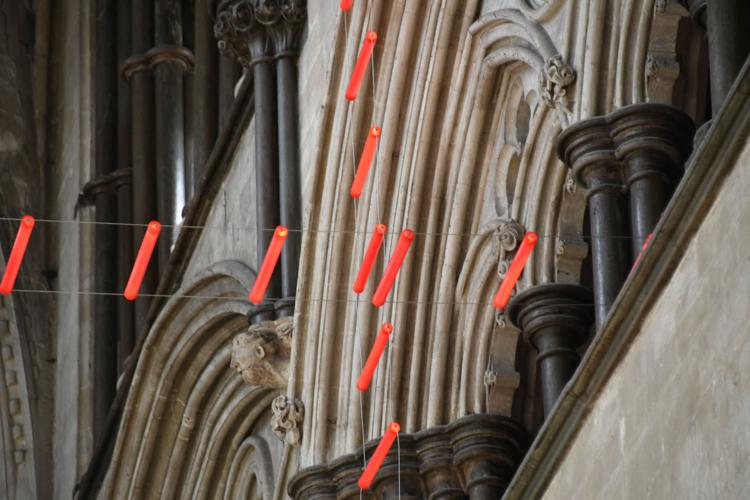 Church docents were all manner of retired locals; most believed leaving the European Union was best. They felt Britain had enough manpower to exist independently, having built an Empire that survived modern warfare. Happily, churches like Salisbury are becoming art spaces. Yes, I did hear grumbling from volunteers who frowned upon the installation 'Ladders of Light—a New Constitution for the UK (thru April 3)' which occupied the North Nave. British artist Mary Branson (assisted by local volunteers) hung 21 wire ladders with illuminated red rungs off Cathedral balconies and columns. A Bronson excerpt: "The Ladders of Light are a metaphor for hope and aspiration, for movement up and down, crossing divides, overcoming barriers, and laying a pathway to a more just society." Accompanying 'Ladders of Light' and projected onto the stone walls as red lettering was British-Ethiopian poet laureate Lemm Sissay's tome, 'Magniloquent Cartilage'. A Sissay excerpt: "That we are all immigrants from the moment we migrated from the womb into the open air will be taught to all citizens in schools." Both Branson and Sissay left the Brexit/no Brexit quandary to the onlooker. According to Sissay's poetic manifesto, 'We will not hurt each other. We will hold each other'" Since I arrived feeling Brexit is selfishness, I deduced 'Ladders of Light' and the verbiage meant Britain needed to remain in the European Union.
The television serials 'Poldark' and 'Doc Martin' have generated interest in Britain's Cornwall coast, which was to be our last adventure before flying back to Anchorage. For my Ph.D project, I read about sculptor Barbara Hepworth and her husband painter Ben Nicholson who hunkered down in St Ives during World War II. Refugees like sculptor Naum Gabo, fleeing Nazism, came to Cornwall before emigrating to New York after the war.
My intent was to visit the Tate St. Ives which resembles a mini version of New York's Guggenheim. Munching fish sandwiches on their roof deck overlooking St. Ives Bay, Dave and I imagined shipwrecks and piracy that routinely took place, now replaced by tour boats, surfers and the modern romantic notions of smuggling.
St. Ives, once known for tin mining, is now a hilly cobblestoned resort of condos, fish cafes, and ice cream shacks, punched into the rocky coast above beige beaches. Watching the tide empty out the bay and topple moored boats was as fascinating as observing the fickle sun glistening off the blue/green Atlantic.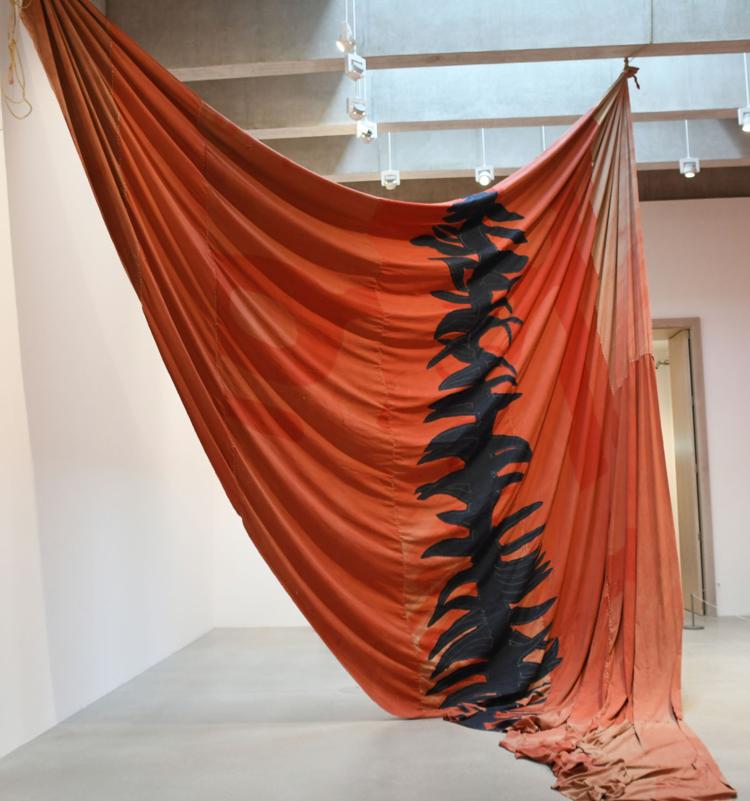 The Tate's exhibition, 'Anna Boghiguian (thru May 6)' allows spectators to enter her recreated studio where notebooks clutter, 3-D installations loom high, paintings are rudely tacked up, and paints on a work table reveal some of her methodology. OK, I found it difficult to unpack her art, as I am used to fewer themes or at least some chronological order. Some works were well constructed while others seemed sloppy and frenetic. Then again, perhaps she's complicated beyond my comprehension, or even her own understanding. Multiple topics could be her 'thing' stemming from a somewhat politically charged upbringing and classical education: Machiavelli, Hegel, Dostoyevsky, with Truman Capote and Andy Warhol tossed in. Boghiguian was born an Armenian (refugee) in Cairo, 1946. She experienced Egypt's post-war upheavals that led to Farouk's exile and Abdel Nasser's takeover. In the seventies Boghiguian was finally allowed to study in Canada. Boghiguian maintains a studio in Cairo, primarily using recycled elements. Her catalog reads, "Anna Boghiguian's modus operandi involves traveling the world and observing the contradictions of society and the ways in which human beings cruelly treat their fellow-men and the environment (Anna 123)."
The plight of Syrians has been one of her themes. Boghiguian states, "When you're in exile, you don't even have a suitcase. You only have your clothes, and you don't know where you're coming from or where you're going. You become like a newborn with no direction; every possibility is open (Anna 62)."
Boghiguian's 'Salt Traders' is a major part of this show, and speaks to the 'political history linked to this chemical compound'. Used sails hang and hulls of old wooden boats reside on a salt covered floor. She imagines a Roman salt merchant vessel reappearing from the melted 2300 CE Arctic and muses, "a past connected to our present re-emerges along with the boat." Boghiguian observes salt water is, "a liquid fundamental to life but also capable of corroding metals (Anna 133)." Salt was an early food preservative, a form of money and now a trope for slavery. Ambiguities in this show reach across all human conditions and apply to aesthetic journeys of Notre Dame, Martin Parr, and Salisbury Cathedral. Keep on sleuthing for community found in art.
Jean Bundy is a writer/painter living in Anchorage