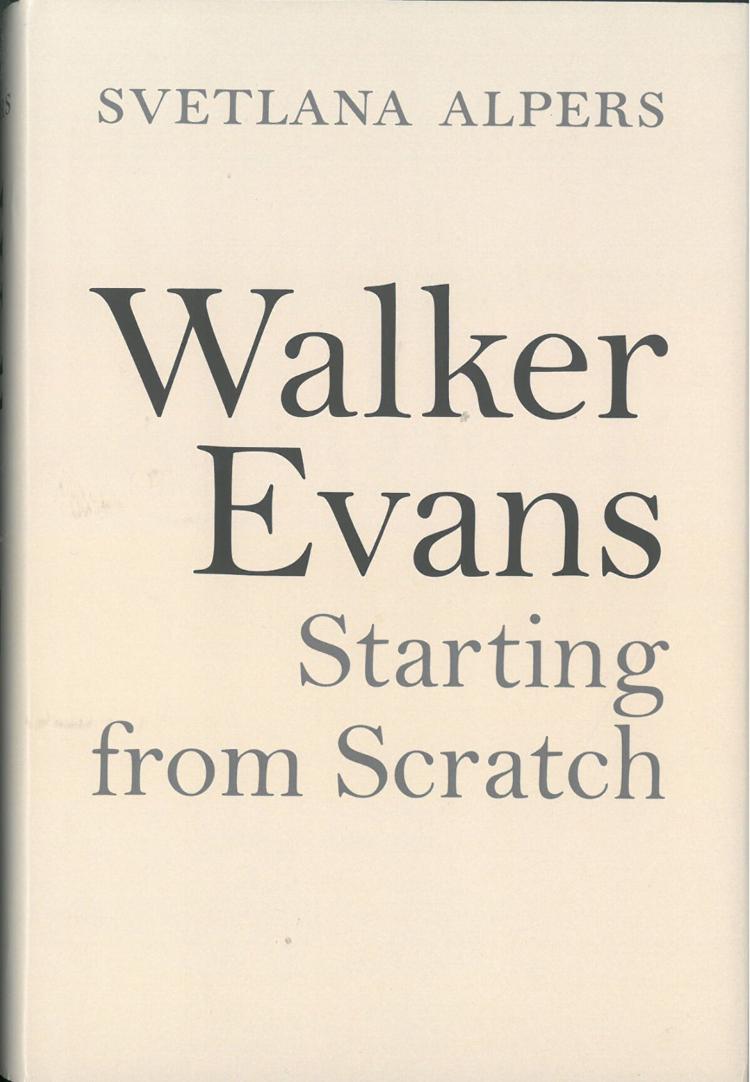 'Walker Evans: Starting from Scratch' by Svetlana Alpers (b. 1936) is an entire semester in one volume. Alpers, daughter of a Russian refugee, graduated from Radcliffe/Harvard, spending decades as professor of art history at the University of California, Berkeley, accumulating awards too numerous to mention, except maybe an officier 'de l'Ordre des Arts et des Lettres' by the République Francaise. As a painter I approach photography as a tool to avoid standing on some street corner sketching so as not to freeze, look stupid or get mugged. Perhaps that is what drew me to this book? Anyone who has taken a classical art history class has no doubt read Alpers' 'The Art of Describing, Dutch Art in the Seventeenth Century'.  Her analysis of Evans' artistic life will not disappoint. Alpers insists, "A photograph presents an excess of visual information (72)."  
Walker Evans (1903-1975) was a photographer from St. Louis, Missouri. After a few misfires at Midwestern schools, his family sent him East to Philips Academy Andover, and then to Williams College--dropping out after a year. Bouncing back and forth from New York to Paris, Evans landed a job with Lippincott, 1933, to photograph 'The Crime of Cuba'.  In 1935, with the Great Depression still raging, he was lucky to work for Roosevelt's alphabet soup: Resettlement Administration, and the Farm Security Administration. 
In 1936, working for 'Fortune Magazine' (this famous article never went to press) he and writer James Agee (1909-1955) ventured to Hale County, Alabama to document abject poverty of white tenant farmer families, which eventually became the 1941 book, 'Let Us Now Praise Famous Men'-- still published. In 1938, Evans photographed New York City subway riders, hiding a camera inside his coat. After 1945, he worked for 'TIME and Fortune' and in 1965, became a photography professor at Yale. Towards the end of his life, he was fascinated with the Polaroid SX-70 (they gave him beaucoup film) and the immediacy of snapshots, much like the lure of iPhone photography today. 
According to Alpers, "Photography isn't a matter of taking pictures. It's matter of having an eye (1)." Browsing through the book, all Evans' figures, buildings, statuary, and roadside detritus possess a trace of the human experience.  At a Yale interview, 1974, Evans said, "A garbage can, occasionally, to me at least, can be beautiful….I lean towards the enchantment, the visual power, of the esthetically rejected subject (2)."  Alpers rejected the notion that Evans' attraction to common and discarded materials was Pop Art-esque (201).  Evans' depiction of signage, often found on ramshackle buildings, has a sociological quality, providing a narrative of the times. True-Pop Art speaks to a post-WWII era, where manufacturing boomed almost as a trope for winning the War.
 Evans likes to, "suggest people sometimes by their absence (10)." According to Alpers he was, "devoted to photographing empty rooms, whose spaces and furnishing suggested absent inhabitants (10)." While Evans work may not be considered post-War Kitsch, his repetitive reference to 'absence' speaks to Postmodernity, with its layered symbolic signage, placed on objects.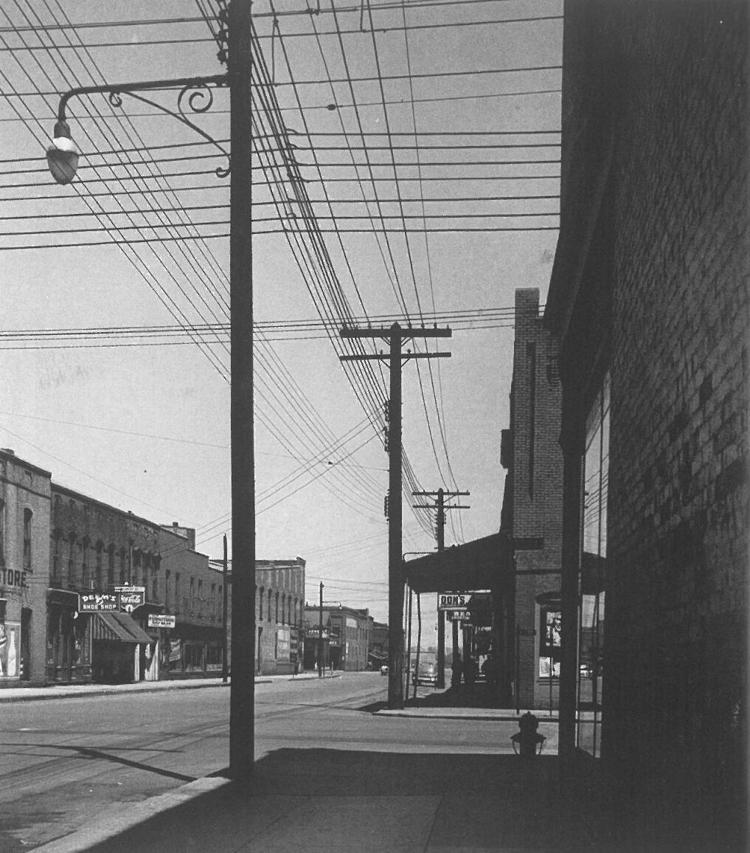 Revering the style of Gustave Flaubert (1821-1880), Evans interest in writing landed him an editor position for 'Fortune', 1965. In his Radcliffe lecture, 1975, Evans again reiterated, "I believe in staying out, the way Flaubert does in his writing (19)."  Alpers discovered "airlessness" in Flaubert's text, announcing, "There is no space—no breadth, no voice, no connectives—between Flaubert's words (21)." It's hard to believe Evans' aura or those folks missing from his empty storefronts are not in some way present. However, the way he shoves viewers, up-close-and-personal, when standing before his imagery; a scuba air tank might be a good idea. 
Flaneur Charles Baudelaire (1821-1867) was another writer Evans emulated. As Alpers relates, "The poet's feel for things cast away, for debris, resonated for Evans….Evans turned firmly away from nature to attend to man, not always to man in the city as Baudelaire did, but certainly to man (40,41)."  In 1936, Evans most famous flaneur-gig was the three weeks he spent documenting three white tenant farmer families in Hale County, Alabama, albeit recently deemed controversial, as those interviewed allegedly received no pay much less a book copy. Alpers diminished the political and sticks to 'making' saying, "despite the poverty in which the families lived, Evans's portraits gave the people dignity, showed them respect (150)." Of note: In the 1960 edition, black tenant farmers were finally shown. As Alpers commented, "one is reminded again and again of the ease and interest with which Evans photographed black people (123)."  This comment may seem politically incorrect given the last few months of 'Black Lives Matter', but photographing Blacks with dignity in the Jim Crow era was rare.  
Between 1938-1941, Evans other flaneur-gig was photographing subway riders (158, 159). As Alpers writes, "There is something eerie about the repetition of so many isolated, pale, fixed faces, most heads topped by a period hat and set on bodies rigidly placed against the windows, their frames, and the signage of a subway car….It is not only their anonymity but their being unaware of being seen that makes the people look strange (158,159)." Artists often feel the need to aesthetically misbehave. 
Evans' way of shooting, and scissor-editing (no Photoshop) takes viewers back to an urban versus rural, warts-and-all divided America, only seventy odd years removed from the Civil War.  OK: our social welfare and tolerance towards our fellow Earthlings has improved, but as we have come to realize during Covid-19—we still have a long way to go!  This biography affectionately reads like a lecture series, with professor Alpers nudging students to close-read the 143 black/white Evans photos conveniently placed at the book's beginning.  
Photography has been the strange bedfellow of painting. Back in the Henry Fox Talbot 1840s, the question arose, "does photography belong in the history of pictorial traditions or does its nature as an automatic recording device make it something other than art (213)?" Computer imagery, especially do-it-yourself social media, has overtaken an interest in hands-on making. While brushstrokes and found thumb prints are not the internet's concern, the metaphorical voice of the photographic/electronic instigator, no matter how he begs to disappear, remains, if only in the style of images repeatedly chosen for the web.  Evans routinely stated, "Watch me, I'm going to disappear." Alpers surmises, "Evans is nowhere, yet what his eye saw is absolutely present (6)." I am not sure you can separate any artist's eye from his working body.  Evans helped to make photography an "American medium (x)" a lens for observing where the country faltered, in order to correct ourselves—let's hope!
Mini Sleuth:Thank you to Jodi Price at Princeton University Press for supporting me. 'Walker Evans' by Svetlana Alpers was quoted and is available at Amazon. Evans "had an eye to look at the world (213)." Use your aesthetic eye, and vote Biden/Harris this Fall 2020. 
Jean Bundy is the AICA-Int. Climate Change Envoy