I am strolling through Catharine de' Medici's Tuileries in Paris, which was opened to the public after the French Revolution. I pass a Muslim family (father, mother, couple of kids) sitting on a pond-side bench throwing bread to pudgy ducks. Different ethnicities permitted to share the world, are what is happening in spite of misguided leaders wearing blinders, who wish to selfishly close borders.
The next day husband Dave and I are standing, for three hours, in a long line of humanity, probably 500 travelers on the balcony overlooking Gare du Nord tracks, all waiting to board a train to London. Miraculously, I remained upright on my formerly broken leg, as I watched my train and subsequent ones depart. When we finally made it to a French Customs booth, the agent further caused delays as he talked on the phone while eating a sandwich. All this nonsense was brought about by anti-Brexit slow-downs so tourists and business people might experience how other countries will treat Britain after Brexit becomes reality. Eventually catching a train, but not the nice seats we had purchased online, we arrived at London's St. Pancras Station to find taxi ranks missing because of construction. Signs were misguiding and no one cared to help us; London is in a Brexit fog! Finally getting a cab to our Trafalgar Square Hotel, the driver threaded his way through hordes of Brexit/anti-Brexit protesters as well as drunken soccer fans. Once on the sidewalk, an inebriated soccer reveler tried to punch me out for having Trump for a president.
OK, I need to back up and explain what I, Alaskan critic, was doing in Europe, experiencing two weeks of art venues through a lens of populism. As a board member of AICA-International (art critics), I was attending the annual Paris meeting at the Sorbonne. AICA-Int is a worldwide forum focusing on art's social contributions, but also to chastise dictatorships for jailing journalists who speak out against social injustices.
If you want to feel intellectual, wander through the narrow hilly lanes of Paris' Latin Quarter, where the Sorbonne looms like a gigantic fortification for smarty-pants. Tourists and students of all nationalities lunch outside the Pantheon, ground zero for this gargantuan collection of universities. The Pantheon houses remains of France's famous, like author Émile Zola, who was murdered for supporting Alfred Dreyfus, a military officer falsely accused of treason because of his Jewish heritage. Of note: Degas, whose red-orange pigments vibrate against his muted greens, mesmerizing visitors in major museums, was an ardent anti-Dreyfusard. Hypocrisy isn't a new phenomenon!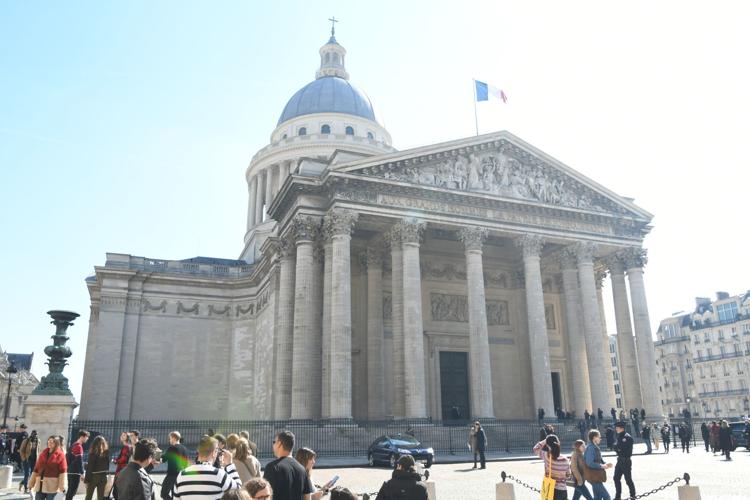 Before sitting on worn and steep amphitheater benches worthy of a 'Masterpiece Theater' 18th century ghoulish operation (maybe Diderot found these planks uncomfortable too) I had to be approved by France's Gendarmerie. I pushed my way through 'yellow-vested' Parisians, demonstrating unfair taxation. Wanting a Sorbonne t-shirt at the end of my conference, I found a souvenir shop nearby managed by a Middle Easterner who seemed indifferent to the politics of the day or his low paying job.
After Conference Art Sleuthing
Visiting museums is my favorite pastime, and art is one genre that reveals human cruelty while encouraging togetherness. I delight in walls of color, afternoon tea and a cookie, where people of many socioeconomic backgrounds and ethnicities can stroll freely, which hopefully reflects sensibility on the part of artists and their curators. While visitors shop for reproductions or purchase catalogs at gift shops, (all good as it supports museums) do they think about how and why that particular art piece was constructed? Where was the work originally shown and has it morphed into its new time and space having acquired new meanings? Beneath all that line and color headed for someone's living room decor, original social narratives need revisiting.
I headed to the Musée de l'Orangerie for the exhibition 'Franz Marc/August Macke, The Adventure of the Blue Rider (thru June 17)'. Both Marc (1880-1916) and Macke (1887-1914) were German Expressionists who mingled with French artists like Futurist Robert Delaunay. While many artists including Cézanne avoided their war du jour, Macke was killed in Champagne and Marc at Verdun, having been drafted to fight for their German Motherland against France which had molded their short painting careers. Marc's primary reds, yellows, blues are similar to Léger's palette and his fracturing of space is akin to Chagall, minus the Russian iconography. Macke adds black as he also fractures space, but is more urban and representational. Sadly, their art never matured, as they died young in an earlier version of Nationalism.
Paris' Musée d'Orsay is headquarters to French Impressionism, a genre which is highly sought after. Go into any major museum in the Western world and gift shop items abound with Impressionistic bags, mugs, umbrellas. Impressionism is colorful with chunky shapes. The people depicted resemble contemporary folks who can identify with strolling in gardens, chatting in bars, seemingly having fun. Alas, metaphorical cues that indicate misery, specifically prostitution, are overlooked.
While abusing women isn't technically in the ballpark of nationalism, it has similar attributes: misuse of power, inflicting selfishness. In the d'Orsay's bookstore, I discovered 'Splendours and Miseries', a bygone show catalogue about what lurks beneath impressionism's color and light. Hello! mass migration of humans looking for a better life is not novel. With the Industrial Revolution and military conscription, young French males flooded Paris, and thus required after hours debauchery. Adding to the equation, farm girls also flooded Paris. Prostitution was big entertainment written up in travel guides. Corner brasseries were cover-ups for bordellos and ripe for rejected dancers who had few choices. Regulatory agencies looked away as venereal disease was rampant. The medical establishment cared more about the welfare of the male breadwinner than those infected for selfish pleasures. True, some courtesans became very wealthy and were accepted in high society. Artists like Courbet, Lautrec, and Manet were drawn to the light-hearted and dark side of the sex trade, painting its fascination. They pushed boundaries as their work got noticed even when a gallery rejected an all too obvious boudoir scene. Denial and hypocrisy lay beneath artist's pigments. Not generally depicted were arrests and imprisonments of young ladies.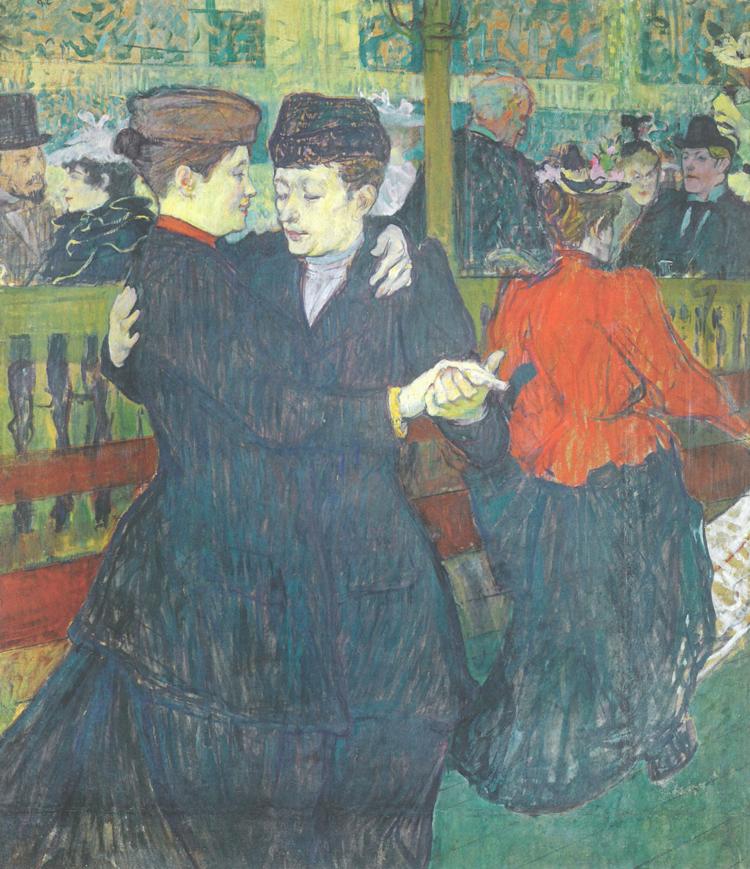 Today, artists continue to respond blatantly, subtly and surprisingly unfairness still raises eyebrows in certain galleries. Eastern Europeans flowing through Western Europe, Central Americans trying to enter the U.S. and the effects of Climate Change on the poor are becoming common themes.
Once upon a time only the elite could walk through the Louvre. Even being shocked was reserved for a select audience. Today museums are places for all ethnicities to view exhibitions together. I caught the show 'Sorolla, Spanish Master of Light (thru July 7)' at the National Gallery, London which brought together many cultures who ignored the Brexit protesting occurring outside, as they contemplated Spain's master painter through their individual cultural lenses. Joaquín Sorolla y Bastida (1863-1923) studied in Paris, Rome as well as Madrid absorbing many styles not possible if countries didn't allow for cultural cross-pollination. With impending Brexit all this may vanish. While Sorolla is known for his placement of light (lead white paint) in portraiture and historical epics, two works highlighted societal ills of his era. 'Sad Inheritance !' depicts children who, through no fault of their own, were victims of syphilis and polio. 'Another Marguerite !' shows a young woman about to be imprisoned for killing her bastard infant. In the 21st century, social injustices are not only similar, they haven't gone away. Art and its institutions should be safe havens to reflect upon Nationalism on a grand scale or individual selfish indecencies.
Mini Sleuth: In Part 2, I will continue my Euro-art journey through the lens of Nationalism. With Britain's Brexit debacle and the European hatred of Trump, I ran into more surprises. 'Sorolla, Spanish Master of Light'; 'Spendours and Miseries, Images of Prostitution in France 1850-1910' are available on Amazon.
Jean Bundy aica-usa is a writer/painter in Anchorage