Ever since humans started wearing clothing, someone in the group was relegated to do laundry.  And while there are still world communities where fabric is hand-washed, and many places where material is dried on clotheslines, desire to do laundry faster using less muscle power created washing machinery. The business of laundry can be looked at as a metaphor for how society reacts to class and the ever evolving Climate. After all in ancient times women washing together in rivers gossiped for change.
All those Downton Abbey-esque Victorian serials where gowns spotlessly cling, and winged collars pop-out of men's evening shirts, stiff as egg whites hand beaten in cellar kitchens—household garments were hand washed in large scalding kettles by platoons of low wage women servants. Dirt was loosened by beating the submerged fabrics with bats. Tubs were painstakingly emptied/ refilled as clothes got rinsed and then sent through a mangle. Care was taken for woolens which needed cooler water and gentler wringing-out.  Expensive outer wear and velvets were cleaned by skilled dry brushing. By 1901 steam powered commercial machinery began to appear (Goodman 255-270).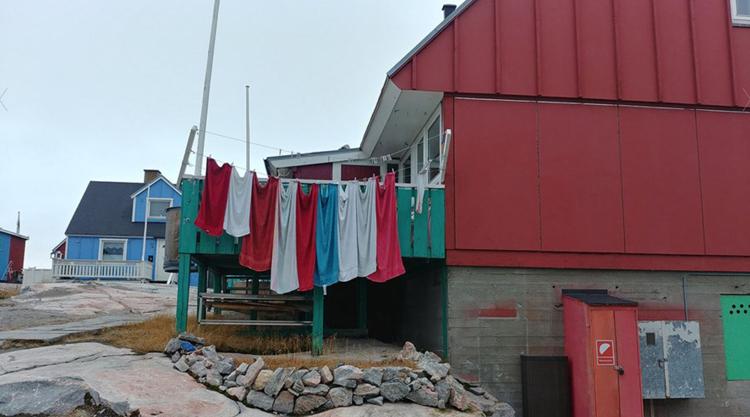 The early twentieth century saw the invention of powered home laundry equipment. Although many still felt hand washing got clothes cleaner, machines could now process soiled fabrics domestically or commercially, more efficiently. I find doing laundry relaxing, because all I have to do is push buttons. As a child, summering in the fifties on rural Martha's Vineyard, shorts and underwear were taken to one of the only island laundromats. I remember being rewarded with Grape soda or Orange Crush from a red Coca-Cola cooler, if I helped. In my grandmother's house, sheets and towels were sent out to be washed, dried and ironed by Mrs. Wagner, wife of the chief of police. Every couple of Sundays she and her husband would appear on my grandmother's covered brick porch with two large wicker baskets brimming with pressed snow white sheets and towels. They would stand outside the living room screen door and smile. Mrs. Wagner sported a bleached page-boy coif, and always wore blue Keds below her long blue jean skirt. The Chief chewed a cigar through his walrus mustache. He wore linen slacks and leather tie shoes, but only an undershirt atop his copper toned muscular physique.  For decades they had processed my grandparents' clothing and now they were washing two subsequent generations, and no one had ever had invited them inside!
When traveling, I often find laundromats are a great place to interact with locals. In the early seventies, on our road trip across Canada, I watched my toddler stare nervously as a coin-dryer rotated her 'blankey' before we embarked upon the unpaved Alcan to our new life. I've done laundry in a twelfth century castle in Tuscany too.  And I've learned about the colleges my kids chose by socializing with their friends in dorm laundries over parent weekends.  A recent New York Times article: "He's 83, She's 84, and They Model Other People's Forgotten Laundry," is about a couple who own a laundry in Taiwan. Bored from having few customers during Covid-19, their grandson put them on Instagram showing the pair modeling garments never picked up. Going online has given the couple 'Warhol's 15 minutes of fame' and inspired tardy customers to reclaim and pay up.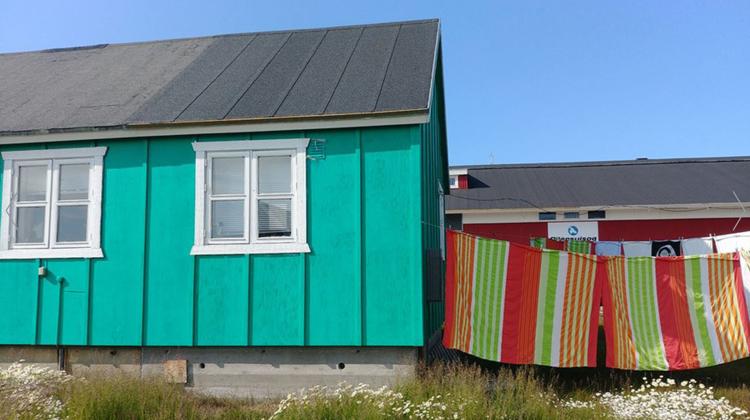 The Anchorage Museum show, 'Aesthetics of Hanging Laundry' by Andreas Hoffman,  artistic director of Arctic Culture Lab, Norway and Greenland (Online or in Situ).  This photography project features line dried laundry from Disko Bay, Greenland. He says that whether residing in the city or country he has always hangs out his laundry.  I paraphrase Hoffmann:  Greenland was one of the first areas in the 19th century to see Climate Change from the Industrial Revolution on both continents it separates. Like much of Alaska, Greenland is not fossil-free. Small villages rely on petroleum and kerosene heaters. Waste is always a big issue on islands; we can't ship it to another place. Awareness about recycling is increasing, but change takes time, too much time.
Hoffmann's laundry looms metaphorically as Greenland's Indigenous are striving to maintain a subsistence lifestyle, while upgrading health care, and their economic status. He suggests that designs created in the hanging process resemble patterns passed down from ancient costuming, an important part of Greenland's heritage. As Hoffmann relates, "it is about discovering the beauty of sculptures consisting of stiff, frozen sheets and towels. It is a call to enjoy dependence on weather. It is striking that some people prefer to hang laundry according to size and color, while others show a sense of repeating patterns. Often the laundry's color matches the color of the owner's house. Some seem also to like adding additional scents—while hanging laundry next to drying fish or caribou meat." 
Hoffmann also uses laundry as realization of Global Warming's conundrums.  There is a desire everywhere to acquire machines that make drying easier, but hanging out clothes to dry is pollution free. He fears our trust in the wind has gone. However, the smell of the sea embedded in Greenland's hanging laundry becomes a symbol for hope of a needed balancing act between desired conveniences and protecting the Earth. 
Two African American artists also rejected stretched canvas, a trope from Western Civilization's art canon, as they craft hanging cloth, making an aesthetic statement about social issues. Sam Gillam's 'Bow Form Construction: acrylic and enamel on Draped Canvas (1968)', was exhibited in the Whitney Biennial, 2019. He wrote of his non-representational piece, "Figurative art doesn't represent Blackness any more than a non-narrative media oriented kind of painting, like what I do."  Tyler Mitchell's, exhibition, 'I can Make you feel Good' at the International Center for Photography (thru December 31, 2020, also Online) presents figuration on hanging laundry to illustrate that domestic labor is often done by Blacks. 
Laundry represents the importance of manual labor which is overlooked as crucial to a culture's narrative. Hanging fabric can be used to underscore social injustices often linked to Climate Change, as it's the poor who are helpless to avoid the polluting effects of Global Warming. All manner of artists are on frontlines visually commenting on issues, challenging the status quo and helping to affect change.
Jean Bundy is the Climate Change Envoy at AICA-INT