By David A. James
A lot of cartoonists will mention their favorite comic books from childhood when discussing their sources of inspiration. But for Anchorage's Zack Leslie, it was television shows that prompted him to pick up his pen and start creating.
"I think the programs I watched as a kid sparked a lot of interest," he explained. "I watched a lot of Simpsons, Ren & Stimpy, and Golden Age animation. I didn't read a lot of comic books growing up. I would read Calvin and Hobbes."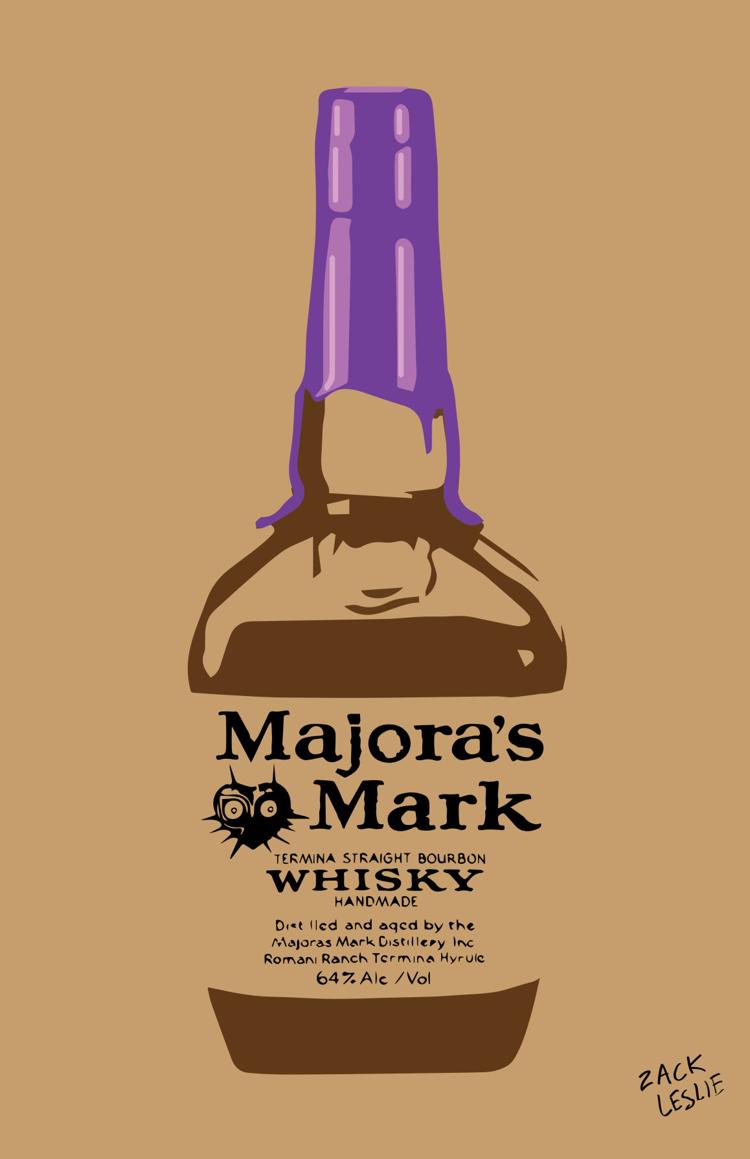 These influences are readily apparent in Leslie's vibrantly colorful and highly playful cartoons, which have been drawing increasing attention in the past year.
One of his most widely seen, titled "Puffin," depicts the beloved Alaskan seabird with a big grin and a dwindling blunt, gazing happily off into the distance. Originally drawn for a local dispensary owner, the image highlights Leslie's use of colors and texturing. The off-white coloring of the bird's face and chest contrast with the pure white teeth that immediately jump out at the viewer, while varied blues, oranges, purples, and yellows enliven the drawing. "There isn't any black in that image," Leslie pointed out. "All the line work is navy blue or bright orange."
In another Alaskan themed piece, "Narwhal," Leslie sets a sea unicorn lunging through a psychedelic backdrop. The drawing originated at Leslie's workplace, Stellar Designs, where he is the senior artist for graphic and t-shirt designs. A client had come looking for a narwhal image. His coworkers agreed his idea for the job was a bit too much for the client, but he happily used it himself instead. The background on this cartoon, he said "is kind of like looking at oil drainage in parking lots. The little swirly colors are based off that."
Leslie said that what lies behind the scenes he draws is as important as the characters themselves. "I like to try to have some sort of texture in the background. It gives it a little more depth," he said.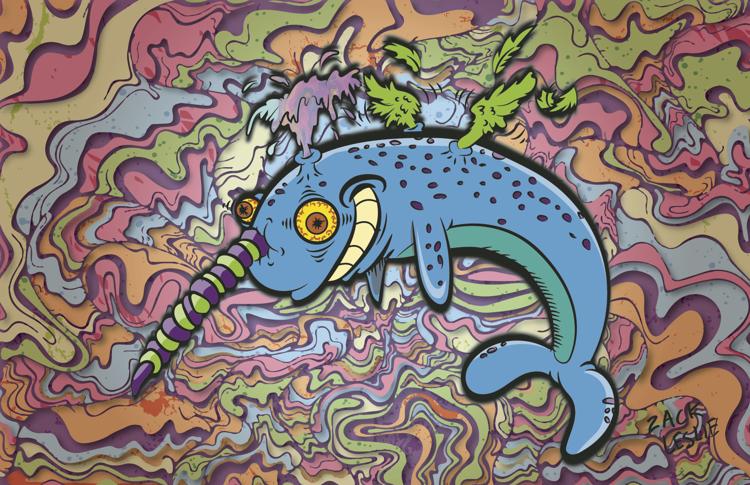 Leslie grew up on the Kenai Peninsula and briefly lived in Anchorage after high school before decamping to Idaho to attend college at Boise State University. He didn't originally intend to major in art. But after a piece he drew as part of an art class won a competition, he decided that cartooning and art, — which he had always done — beckoned.
After earning his degree, Leslie remained in Boise for a while, working Comic Cons in the Northwest and trying to break in to the local art scene. But visits back to Alaska led to a growing homesickness.
"One summer I came back to visit," he said, "and I realized the one thing I was missing in Boise was being near the ocean. So I decided to come back."
Leslie also felt the Anchorage art scene was vibrant, welcoming, and growing, and it was a good time to find a place in it. "There's a lot of potential up here," he said.
The progression of Leslie's work shows how his early influences first filled his pieces, but later became the foundation that he has built upon. Well known cartoon characters and pop culture figures appear, ranging from Disney favorites to Scooby Doo, Beavis and Butthead to Neil deGrasse Tyson. Gumby gets wrapped up as a mummy in "Mumby." And in "Heisenberg Dia De Los Muertos", Leslie combines the Day of the Dead with Breaking Bad.
"The Final Scream," a reworking of Edvard Munch's iconic painting "The Scream," updates the original with references that were particularly relevant at the time Leslie created it. It was just after horror film director Wes Craven had passed away, and Leslie decided to pay tribute. "I have Freddy Krueger standing in the background," he said. "He's kind of hard to notice."
This piece stands out from the bulk of Leslie's work for muting the colors to a collection of dark shades that still create rich textures, making it an interesting twist on a painting famous in part for its deep palette of colors.
A series of pieces that combine video game characters with liquor labels originated rather unexpectedly when a friend texted him to ask what he was up to.
"'I'm just staying in and going to play some Majora's Mask," he replied. "When I was texting him I had an auto-corrector that said Majora's Mark. I said whoa, that's like Maker's Mark. That's my favorite whiskey — that's perfect."
Leslie said the progression from initial idea to completed cartoon generally takes a bit of time.
"I usually come up with an idea and mess around with it for a while." he said. "Eventually I'll sit down and draw it out. I've been thinking about it long enough, the concept's a little more refined."
"I used to redraw using inks and tracing paper," he continued. "But lately I've been moving more towards digital. I found that there's a lot more room for error. I'll take a photo of the line art, upload it into Illustrator, and redraw it. That way you can refine some of the lines and clean it up a little better."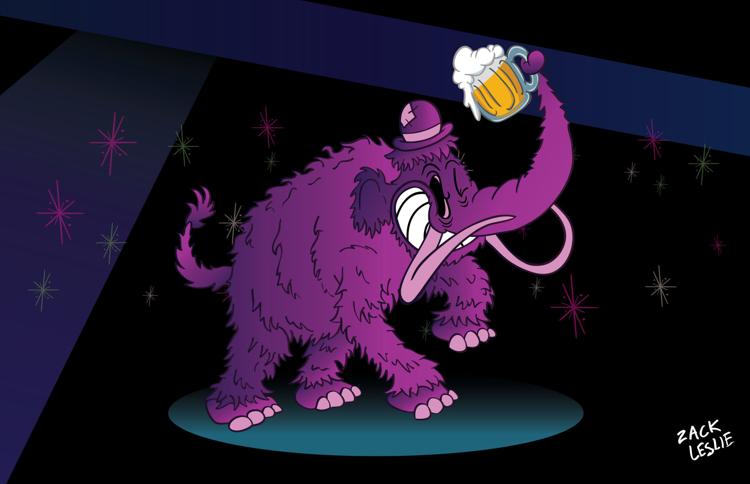 While popular culture remains a strong element in his work, Leslie said he's increasingly turning his attention toward Alaskan themes. In one of his best, "Pink Mammoth," a pink woolly mammoth stands precariously in a blue spotlight, holding a teetering mug of beer in its trunk. The background is dark with stars and beams, making the scene appear suspended in space. "That's probably my favorite one," Leslie said. "I'd like to start putting that on beer coasters or beer koozies or something."
Leslie produces large format prints, postcards, and stickers with his home printer. He's had shows at 907 Hollyweed, Turnagain Brewing, Kaladi Brothers, and the Catalyst Cannabis Co., "Puffin" saw print in the Alaska Cannabist last year.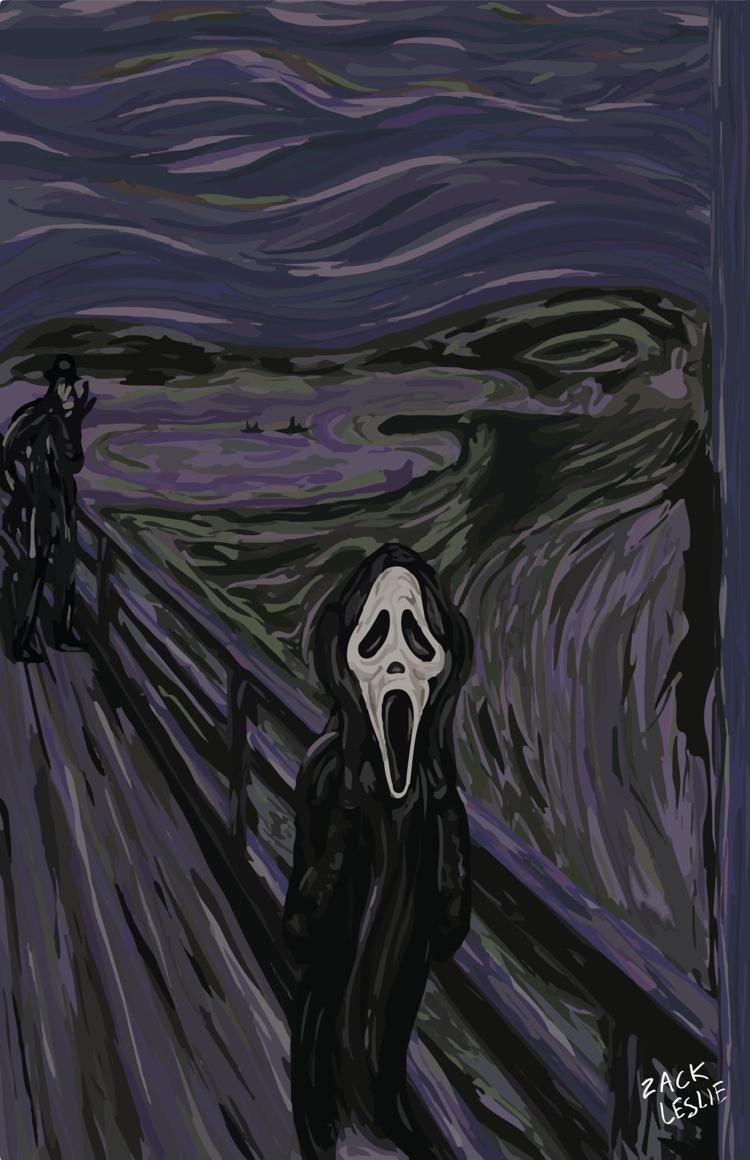 Leslie continues to explore new ideas in his drawing, but his driving inspiration remains his own imagination and preferences. "A lot of the artwork I do is something I'd like to see," he concluded.
Zack Leslie's website is https://www.zackleslie.com/. His Facebook page can be found at https://www.facebook.com/ZackLeslieArt/.