With the upcoming Presidential election pivotal to how the U.S. deals with Climate Change, International Presence, and Domestic Race Relations, the art world once again becomes a mirrored reflection.  
'Philip Guston Now', which was to open at the National Gallery, Washington DC, June 2021 (other venues: Museum of Fine Arts, Houston, Tate Modern, London, Museum of Fine Arts, Boston) has been stalled until 2024. According to the New York Times, "directors of those museums released a joint statement saying they were 'postponing the exhibition until a time at which we think that the powerful message of social and racial injustice that is at the center of the Philip Guston's work can be more clearly interpreted' (NYT, Sept. 25, 2020)." The change has greatly upset the international art community who feel this delay is couched in undisclosed financial and political motives, with the rescheduled Guston show predicted to be a watered-down jumbled exhibition.  
From the New York Times, "The decision came after museums organizing the exhibition decided that Guston's familiar motif of cartoonish, haggard white–hooded Ku Klux Klansmen needed to be better contextualized for the current political moment. (NYT, Sept. 25, 2020). "  Also quoted was Darren Walker, National Gallery trustee, and president of the Ford Foundation who wrote, "in the past few months the context in the U.S. has fundamentally, profoundly changed on issues of incendiary and toxic racist imagery in art, regardless of the virtue or intention of the artist who created it (NYT, Sept. 25, 2020)." Note: Walker doesn't specify which art pieces he is targeting. 
Philip Guston (1913-1980) was raised in Los Angeles by his Russian/Jewish immigrant family. In 1931, his frescoes about the trial of the Scottsboro Boys, which included Ku Klux Klan (KKK) imagery, were shown in an LA bookstore, and destroyed by the KKK. Moving to New York City in 1934, Guston's work evolved into abstraction similar to high school friend Jackson Pollock. In the Sixties, outraged by the assassinations of the Kennedys, Martin Luther King, and Malcolm X, along with the unending backdrop of the Vietnam War, he returned to KKK depictions, deviating from Ab-Ex-Formalism (Fineberg 399).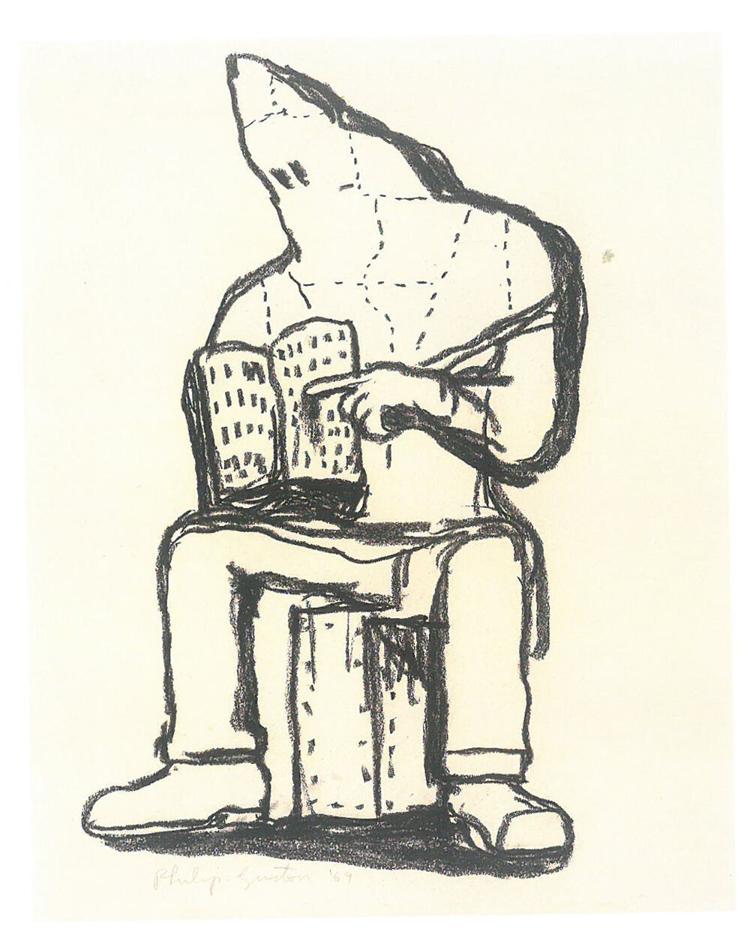 While spring 2020 witnessed the unjust killing of George Floyd, igniting anger and mass global demonstrations; why make Guston's latest retrospective the scapegoat?  As a teenager, Guston was innovative depicting racism. His works often masquerade as a 'Golem', or nondescript medieval Jewish character used to illustrate all manner of human emotions (Fineberg 401). Some artists like Guston address man's inhumanity through a cartoon genre—the novel 'Maus' by Art Spiegelman, the Paris publication 'Charlie Hebdo'. Guston became a pioneer for late Twentieth Century Post-modern reinvention: painting, photography, installation, and performance--with Context. Guston's daughter Musa Mayer said that his work 'dared to hold up a mirror to white America' (NYT, Sept. 25, 2020)." Ok: Why not curate an adjacent show that deals with today's social injustices back-dropped with Covid-19, and keep 'Philip Guston Now' intact and on schedule?
Perhaps funding and politics are reasons for delaying/reimagining Guston? It's understandable why museums are panicked. After 9/11, costs of insurance and transportation for art works to travel have sky-rocketed.  Recent demonstrations outside museums have stressed staff and institutional hierarchies, who have to rethink what monies to accept, and which board members to invite. There was the Whitney Biennial, 2019, which saw Board member Warren Kanders dismissed for funding the institution with tear gas monies. And there were the 2018/2019-- P.A.I.N (Prescription-Addiction-Intervention-Now) demonstrations at the Metropolitan Museum that protested Sackler endowments derived from manufacturing Opiods. Disruptions upset the tourist public who stop buying memberships, visiting, eating and shopping. Long closures because of Covid-19 have reduced museum traffic and thus spending.  
In ' Public Art and the Fragility of Democracy' by Fred Evans—philosopher Henry Pickford writes, " If the aesthetic-historical artwork is to succeed, then, it must exhibit an 'implicit tension' between its aesthetic and historical dimensions rather than one distracting us from or otherwise canceling out the effect of the other (Evans 186 )."  At the Venice Biennale 2019, Martin Puryear's sculpture 'A Column for Sally Hemings, 2019' was embedded with metaphorical racial tension, melding the aesthetic with the historical; no one suggested delaying this showing.  One of the most popular paintings at the National Portrait Gallery, DC is 'President Barack Obama Portrait, 2018' by Kehinde Wiley who routinely borrows/restages Renaissance tropes ignoring criticism. Guston passes Pickford's test of melding the aesthetic with the historical, but sadly isn't around to defend his work.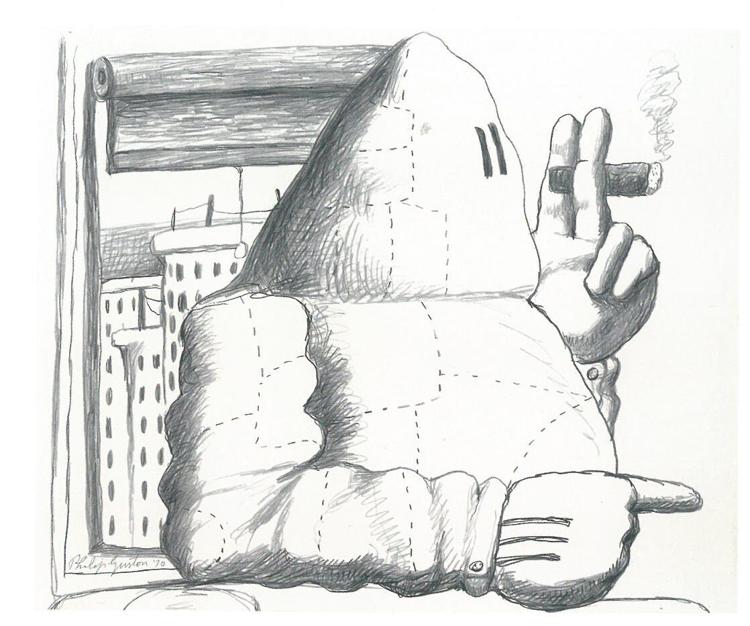 This reporter attended the 'Philip Guston Retrospective 2003/2004' at the Metropolitan Museum (other venues: Modern Art Museum of Fort Worth, San Francisco Museum of Modern Art,  Royal Academy of Arts, London). Critic Michael Kimmelman wrote, "Guston had let loose the demons and out they tumbled like clowns from a Volkswagen (NYT, Oct. 31, 2003)." However, it was just another autumn-in-New York show at the Met --no big deal!  
Assuming the visiting public doesn't have the wit to separate Guston's intent from heinous crimes of the KKK is not the job of museums, which after all are perfect venues to face demons and restore public trust. And how are museums going to force attendees to read the updated explanations? You can trace 'Black Lives Matter' to unfinished 'Jim Crow' but it's not fair to put all this on Guston, ignoring what else he has to offer: color, brushstrokes, an elegy to post-war art aesthetics.  'Philip Guston Now' when and if it comes to fruition, might have been a run-of-the-mill show, but now is a testimony to all who bravely fought/fight against prejudices.  
Jean Bundy is an AICA-Int. Envoy for Climate Change