At the Kensington Gardens in London there is a statue of Peter Pan, the boy who would not grow up. Since 1912, the bronze art has been a favorite of visitors and was commissioned by author and Peter Pan creator JM Barrie. He commissioned artist Sir George Frampton to build the statue in the same spot that Peter lands his bird nest boat the in the story 'The Little White Bird'. Barrie was inspired by the gardens and used them as a location for the story 'Peter Pan in Kensington Gardens'. In 2019, the story was adapted by Charlotte Allen and was performed at the Edinburgh Fringe Festival.
Anchorage director David Block started planning a performance of the show but with the pandemic it was difficult to decide how to proceed safely. This week, the performers are doing nine performances outdoors in the garden at the director's home. Only around 20 people will be allowed at each performance, and seating will be socially distanced. Masks are required and sanitizer is available.
For this particular show, the setting is perfect. A charming garden is the ideal backdrop for a show that takes place in the famous Kensington gardens. The sounds of birds and buzzing bees flying around the flowers made the show come alive as the audience was transported to a place of magic and imagination.
The story begins as a father happens upon his daughter pulling her wagon of necessary supplies for her next adventure. She has decided that after hearing her parents discuss her adult future, she wants no part of it and is going to run away from home. Her father takes this opportunity to tell her the stories of Peter Pan when he did the same in the same garden. As he is telling the stories the father and daughter pair begin to act out the tales.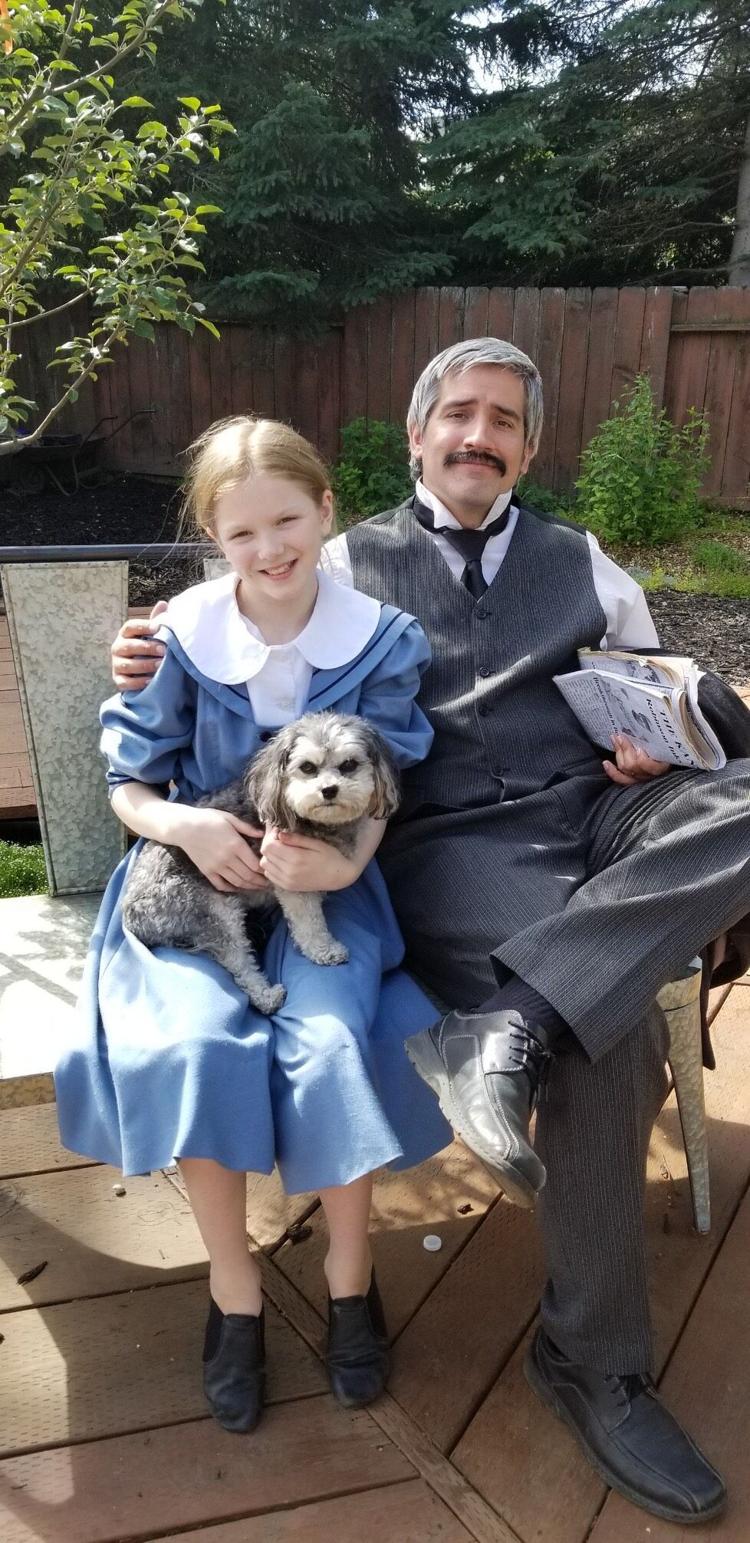 Bianca Overly-Bright takes on the role of Mary, the daughter. It's always exciting to see young actors truly command a role and make it their own. Overly-Bright is a delight on stage, and her energy and wit came through very clearly. I hope that she continues to find more stage roles and that other directors trust her with lead roles. She has all of the talent to continue successfully.
Carl Bright plays opposite as the father, George. Bright is always fun to see on stage and acting with his daughter brought out a more playful and silly side than I have seen from the local favorite. He transforms through the show into a crow and Queen Mab and it takes a lot to be that silly and ridiculous. Performances from both actors had the small group that was assembled grinning and giggling behind their masks.
Rounding out the family dynamic is costume design from Missy Overly-Bright which was an important part of telling this story and taking those viewing further into the story. As often happens when we are playing make believe a scarf or blanket becomes a turban or gown. A trench coat is suddenly the wings for a large bird. The costuming choices were specific and smart.
If this show is ever able to be performed indoors Dean Brady will handle the lighting. For this outdoor performance the job is being handled by Mother Nature. The slight breeze and sunny skies were excellent for the evening performance.
For needed sound effects, Block and stage manager and assistant director Isabeau Barnes provided the cues from a speaker inside the house. While there was not a lot of technical help needed for this show, the effects that they used were successful and just made the performance that much better.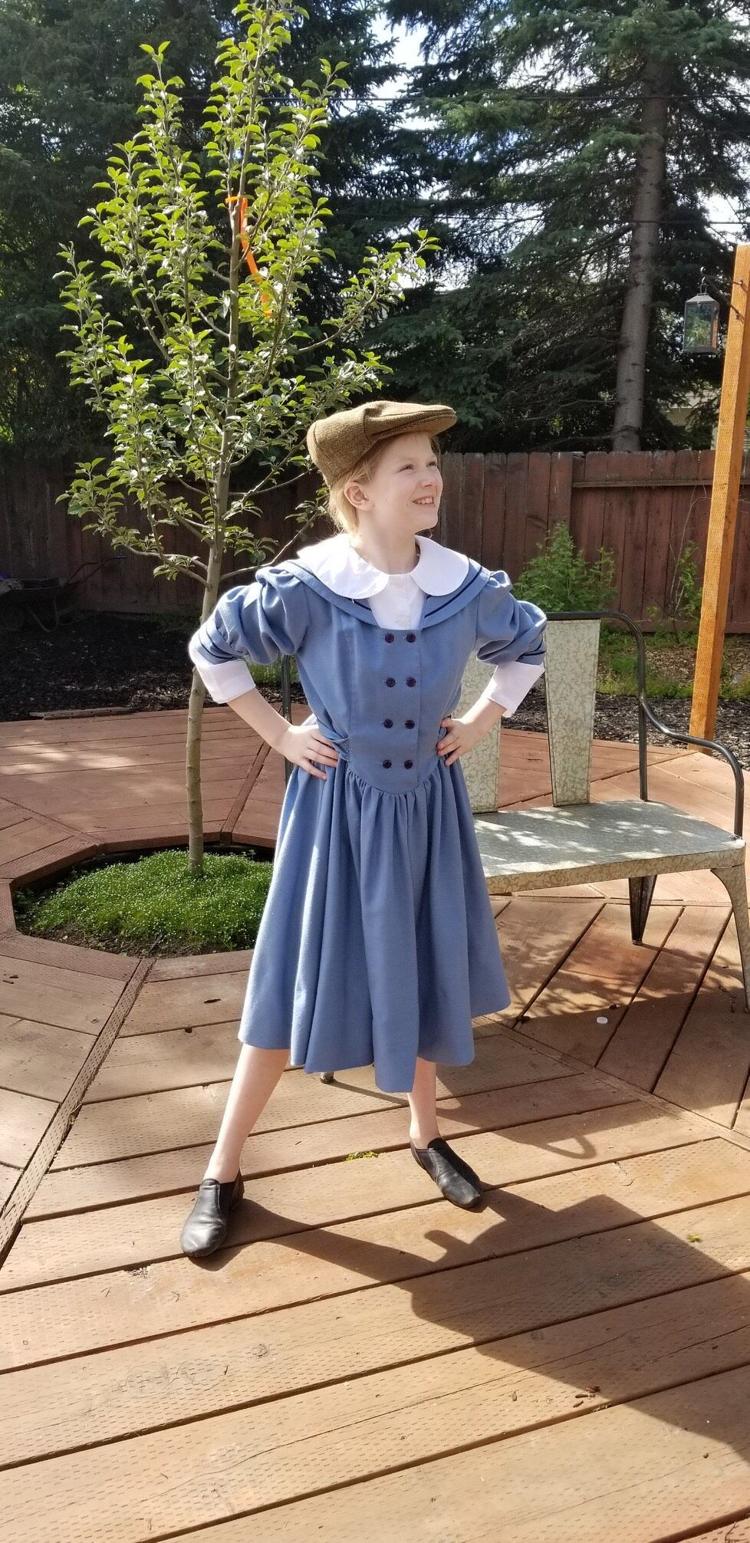 It was wonderful to be able to attend a performance of any kind, and I sincerely hope more artists in town find ways to be creative and give audiences quality work that they are passionate about. Block has been wanting to do this show since he first saw it last year in Scotland. He got the actors and crew that he wanted for the roles, but COVID-19 made it seem almost impossible. Block has put on theatre outdoors on other occasions, so he has some experience in this area. If you have kids or are young at heart, you will want to go see this performance that lasts about an hour.
Tickets and seating are very limited and can only be purchased online. No tickets will be available at the door to ensure the safety of performers and audience members. To purchase tickets or for more information please visit www.midnightsuntheatre.org