In the past four years we have seen how Patriotism was convoluted into selfishness for remunerative and dangerous purposes. We have also seen how Midwestern mythology has further become America's justification for continuing down wrong rabbit holes: aggressive chemical farming by agricultural giants, neglected Indian Country and all forms of racial injustice, and erroneous blame for producing every hoodlum who stormed the Capitol, January 6, 2021.
Most Americans live on the coasts, and when traveling snooze over what are euphemistically called fly-over states. The US interior is not only our agricultural necessity, but where America created much of its identity, good and not so good. Pictures are a way to visually prove gossip and innuendo incorrect, allowing for rediscovery of the past, because the Midwest lacks the density and generational urban renewals found on both coasts.
Matt Steinhausen is a sixth generation Nebraskan landscape photographer whose recent book, 'The Least Interesting Place', unofficial slogan of said state, sets out to prove opinions about the Midwest are wrong, not only through imagery but through narration---his 'pride of place' permeates through his endearing folksiness. Unlike many coffee table reads, Steinhausen embellishes with history of White Settlers who ran rough shod over Native Americans, while depleting the soils, decimating wildlife, always demonstrating devotion at Sunday church services.
'There's nothing to do here' is indeed a misnomer as Steinhausen insists, beginning "For the first year of my life I was raised inside a dairy barn….There was little more than a wall between my crib and the cattle (Stein. 6)." He continues, "We lived a bit too far from town for me to walk or bike…so I took walks down to the creek, built hay forts in the barn, climbed trees, visited with the pets and livestock, and explored abandoned farmsteads….Countless hours were spent bouncing on the seats of tractors, tending to the crop fields, or surfing on swaying hayracks while stacking bales of alfalfa, grass, or straw (Stein. 9)."
Steinhausen took film photography in high school and moved into digital at the onset of the millennium. He earned a BS in Engineering from the University of Nebraska, and continues to live on the outskirts of Lincoln, along with his Nebraska born wife, as part-time farmers. Of note: the colonizing of Alaska's Matanuska-Susitna Valley, in the early Twentieth Century, reveal many similarities, as Settlers were sent from the Midwest-- part of Roosevelt's New Deal.
Six Matt Steinhausen Photographs: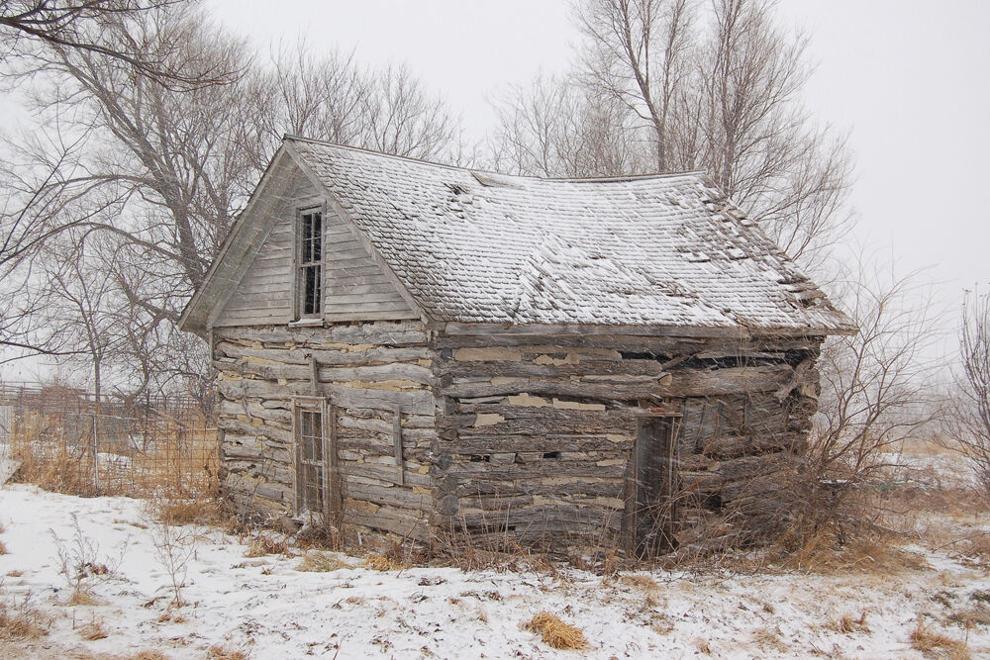 "The snow was falling when I snapped off this shot of a log cabin on a dairy farm between Sprague and Kramer in Lancaster County (Stein. 37)." This crumbling cabin retains its dignity reminding viewers of Willa Cather's prose. Winters on the plains were cold and summers broiling. Windows were a luxury probably bought from a Sears catalog. The trees in the background were planted by Settlers to tame the winds, minimizing but not eradicating the devastation from The Dust Bowl and The Great Depression of the 1930s.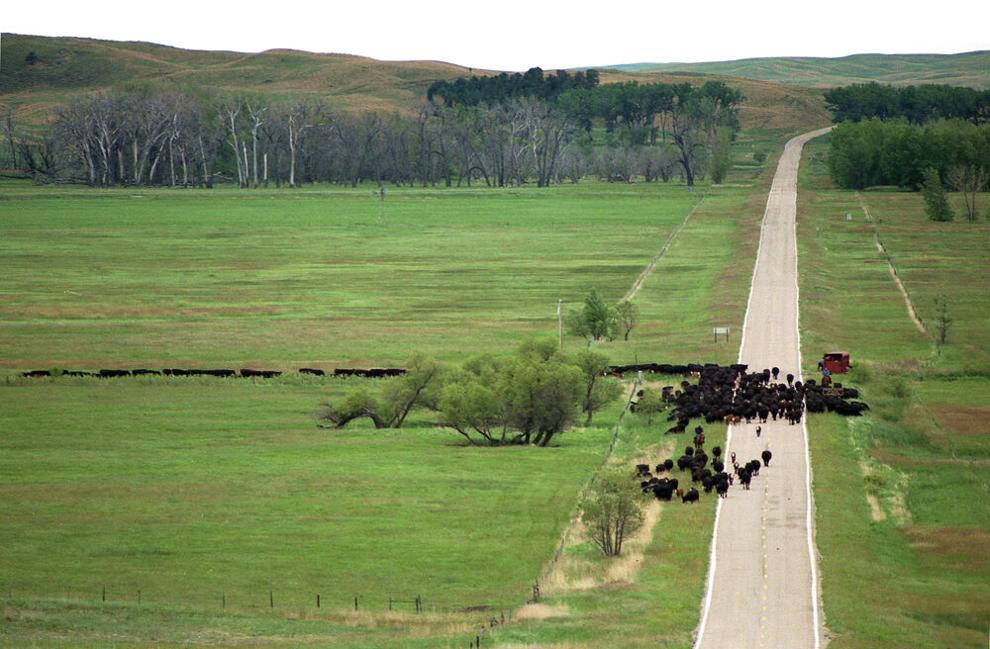 "After cresting a hill two miles south of Merritt Reservoir in Cherry County on a 1990's Nebraska road trip, I looked down into the valley below to see this cattle drive of sorts, with men on horses guiding the livestock to green pastures. I watched the slow migration from the seat of my pickup with great satisfaction, thankful I wasn't in a hurry (Stein. 46)." It is said you can drive from one end of Nebraska to the other in a straight line. These open spaces once had tall grasses which were removed for farming. In the distance trees called 'shelterbelt, windbreak, or hedgegrow', were planted to stem erosion, and contrast with the line of black cattle that block highway traffic in the midway (Stein. 27). According to Steinhausen, "There are four times more cattle in Nebraska than there are humans (Stein. 46)." The foreground in this image is really Steimhausen!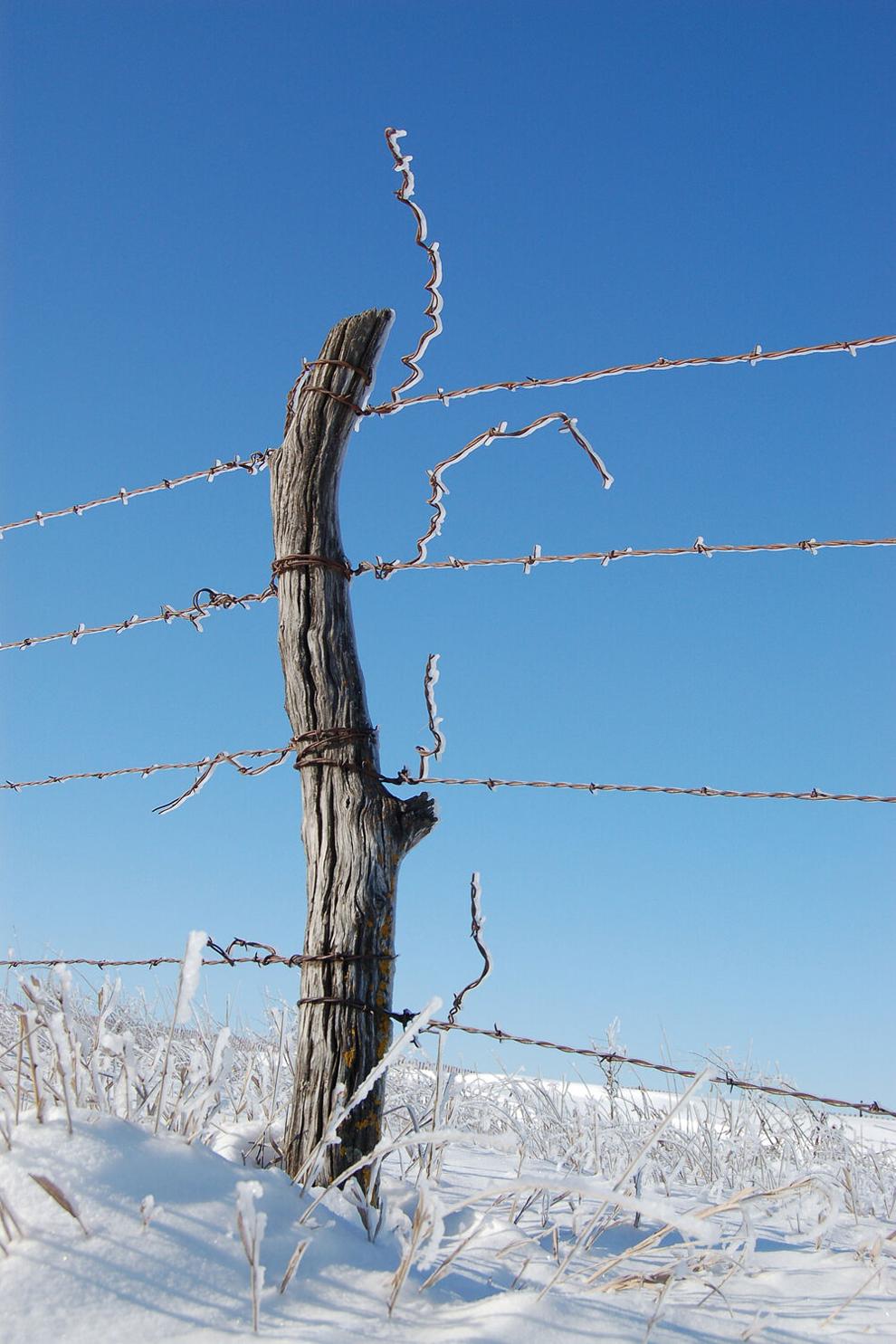 Steinhausen regales, "the strands of wire coming off this post make it appear as if it was frozen in mid-dance, like arms flailing in the air. The ice accumulation also puts a white outline on the wires to help them stand out against the blue sky (Stein. 57)." The farmer and the cowman not being friends, is the main theme in the musical 'Oklahoma, 1943.' Remains of barbed wire become a metaphor for the Settler--farmer/rancher disputes. Of note: Native Americans never conceived of land as owned real estate (unjustly taken from them), grasping a greater respect for the temporal borrowing of its bounty. Steinhausen writes, "Nebraska's first ranches were open range, and cattle were branded to identify them in case they co-mingled with other herds. With the invention of barbed wire came fences, which kept the herds in separate pastures (most of the time) (Stein. 46)." This sole weather-beaten post personifies the loneliness of prairie life.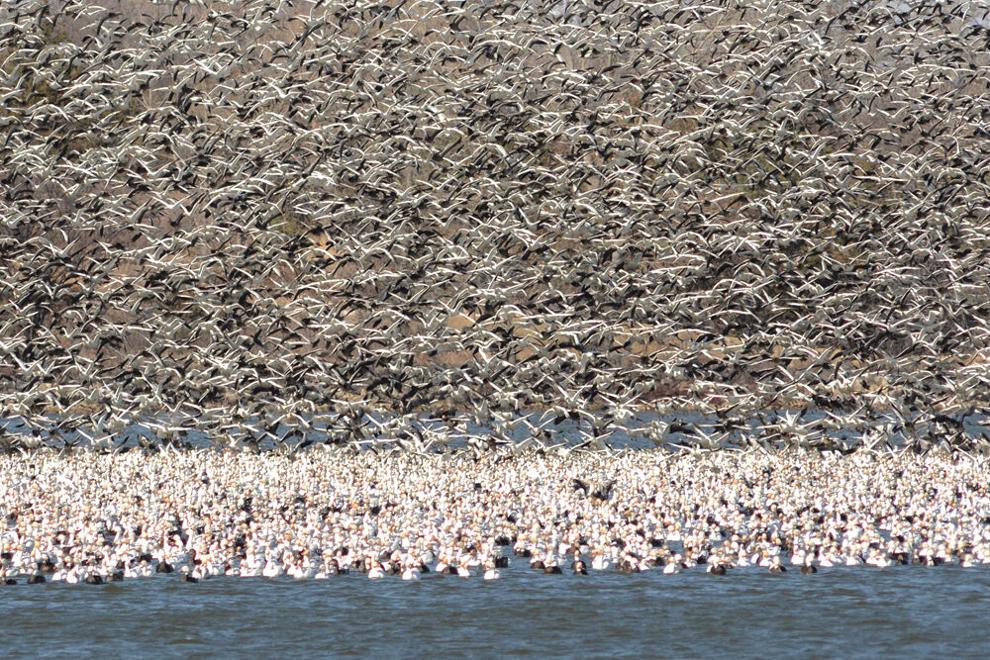 Unlike humans who fly over Nebraska, migratory birds need Nebraska as a stopping point. Steinhausen muses, "I watched for hours as a large group of snow geese gathered over the course of a day at Stagecoach Lake near Hickman in Lancaster County. The migrating birds spiraled downward from high in the sky, slowly circling in the air on their descent towards the lake, eventually integrating into a huge mass of birds that had formed on the water (Stein. 82)." Interestingly, the Sandhill Crane (not shown) is named for its annual northward stop on Nebraska's Sandhills in the Platte River Valley (Stein. 80).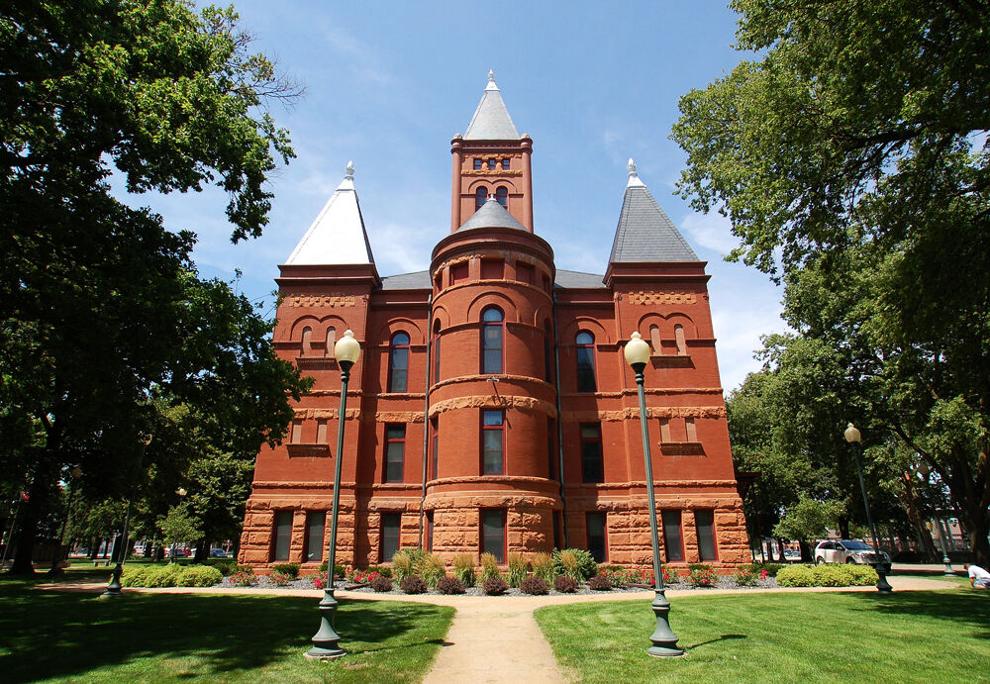 Artists went out West to sketch Native Americans and breathtaking panoramas that morphed into paintings when returning to their East coast studios. But some art which arrived in the Midwest did remain, and possessed decorative elements found on the East Coast. Steinhausen writes, "the Hamilton County Courthouse in Aurora was designed by Nebraska architect William Gray [1851-1927] and constructed in 1894 (Stein. 99)." Gray's work pays homage to architect H. H. Richardson (1838-1886), who created his version of French Romanesque facades, castle-esque roofing, and rotund protrusions throughout the Northeast.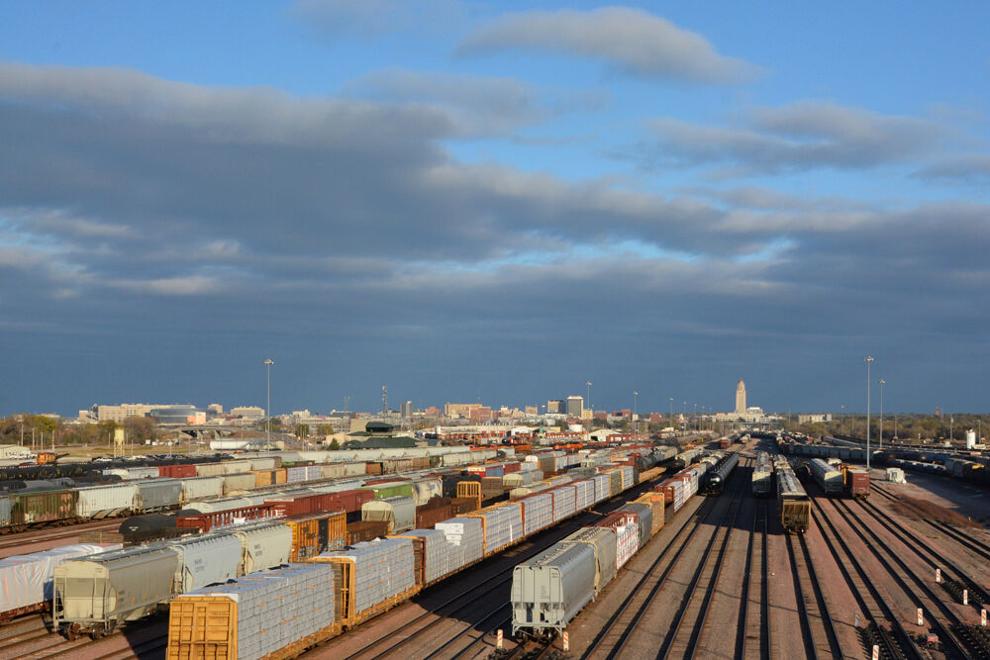 "The transcontinental railroads transformed the United States and are symbolic of American capitalism at the turn of the century (Ross 30)." The train which helped the Northerners win the Civil War eventually united both coasts for business and pleasure, as it refueled and changed crews in Nebraska. According to Steinhausen, "All the trains and tracks at the Hobson railyard west of downtown Lincoln appear to point towards the State Capital Building on the horizon (Stein. 222)." Government becomes the vanishing point for commerce under the cloud infested sprawling sky, a Midwest allegory, and a reminder that clean air and the right to live with dignity, is really the American way.
So the next time you are flying/dozing across America, wake up for a few minutes and think of what history lies beneath your seat. Matt Steinhausen wants his art to preserve, and respect, his home state of Nebraska, while keeping a watchful eye on industry which impacts Climate Change and everyone's lifestyles. Least interesting places often surprise those who take the time to really look.
Mini Sleuth: Steinhausen's 'The Least Interesting Place' and Ross' 'Routledge Handbook of Graffiti and Street Art' on Amazon.
Jean Bundy is the Climate Change Envoy for AICA-International