Anchorage's Covid surge didn't deter masked-art-aficionados from Amanda Thompson's opening: 'Odyssey' at Snow City Café (thru November 3). Thompson resides in Indian, is the King Tech High School advertising art and design instructor, and grew up in the post-war oil boomtown of Anchorage where the art market exploded. Back then artists not only flocked to Alaska, they were nurtured at the University of Alaska, Anchorage under the tutelage of Joan Kimura, who died in Seattle, November, 2020.
Thompson continues the tradition of her family being part of Anchorage's aesthetic narrative. Her grandparents homesteaded in McHugh Creek. Her father, Steve, framed much of the art which was routinely packed into tourist suitcases, or was auctioned at galas. As Amanda Thompson says, "I wake up to a tinge of Prussian blue glow over the mountain ridge behind my studio in Indian….Alaska's beauty cocoons me with rings of mountain ridges and silty sways of sea….By creating these dialogue landscapes which are out of [my] comfort zone, [I] will face the realities of living juxtaposed between natural beauty, [my] dream world, and an urban landscape." Thompson is a third generation Alaskan, with a BA in American studies and Art from Hillsdale College in Michigan. She has experienced art adventures and venues throughout Europe and obtained a Master's in Teaching from the University of Alaska, Southeast. She writes, "My work is based in wonder about natural phenomena of northern light, land and wildlife and how painted brushstrokes unearth the deeper realities below the tactile and visible. Paul Klee [1879-1940] is a favorite artist and his famous quote guides my artistic explorations—'Art does not reproduce the visible; rather it makes visible'."
Four Paintings from 'Odyssey'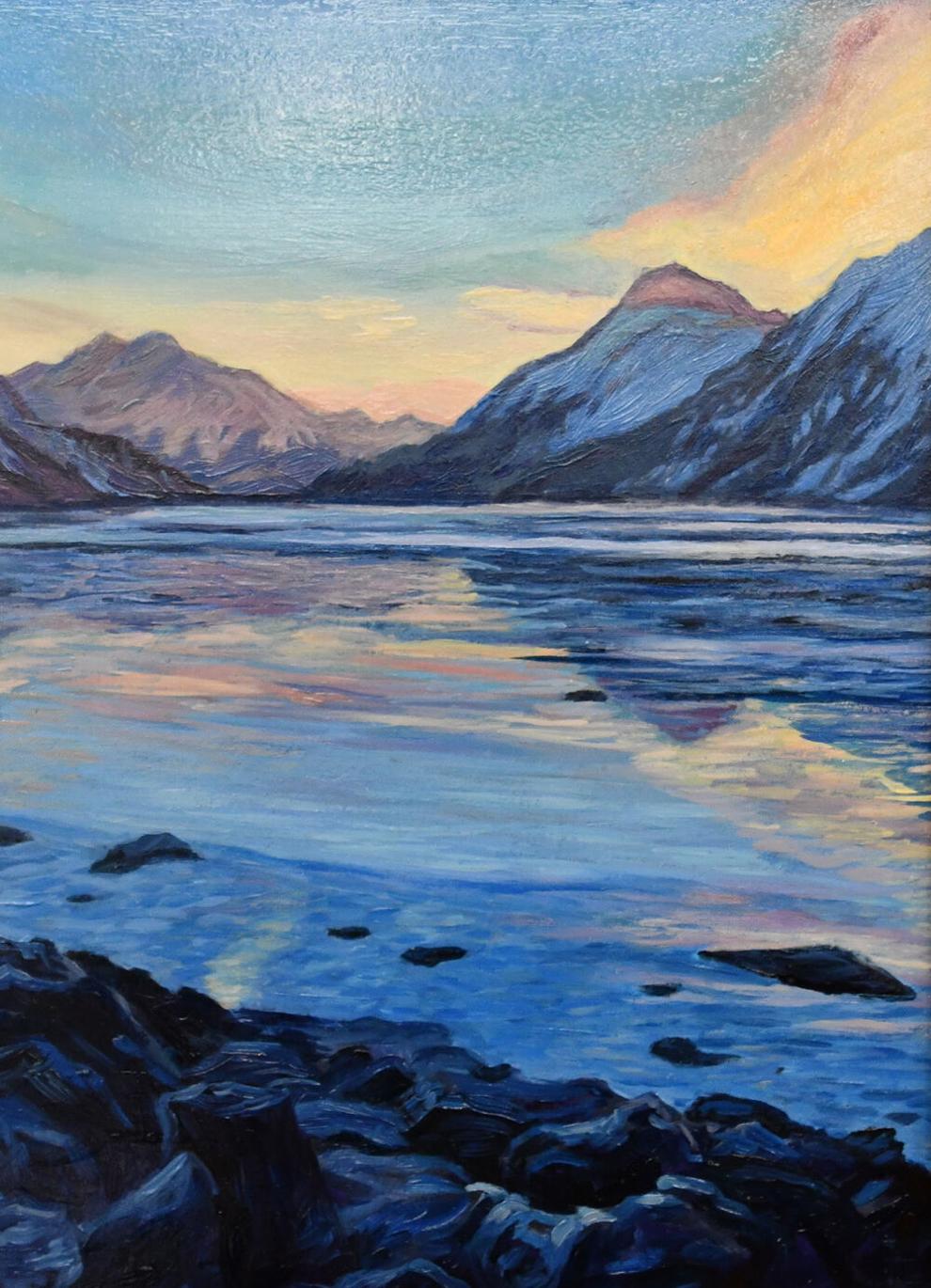 'Return of the Light, Turnagain Arm'—oil on wood panel, has the traditional three horizontal bands of a genre landscape, revealing joy felt when Cook Inlet begins to melt and the sun climbs higher behind the abutting jagged peaks, signaling spring is on the way. Pastel colors in the sky reflecting on the water, often seem candy-esque to those who don't reside in Alaska. Reality: the 49th state boasts pastel skies. Rocks in the foreground, put there as subsurface for Turnagain Arm's snaking highway, tie the composition to rocks in the background, defined as fjords.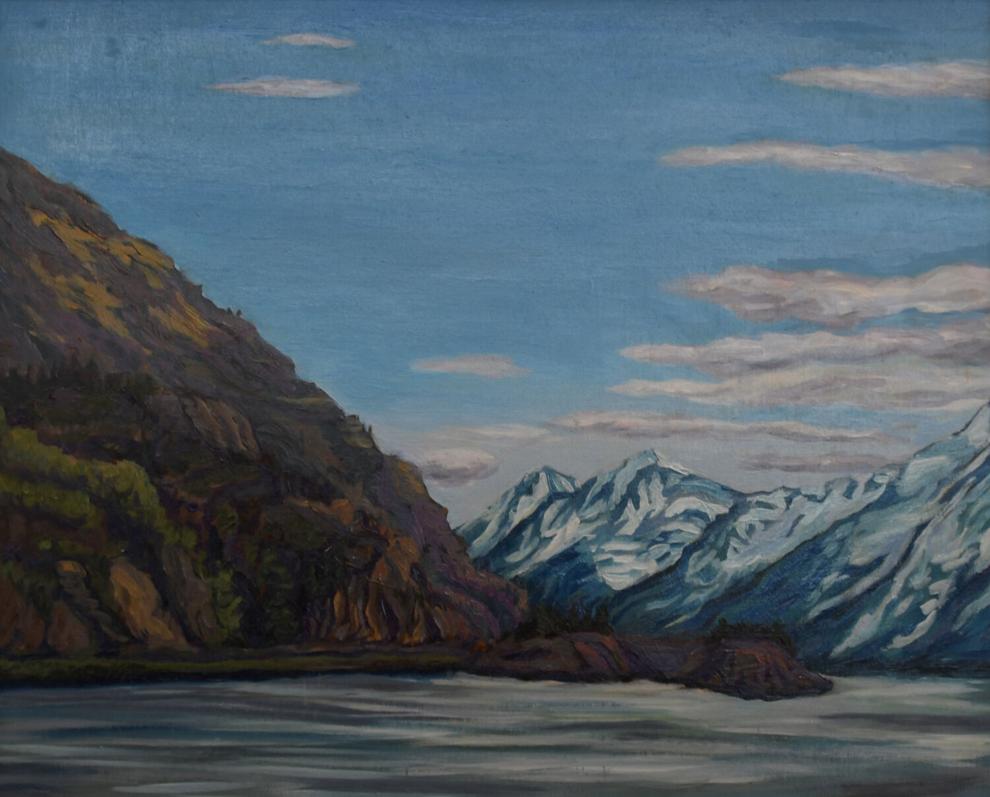 'Resting Place: Beluga Point'—oil on wood panel, becomes a symphony in tonal blues from the cloud filled sky reflected onto a glacial mound at midway, to the final reflections found in the foregrounded gray-blue waters. A brutal brown outcrop half way down jousts with the snowy mountain, creating a seasonal changing dialogue. This landscape pits beauty against sudden disruptions: earthquakes, rock slides, and avalanches. And with Climate Change, visible glacial melt can obliterate scenery in seconds. Yet, there is amazement in the remains of destruction which took millennia to be formed.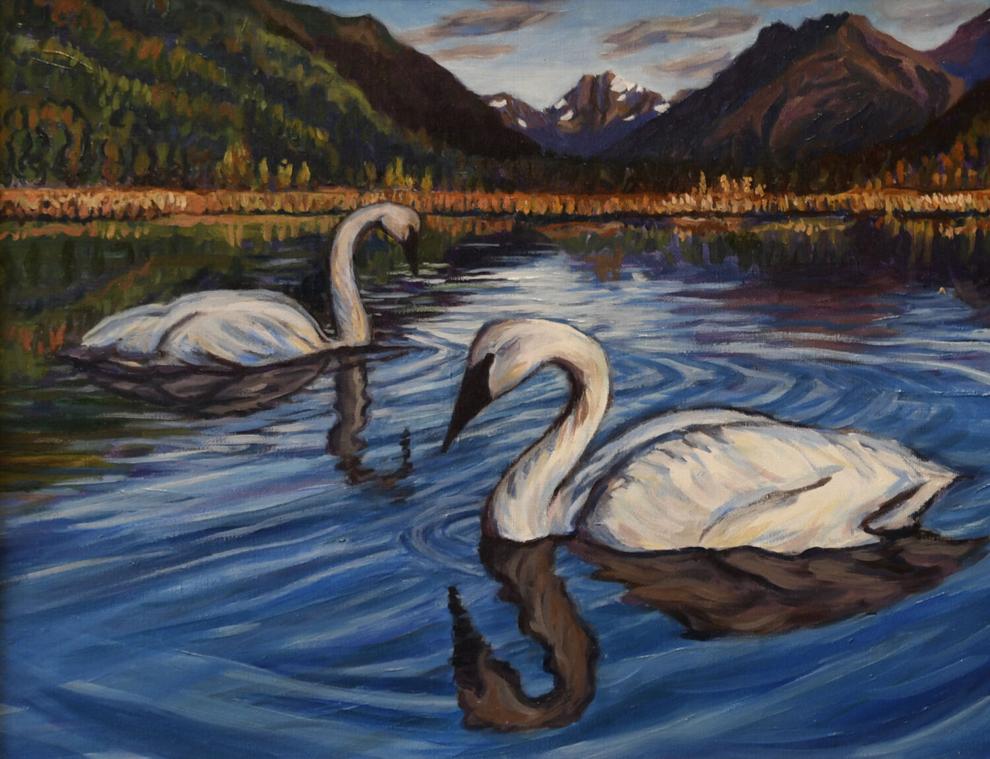 'Verbindung (Interconnection)'—oil on linen, depicts two swans enjoying a paddle in ultramarine blue water — evidence of autumn's colder/darker days. While northern wetlands are a permanent home to many species, these swans are refueling before flying south for the winter. This painting has a plethora of textures: cold water, rocky outcrops, gossamer sky, yellowing vegetation, and oil-layered bird feathers, all clashing while ambiguously melding too. Swirling water created by the swimming birds echoed in the floating clouds, contrast with the craggy rocks and straw-like plants. Soon winter will come; water and mountains will be frozen in white. Ice-bound deadening plants with their sage-esque stalks still peeking, assure spring will return. Once again greenery will sprout in the suddenness of melting/running waters.

'Tracks Home'—oil on canvas, pitches Turnagain Arm's mountain backdrop and the foregrounded twisting Seward roadway--all into blackness. But look, there is a magnificent contrast happening with the red/orange sky and its reflective qualities upon the dark blue water and the icy/wet asphalt road surface.
Living in Anchorage, even with modern conveniences, can be arduous with mountains sometimes acting like a castle's portcullis, imprisoning/depressing inhabitants. Local artists like Amanda Thompson arrange painting sessions around children's take-me-tos, grocery shopping, and classroom commitments ---not easy. During winter months, home and studio can be a welcoming respite. Many who venture 'North' have only experienced Alaska's sublime from TV. Visitors who buy art take home a mere sliver of seasonal occurrences they experienced, hopefully helping to erase mythologies like, 'When do they turn on the Northern Lights', a favorite refrain, which can be heard from those boarding tour buses and trains.
Through it all, Thompson has an undying love of the 49th state and relates, "Harmony, whimsicalness and playfulness describe the larger part of my artwork….I untwist the prisma-bundle of light to separate out what colors I can [glean] from nature's beautiful skein….I have experienced picture making as a way of seeing deeper into the gift of life as I observe the living creatures and environments around me…. My roots in Alaska are deep, which became evident when I spent time away from my home….I have emerged home with my belief in Alaska's beauty and community intact."
Jean Bundy is a writer/painter living in Anchorage. She serves on the board of AICA-International.