Love, Death & Socialism by Elstun W. Lauesen
"Existence precedes essence"
The intersection of Ethan Lauesen's printmaking is this: "existence precedes essence."
Everything about my nephew's art is in service to his story. He bathes the plate in acid for 60 minutes instead of the usual 15 because he wants a bold definition to the line; he wants a bold line because he is in this world but not of it. So the character in his print must have strong definition, not simply blending with the background. Exceptions are his "Ghost Figure" series in which the background dominates. He leaves the "foulbites" on his prints because that's the way life is; shit happens, life is foul, reality bites. Why perform cosmetic surgery on the plate upon which you have etched your life?
That is dishonest and it disrespects the randomness that defines your life and influences your art.
One of his finest productions is his "Identity" piece set in the totem park of Klawock on Prince of Wales Island. In that sketch the random imperfections bite the sky and truly add to the power of the piece.
Ethan layers his etchings with elements of technique intended to capture moments in a life that experiences pain, loss and dislocation. Yet each of these elements is joined by bits of redemption such as discovery, realization and love.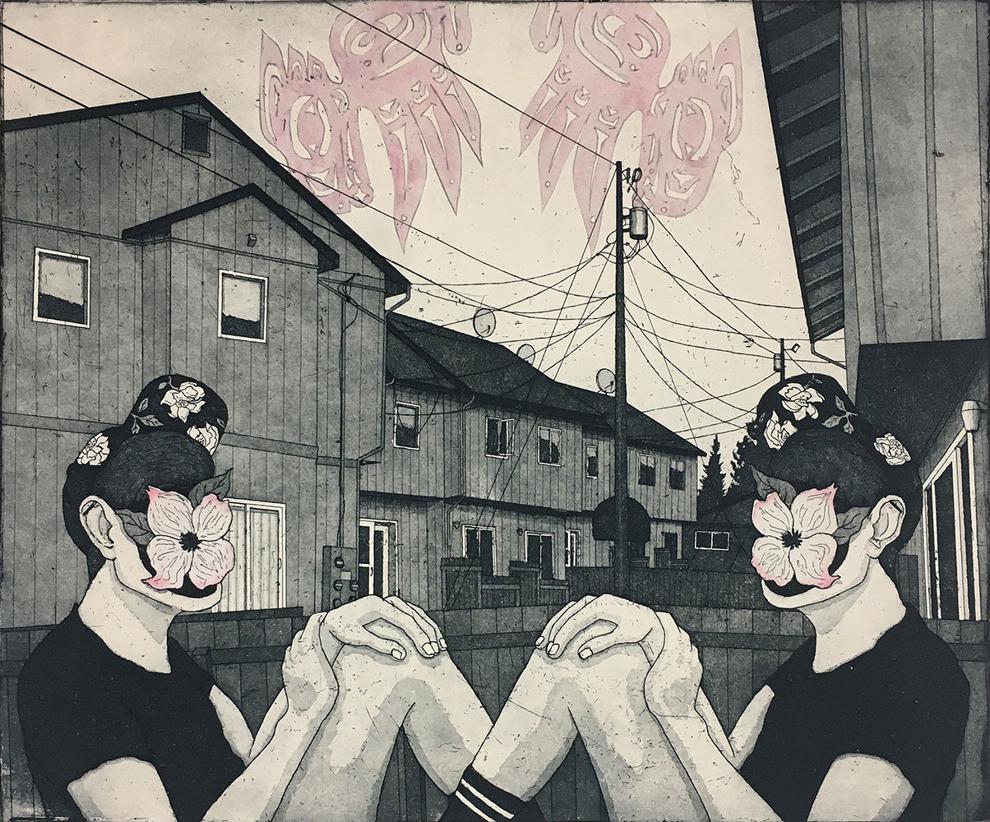 "For My Comfort" is a piece that represents exactly this structural cosmos. Here is the artist in a state of repose. Instead of the blurred face of ambiguity or the blank face of non-existence, forget-me-nots blossom over the face of the artist. As he explained to me during our interview, those blossoms represent the favorite flower of both his mother and his grandmother; they symbolize a self at peace with his identity.
One of the themes underlying the intersectional conflicts of the Artist is the struggle to be comfortable with his 'Self.'
"I put a lot of energy into worrying about the comfort of other people, trying to change myself to make other people happy," he says. In "For My Comfort" the Artist is at peace with himself. A final word about "For My Comfort" and the layering method of etching a life: he uses all three of his principal techniques to achieve the wholeness of this visual experience. His line work creates the foundation or context of the work. The aquatint gives depth of field to the frame of the etching. And, finally, the chine collé lends a collage of texture to the form; discovery, realization and love.
Although it is early in his career, his former teachers and colleagues already see Ethan as an important innovator and practitioner in the printmaking world. There is universality to his appeal that has already attracted galleries and art purveyors in the Lower 48 to his work. Ethan is featured in a recent issue of the California Art Review Hi-Fructose, for example. https://hifructose.com/2019/04/12/the-encaustics-and-prints-of-ethan-lauesen/
I think the universality of Ethan's work arises from his themes. A person is cast out and alone; he is void of identity, an ambiguous being; he struggles with others and then he realizes he is struggling against himself; he reconciles himself with his past and redeems himself and finds peace.
I believe the emergence of this artist is synchronistic with the struggle of his generation; I would go further and say that Ethan Lauesen's story resonates with my generation as well.
During our interview, in which I talked more than I should have, I asked the young artist about the future. He has bookings well into 2021 and he described the "found times" Covid-19 has created for him. In particular he is going to focus on graphic novel illustration.
But what I most wanted to know about was how will his future art be affected by the changes being wrought to his life from his success. His clear self-confidence and his articulate facility in describing his art and the artistic experience will present a new "existence" that will inform his "essence." What will his art be like then?
Will his art finally have a face?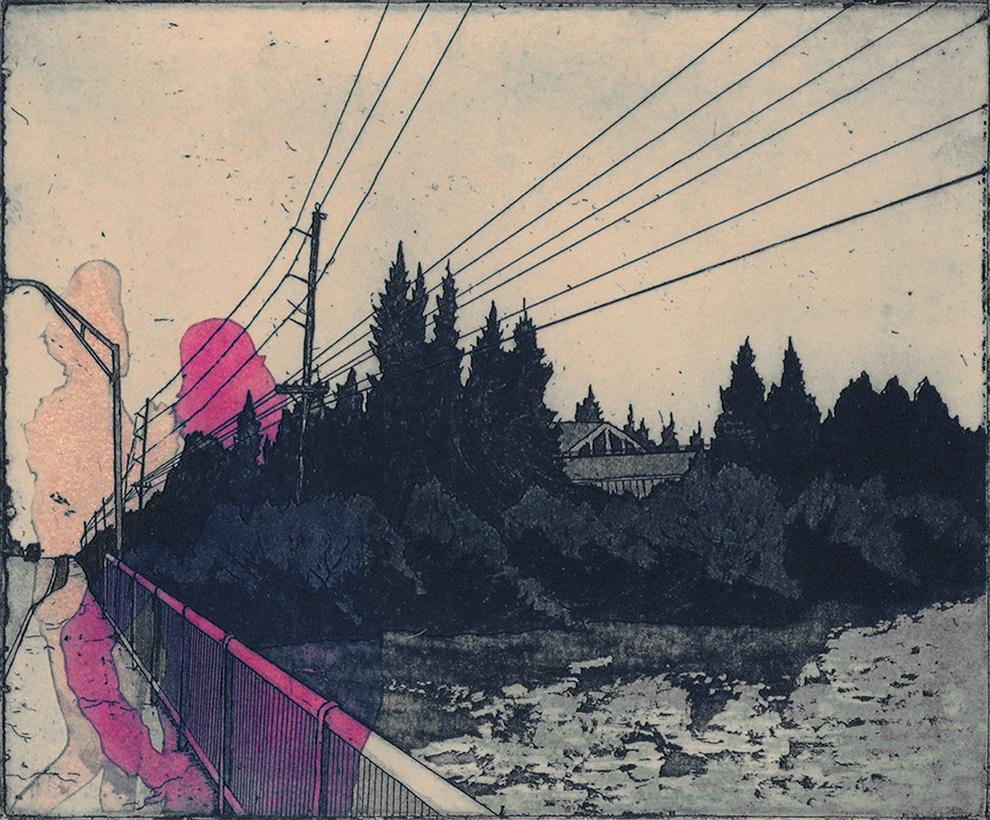 This summer, with support from The CIRI Foundation, the Anchorage Museum will be hosting three virtual artists-in-residence. Follow Ethan Lauesen's artwork and process for the month of June. Tune in on Wednesday, June 17, at 5:30 p.m. to see an intaglio demonstration in their studio, and on June 24, at 5:30 p.m. for a printmaking demonstration and Q&A with the artist.
Ethan is on Facebook, Instagram & other social media; search "Ethan Lauesen"
Ethan Lauesen is on permanent display in the International Gallery of Contemporary Art,