By Indra Arriaga
Día de Muertos (DDM, Day of the Dead) in Anchorage turns 15 years old this year, and in the fine Mexican tradition of a Quinceñera, the team will introduce "Agripina", a Quinceñera Catrina that is a collaboration between artists Macuca Cuca and Indra Arriaga. A Quinceñera is an event that commemorates a woman's introduction into Mexican society at the age of 15.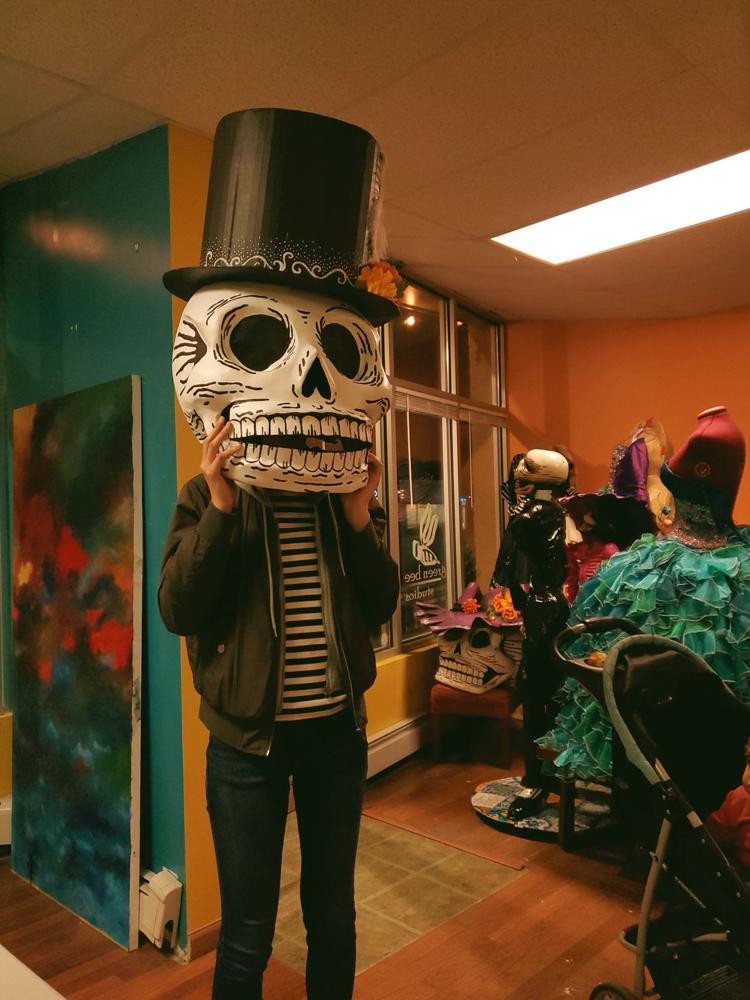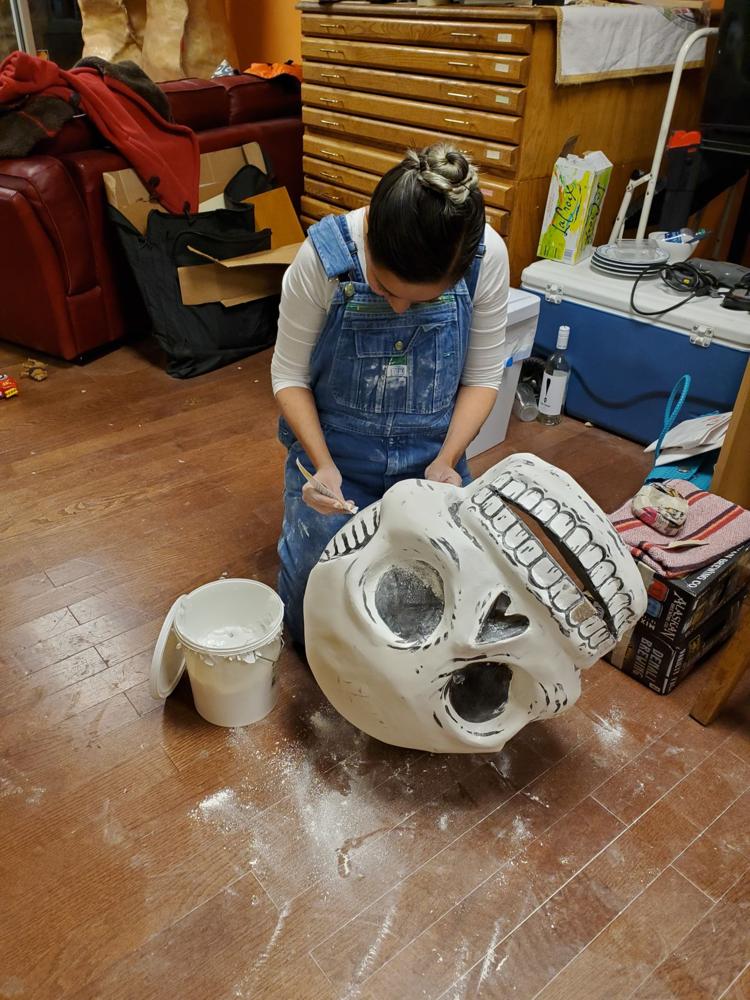 A Catrina is a physical representation of death her/him/them-selves. Last year, the community celebration introduced a procession. This year the procession is expected to grow and the two walking Catrin and Catrina from last year will be joined by Agripina and her friend, Frida (Kahlo) who was designed and elaborated by Paula Cerda. Everyone is invited to assemble on Saturday, November 2, 2019 at 5 pm on the Anchorage Museum lawn, after a brief introduction, the procession will dance down 6th Street, take right on E, go on to 5th, and end up at the theater at 411 D Street, where everyone will be welcomed with festive Mariachi music by Agave Azul. The event this year is made possible by a partnership between the Latinx community and Out North, and with support from Sol de Medianoche (Anchorage's Spanish language newspaper), the Atwood Foundation, and Green Bee Studios.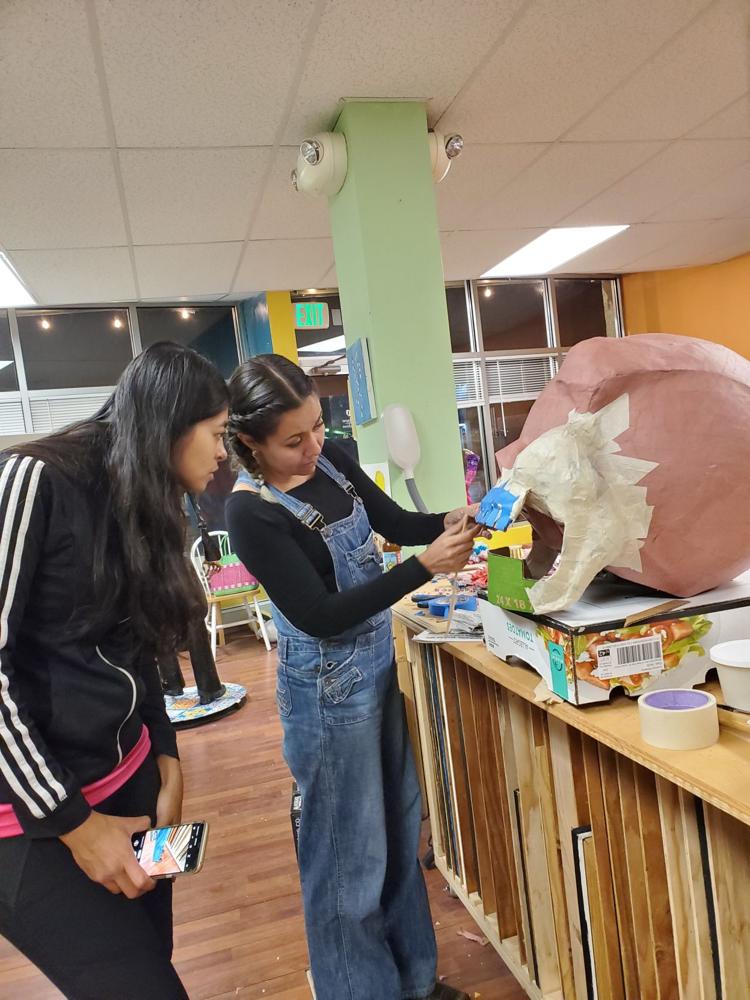 Día de Muertos has come a long way in Anchorage. In addition to the lively procession, it also includes dance and music performances, and also an altar exhibit. However, the term exhibit is hardly apropos because this isn't an art show—it's a public manifestation of an ancient tradition and belief that honors deceased loved ones and ancestors and serves as resistance to 500 years of colonialism and the current oppressive political climate.
In the Mexican philosophy of dying, there are three deaths. The first death is when the body ceases to function; when the heart stops, the gaze becomes hollow and the physical space one occupies becomes inconsequential. The second death comes when the body is lowered into the ground and one returns to the earth. The third death, the most definitive death, is when there is no one left to remember one. The symbiotic relationship between death and Mexicans is wonderful to share and observe, and even with the cultural appropriation that is happening left and right, the power that has resulted from thousands of years of faithful practice and evolution cannot be imitated, manufactured, or misappropriated for long.
The issue of appropriation of Día de Muertos came up when a member of Ravens' Roost Cohousing decided she was going to make her own Day of the Dead after her proposal to show art she brought into the country in a suitcase and sell it at the community event under the guise of a nonprofit organization that didn't exist was denied by the community organizers. The community response was to talk with this person about her cultural appropriation practices and the damage she is causing. Her response was that she knows she is White and privileged but that Mexico is her passion and she has "good intentions" so she is doing it anyway.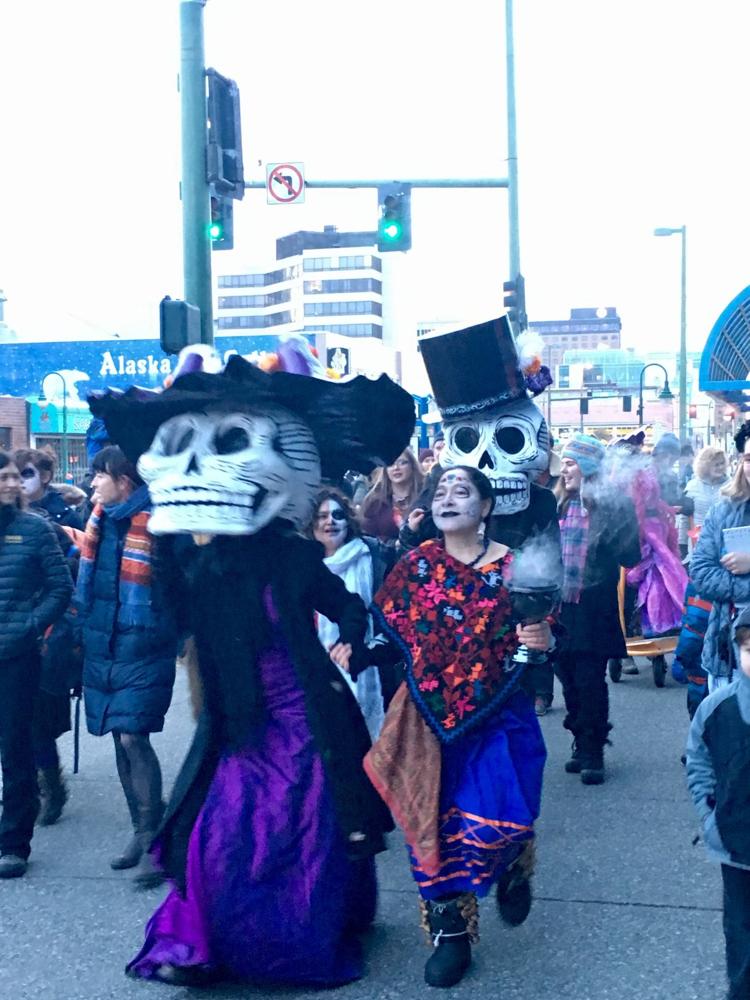 What was the Latinx community to do? Answer: Make the Quinceñera event even better and bigger, and focus on educating and sharing. The community has held art workshops almost every night and many people of all ages have come to make flowers, plan altars, dance, tell stories, and make this event the beating heart of the Latinx expression and resistance. Organizers include more than a dozen community members. "We want to share our culture with respect and to be respected," Norma Lucero, one of the organizers, says. We want everyone to participate and join us, to come build connections, be true allies; we can all learn from one another and make Anchorage a stronger community."
Día de Muertos Events:
Friday, Nov 1, 2019
At 411 D St. Anchorage AK 99501
Lecture by Lorena Medina, Arqueologist, on the history and cultural significance of Día de Muertos & Altar Preview
Saturday, Nov 2, 2019
Meet at 5:00 pm on the lawn of the Anchorage Museum for the procession.
Festivities will start at At 411 D St. Anchorage AK 99501 upon arrival of the procession.
Program includes: Altar exhibit, dance and music performances, hot chocolate, pan de muerto (traditional bread), & tamales
All events are free and open to the public.