The cast for Ripcord was two weeks away from starting rehearsals when the world stopped.
Relegated to Zoom, they waited and waited for the pandemic to pass, but as weeks became months and months and months gave way to more months, they began to wonder whether they would ever perform live.
Still, they kept at it, reading lines and going over the script virtually for David Lindsay-Abaire's 2015 comedy set in a senior living facility, bi-weekly, if not more often.
"We started doing Zoom just for fun, we got a little more purposeful," said director Teresa Pond. "Last night (Oct. 13) we met with the whole cast and design team live."
The Cyrano's audience will get a chance to see the fruits of this extreme amount of rehearsal when the play opens Nov. 5.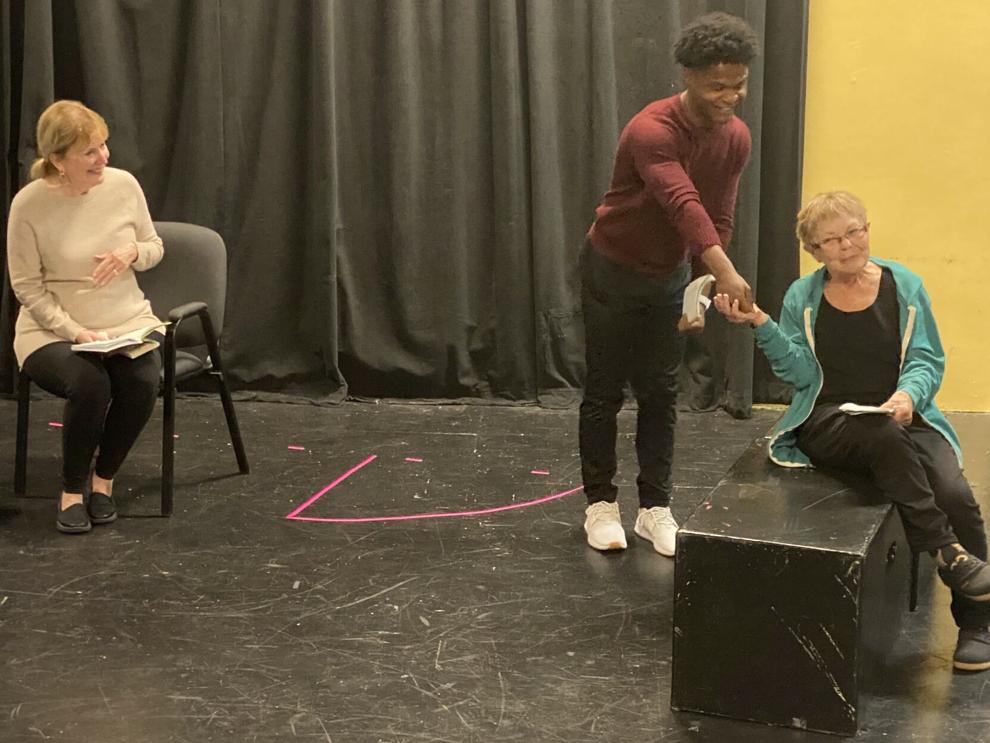 "We never really had weeks when we could play with the text so it was really a luxury to have that, just to be able to dive in and try things a million different ways," said veteran Cyrano's thespian Gigi Lynch, who plays the role of Marilyn. "You don't always have the opportunity to do that, so thank you, pandemic — I guess."
Lynch's Marilyn plays the bubbly naive assisted living resident opposite her roommate, the cantankerous Abby, who, played by Linda Benson, commands the stage throughout with her powerful negativity. Benson said all the extra practice time is bound to make Ripcord a different experience for the Cyrano's audience, too.
"A lot of times people go to the first weekend and then the last weekend and will find that they're different plays because the actors have gotten to explore the run of the show," Benson said. "But I don't think it will be with this. You might see the same show the first as the last."
Set in an assisted living facility, Ripcord introduces us to Abby, who does not care much for people and does not want a roommate at all. The sunny Marilyn is assigned to be her roommate and with her naivete appears almost immune to Abby's barbs and general dissatisfaction with life. Stuck between the two is Scotty the orderly, played by Kenny Horton.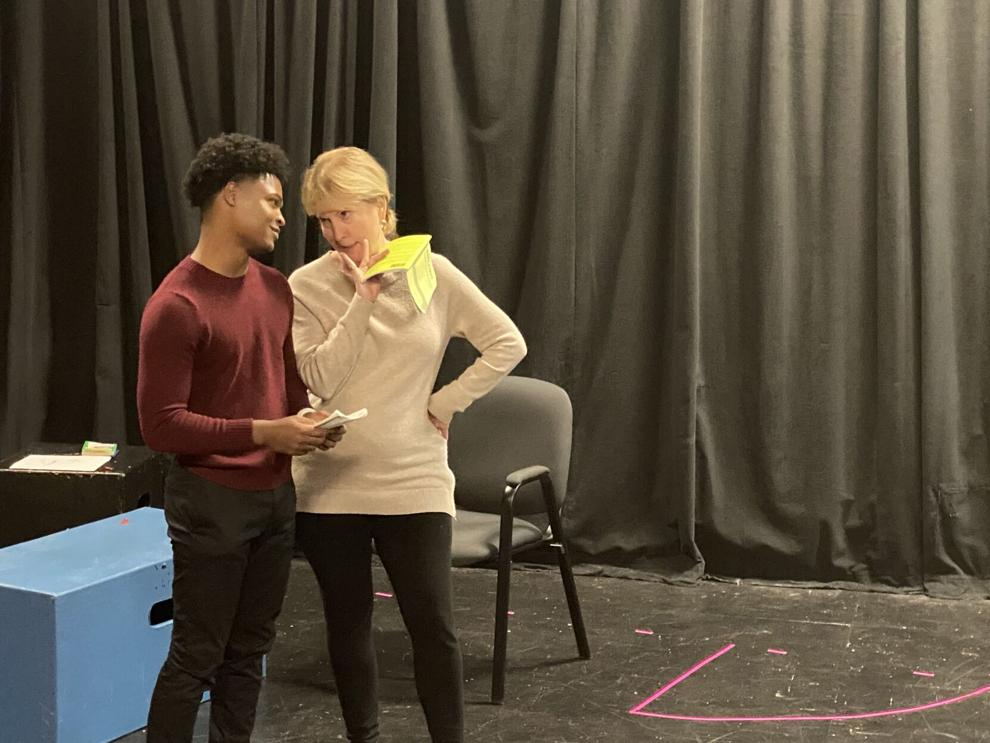 "Abby wants the room to herself, but she can't get it so she tries to drive out Marilyn and poor Scotty is the pinball bounced around between them, just trying to help everyone have a better life," Pond said. "So they enact a wager that if Marilyn can make Abby scared — because nothing bothers Abby — then Marilyn will get the bed by the window. If Abby can make Marilyn angry then Marilyn will leave and go to another room. You get to see through a surprising series of events the heights the women will go to win the bet — far beyond what sweet little old ladies in a senior living facility should be doing. It makes us took another look at our elders; what we assume about them and what we shouldn't. The fact is, they've got a lot of life left."
Nelson gets in touch with Abby's core by reminding herself of all the unfortunate things that have happened in her character's life to the point.
"In the play she mentions her son who has done nothing but disappoint her; a drug addict who drained her of money. Her husband died, she was fired as a teacher.. All these things have gone wrong and because of that she's just a bitch," Nelson said. "But my character changes from the bitch you see in the first act to, perhaps there's hope for me."
Lynch said her character Marilyn changes throughout the story, too.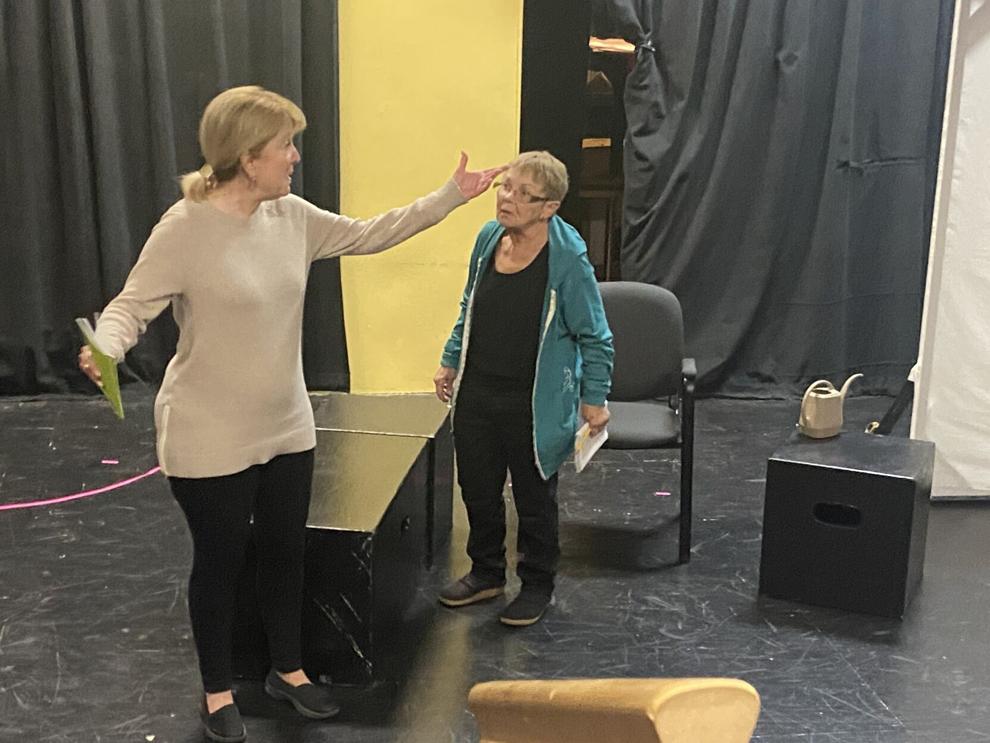 "At first blush she seems very kind of carefree, but as it goes on we realize she definitely has had some downs in her life and she can be quite devious," Lynch said. "It's interesting going back to the text work, the little clues you see and if we didn't have all the time we had I might not have discovered that. But reading it, it's like, 'damn, I'm devious.'"
Pond said the scope of development of both characters is central to the play's meaning.
"We make a lot of presumptions about people who are elderly and we do diminish the scope of their world a lot. I don't think we mean to but I don't think we live in a culture that celebrates our elders a lot," Pond said. "I was raised by strong, fierce, smart, older women and both of these ladies (Lynch and Nelson) are dear friends of mine outside the theater. I've always been attracted to these types of women — the bitch; the women who know what they are and who they are. They have wonderful qualities; they're strong, smart and they speak their mind, which is why I was probably attracted to the play."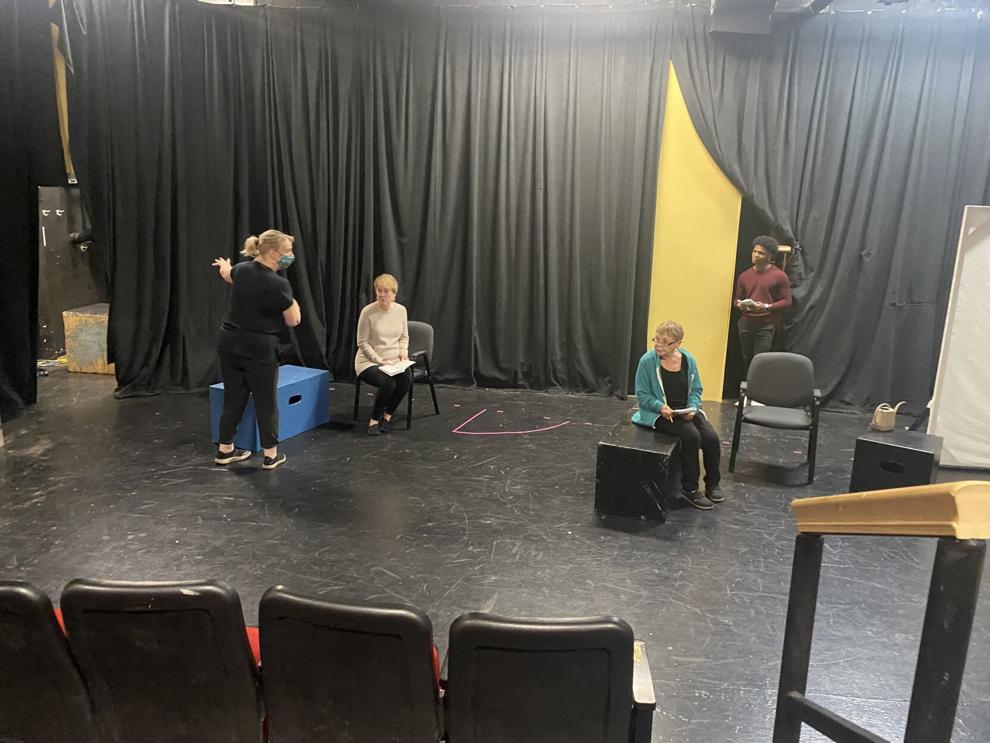 Ripcord launches on Nov. 5 and runs through Nov. 28, each Thursday through Sunday, except for Thanksgiving. Tickets are available at cyranos.org or at the theater box office.
"People who come will laugh their ass off and also be very touched," Lynch said. "I think in a way that they did not expect."
The cast also includes Anthony Lounsbury, Danielle Rabinovitch amd Jim Haacke.
Upcoming shows at Cyrano's:
Written by Chantal Bilodeau. Directed by Codie Costello
World Premiere at Cyrano's! NO MORE HARVEYS follows the migration of females – both human and animal – against a backdrop of climate change. It's a world in flux where women emerge not as victims but as survivors. "Whether it's hurricanes or Hollywood producers, Harvey's suck, let's start with that." or so says the woman in NO MORE HARVEYS, who has "migrated," from her abusive husband – also named Harvey. She embarks on a journey to Alaska to reunite with two of her friends, looking at the evolutionary path of whales to try to sort herself out and see a way forward.
This one-woman play is inclusive and representative of the many people who live in Alaska, sparking conversations about social and environmental disruptions, and giving voice to women on the frontline of climate change. Playwright Bilodeau offers this 3rd play of her Arctic Climate Change series (her first play the Canadian SILA was at Cyrano's in 2016) with the American installment and world premiere, at Cyrano's Theatre.
5 Lesbians Eating a Quiche
Written by Evan Linder and Andrew Hobgood. Directed by Warren Weinstein.
It's 1956 and The Susan B. Anthony Society for the Sisters of Gertrude Stein are having their annual quiche breakfast. As the assembled "widows" await the announcement of the society's prize-winning quiche, the atomic bomb sirens sound! Has the Communist threat come to pass? How will the "widows" respond as their idyllic town and lifestyle faces attacks? Winner of the 2012 NYC International Fringe Festival as Best Overall Production, 5 Lesbians Eating A Quiche is a tasty recipe of hysterical laughs and delicious discoveries. A farcical, interactive comedy.
Written by Noel Coward. Directed by Teresa K. Pond.
A sparkling cocktail of hilarity, poured over marriage! Best friends now married to others but feeling a bit bored, Julia and Jane both once counted the dashing Frenchman Maurice, as their lover. Guess who's back in town and requesting the pleasure of the ladies' company? This charming romp was proclaimed "shocking" by critics in 1925 - dramatizing female sexual desire and frustration. Noel Coward's ladies will arouse your deepest… laughter!
Written and directed by Jill Bess. Music by Jill Bess & Darcy McMullen Kreger.
Ah Motherhood! With the birth of a new baby, one new mother discovers all the ways her life has changed. The joys, the angst, the confusion and more, in a comic musical journey that explores all of the changes that birthing a new life brings. THE MOMMY DANCE is a brilliant balance between humor and raw honesty.
performs at the holidays at Cyrano's!
Jill Bess and Darcy McMullen Kreger first brought this one-woman (and a pianist!) modern musical comedy to light 25 years ago, since has been expanded and now will be redeveloped with a new actress and under Jill's expert direction!