Tucked away near the Southwest corner of the Anchorage Museum atrium balcony is a small but important exhibition, 'Alaskans and Salmon (thru January 19, 2020)' presenting large color photographs of Alaskans who fish for salmon, their catch, and the various ways these aquatic specimens are preserved. A video explains bulldozing the Moose Creek, Chickaloon waterway that was damaged in the 1920s, coal mining and railroad construction era. Fish once mired can once again swim upstream. Another looping film shows a modern processor vacuum-packing salmon fillets and shipping them in those ubiquitous cartons to Seattle via Alaska Airlines. There's also a display about how the government and scientific agencies monitor migrations by tagging fish, whose life-cycles include their mysterious salt to freshwater sojourns.
OK, some poignant themes about the Alaska fishing industry were left out. Harvesting salmon is very important to Alaska's economy, which is why the Pebble Mine issue is so hotly contested. Copper is an essential ingredient to electronics. Easy to access cheaper mines are desired as they are more profitable. Unfortunately, the proposed Pebble Mine project is very close to Bristol Bay, a major commercial and recreational fishing arena, and thus poses health hazards to flora, fauna and humans. The possibility of polluting the ocean and rivers so salmon can't continue to cycle in and out of this watershed is very scary — and probably irreversible — if seepage from a mine happens.
Towards the end of the Nineteenth Century, businessmen from San Francisco and Seattle wanted 'in' on Alaska's aquatic bounty and began developing fish canneries in Southeast Alaska. Manufacturing of hygienic 'tin' cans, improved food sterilization procedures, longer product shelf-life, all popularized canned salmon. There's always a downside. Introducing Outside fishermen and cannery operators did not help Alaska Natives who needed jobs. In 1906, processing salmon got easier when a machine was invented that replaced human labor. Although not in this show, the Museum's Alaska Gallery has an 'Iron Chink'. This derogatory name for automation passed into the language as many West Coast fish processors employed Chinese laborers. And the installation of big fish wheels and expansive traps almost wiped out major spawning grounds. Initial conservation measures were put into place with the White Act of 1924, although not well enforced until after statehood, 1959.
Fishing, in general, unless you are a pampered tourist being wined and dined with a crew helping to bait your hooks and package your catch, is not glamorous work. Classics like Melville's 'Moby Dick' and Hemingway's 'Old Man and the Sea' portray hardships. My relatives, Carol and Joe Okenfels, fish for a living in Garibaldi, Oregon. It's a tough occupation, but they love it. Depending on where you are on the Northwest Coast, the season is short (late spring to early fall). If you're a night owl like me, fishing isn't ideal, because you have to be on your boat at dawn. As Carol says, "... nothing like a plugged up toilet to end your day."
Runs of fish can vary season to season. With climate change, ocean temperatures are rising and salt water has become more acidic, which impacts the mere survival of some aquatic species. Ironically, with warmer temperatures, fishermen can work longer into the autumn, and start earlier in the spring.
Many fishermen are independent contractors, servicing returning vacationers, or routinely bringing fish to a local processor. The abundance of fish is not the only component that fluctuates, so do global financial markets. Most fishing boats are owned and operated by individuals with a small crew of guys and yes, ladies and even toddlers (with life jackets) returning seasonally. They operate in allowed areas when particular grounds are open. Fisheries can be limited to protect certain species from overfishing. Boats are assigned limits of catch as well. Fishing can be hazardous due to foul weather and long work hours under stress; catching the allowable in the limited time can result in accidents. Processors must watch the bigger market which fluctuates for various reasons: availability of certain species, popularity of a particular fish, foreign competitors who sell similar products, appeal of 'Mariculture' versus 'caught in the wild' seafood. Generally, fishing boats are financed and if prices drop or fishing is limited, it can be hard to keep up with debt payments, and bankruptcies or liquidations are the result. State and Federal agencies and stakeholders sometimes spar, but ultimately mediate to manage a healthy fishing environment, which does not always jibe with the economics of commercial, sport, and subsistence fishing practices. Of note: 'Alaska Maximum sustainable yield' is enshrined in the state's constitution. 'As much as half of each salmon generation may be harvested and still reproduce at sustainable levels'.
Walking through various art museums worldwide, I often encounter visitors who want to tell me they've discovered Alaska's deep water fishing through spectacular television like 'The Deadliest Catch'. Their sole understanding of Northwest fishing comes from shows that emphasize the 'Sublime' which hypes angry waves bearing down on tossing ice-covered ships — but this isn't the whole story.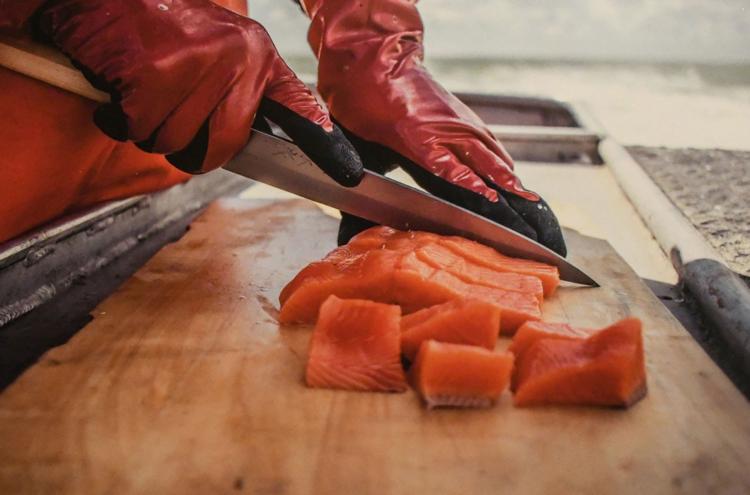 Back in the Anchorage Museum's 'Alaskans and Salmon' exhibition, images of orange salmon surround the gallery, while other photographs show small fishing operators that unabashedly go about their workday. A diagram explains the five species of salmon: Chinook (King), Sockeye (Red), Coho (Silver), Pink (Humpies), Chum (Dog). Individual, small or even husband/wife fishing groups are pictured aesthetically. Artists Nicholas and Jerrod Galanin are videoed as they dine family-style with other Sitka relatives. A fisherman dons waders to cast in a cold stream, while others ford saltwater marshes. Small, cooperative fish wheels are still permitted and need tending as revealed. I encountered a Museum employee who said, "we wanted to emphasize the positives and importance of salmon to those who live in Alaska." In this balcony gallery, waters are calm and costs seem irrelevant; it's about the spiritual gratitude for the abundance of salmon.
The show's photography is enough to perk up tourists who have hoofed around the many Museum niches. One vacationing couple was amazed that Anchorage had such a big art facility, let alone a Smithsonian wing. As portrayed, salmon can be horizontally filleted or vertically cut into steaks, then poached or broiled. Fish can be frozen, rack dried or smoked into a 'jerky' or marinated in mason jars or vacuum-packed into bags. Salmon roe (caviar) also jarred, is a delicacy. I like my fish broiled with some dill, lemon juice and crushed red pepper — a dash of 'Best Foods' mayonnaise enhances the flavor. I have to remember to mail my son Nick, who lives in DC, Alaskan salmon for Thanksgiving. He shreds the salmon in a food processor along with cream cheese and Tabasco, to serve on crackers, while watching football with his in-laws.
As Museum placards proclaim, "In Alaska, salmon are a way of life. Worldwide, approximately one-third of remaining wild Pacific salmon spawn in Alaskan rivers. Alaska is one of the few places on Earth where salmon habitat remains relatively intact, which means Alaskans have a distinct relationship with these wild animals…. A connection to salmon is what bridges and binds so many different people in the state, and the human relationship with this wild resource is, perhaps, the very root of what it means to be Alaskan."
All of this is a good reason to think hard about the devastation that might be caused by a copper mine adjacent to Bristol Bay.
Mini Sleuth: Special thanks to the Okenfels, owners of Siggi-G Ocean Charters, www.siggig.com. My go-to books: 'Alaska, a History of the 49th State' by Naske and Slotnick; 'Battleground Alaska', by Haycox on Amazon. Some verbiage adapted from exhibition signage. Check out www.salmonlife.org.
Jean Bundy aica-usa is a writer/painter in Anchorage