A spring break trip to the Smithsonian American Art Museum motivated Russian-born Yuliay Helgesen-Thompson to take up oil painting after a 15-year hiatus from that medium.
The Dimond High School art teacher, who encourages her students to try new styles, had herself gotten in a bit of an artistic rut painting mostly with acrylic.
The efforts of her new found desire to paint in oils takes top billing for the May First Friday at the Katie Sevigny Studio in downtown Anchorage. She has seven larger pieces on display along with cards, coasters, luggage tags and stickers featuring her images.
"When I was in Washington, D.C., I asked myself why am I not doing oils? What is stopping me?" Helgesen-Thompson said. "So when I came back, I got myself some oils and started going crazy with it. Now I hooked on oils again."
This First Friday opening for Helgesen-Thompson features her take on typical Alaskan scenes.
As she paints, her mind blends various scenes together on the canvas to create seamless scenes that do not hint to the observer that the inspiration finds its beginnings in several moments and places.
Such is the process that created one of her major pieces on display starting Friday night.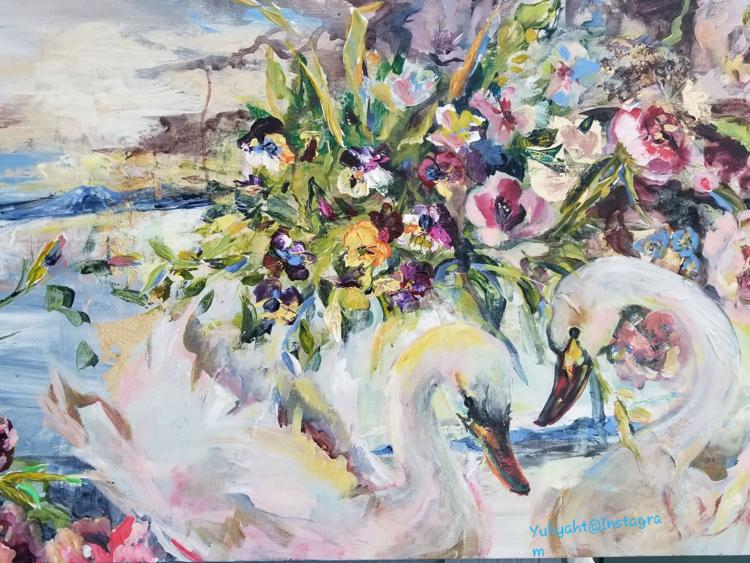 It is titled, "Alaskan Pantheon," and the activity contained within its borders honors the near religious fishing phenomenon that plays each summer on the Russian River on the Kenai Peninsula. Its scene is of a mama bear grabbing fish as majestic eagles fly overhead plotting their swoop to snag some fish as well.
It is a snapshot of Alaska that she's seen many times fishing at the famous spot.
"It happened to us," she said. "The mama bear just jumps in the river and grabs the fish and we stay on the other side away from her. It is the wild side of Alaska that I want to capture."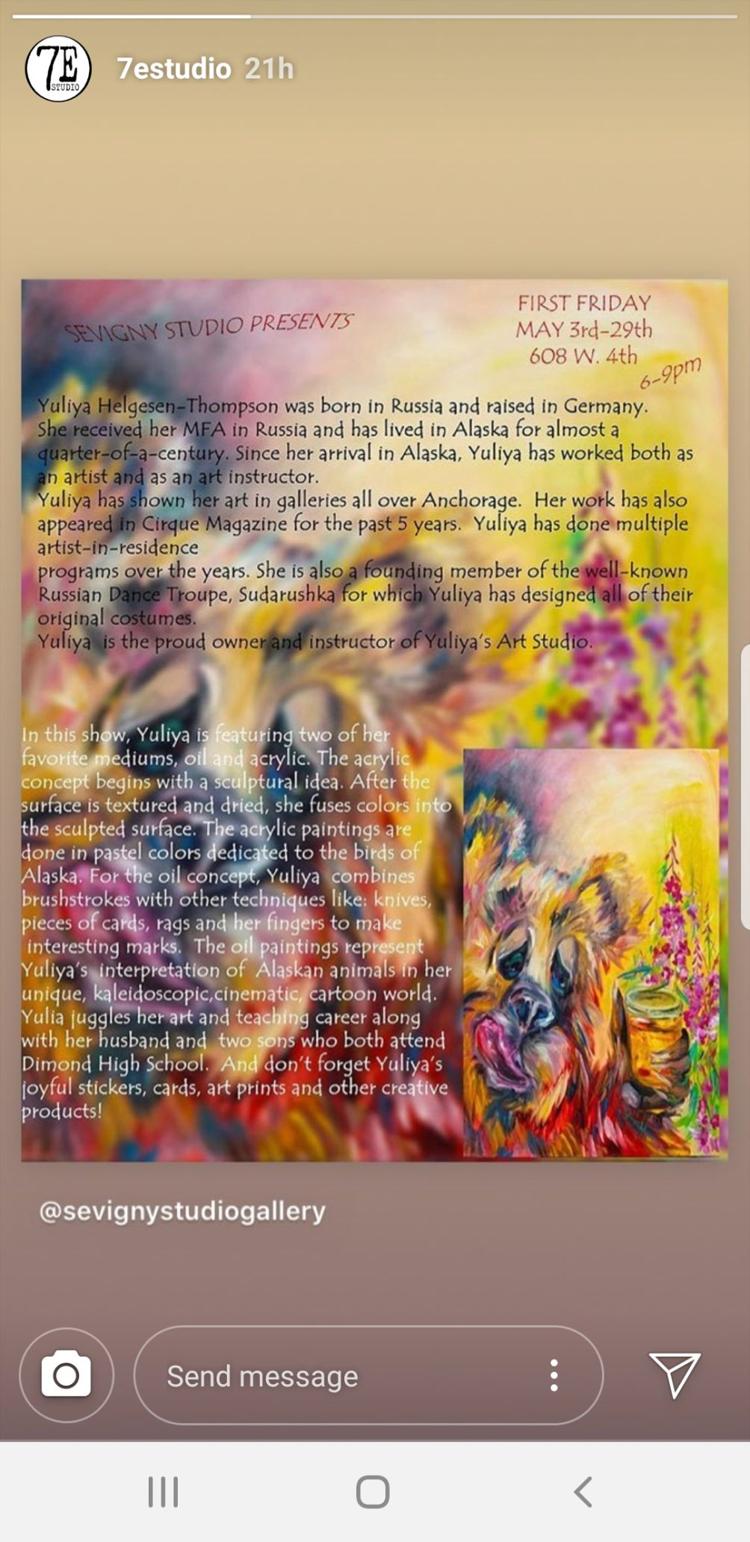 She considers herself a bit of a mama bear. Her sons are growing up and she wants to guide and protect them.
She was working at Eagle River Elementary School when she became pregnant with her first son. Many days after work, she saw numerous eagles perched in the nearby trees and expertly flying on the wind. The images stuck with her.
So when the idea of a mama bear fishing "jumped" on her as she describes it, she knew she wanted to incorporate the eagles and their fishing efforts along with the bruins.
But don't take that background information to mean that she plans her paintings in advance.
For Helgesen-Thompson, it is a work-in-progress sort of process.
"I just paint," she said.
Often, her direction comes as she begins.
She often paints the flowers in her garden and then brings other Alaskan elements such as a pair of swans or the Turnagain Mudflats in to fulfill the scene.
"They say don't paint if you don't know what to paint," she jokes. "But for me, I cannot not be painting; I am always painting."
That's not an understatement of how much time a brush in her hands.
She teaches a full class schedule at Dimond and then teaches painting after school out of her garage studio.
Her art career began right out of high school in her Russian hometown, Yekaterinburg, which is located east of the Ural Mountains on the Asia side of the divide between the two continents.
It was 1991 and the Berlin Wall had just fallen and her family was able to leave Leipzig, Germany and return to Russia.
She was initially destined for acting school in the Russian higher education system.
But she discovered that the "community service" portion of acting school included digging potatoes in the countryside.
At age 17, that just did not interest her.
Thus, she inquired about art school and was accepted.
The "community service" for that academic direction was camping out in the countryside and painting in an open air setting.
"I don't know what they did with our paintings," she reminisces. "We just painted for two weeks and it was our community service."
She earned her bachelor's and master's degrees in art and met her American husband while he was travelling through Russia.
They were instantly in love, she said.
"He is very cute and I am very cute," she said. "And that was it for both of us."
It took a few years for him to obtain paperwork to bring her to the United States.
Since then, the couple has lived in Alaska working full-time teaching careers.
She's displayed her paintings at several Anchorage art galleries and the Cirque Journal continues to select her work for appearance in its arts section.
While she's gladly welcomed oils painting back in to her repertoire, she still very much enjoys acrylic painting.
That medium produces a different feel, she said.
"It gives more romantic feelings about nature and its communication such as the wind flowing," she said, noting that she enjoys painting with acrylic in the summer months when she isn't teaching high school students. "When the blossoms in my garden are in bloom and I feel the freedom of not having to worry about wake up time (for high school), I like to paint with acrylic because I can capture all of that."
Helgesen-Thompson will be at the Sevigny studio Fri., May 3, for the First Friday opening.