A former West High football star, turned actor and musician is back in Anchorage displaying the fruits of his latest passion: painting.
Bret Roberts, who quarterbacked the Eagles in the early 90s before going on to Colorado College, where he quite unintentionally earned a scholarship for acting, went on to have a relatively successful career in front of and behind the camera with nearly 100 IMDB credits to his name. Ultimately, though, that led him to a lifestyle of alcohol abuse, and it was in rehab in Los Angeles that he found his next pivot and his next raison dêtre.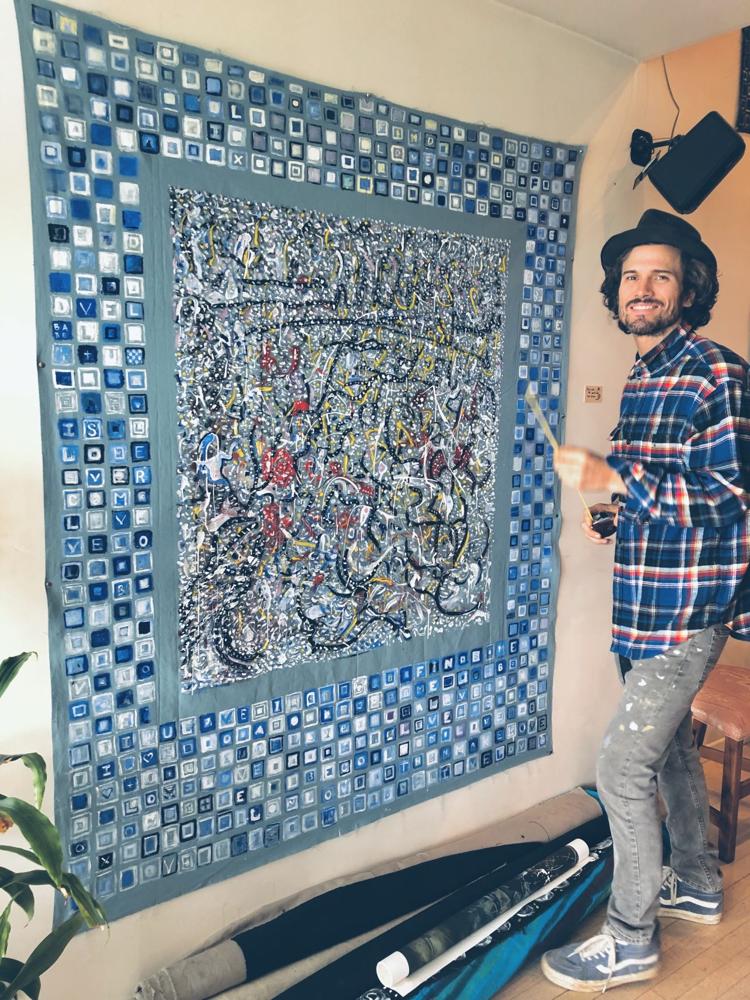 "I needed a new form of expression. I was always in the flow and worked really hard in all the years leading up to me going into rehab. I'd produced 10 indie films, raised the cash, wrote the scripts, but by the end of the day you're dealing with people in L.A. and I wanted to go right to the beer store,' Roberts said. "At a point, I said, 'OK, I'm done (with drinking),' But real artists, they keep working all the time. There's that work ethic. If you're going to make a choice to be an artist to make a living and not have another job, you'd better work more hours than people with regular jobs. You have to be crazy-prolific to make it work."
In rehab, Roberts couldn't make films, but he could do paintings, and when a fellow rehabber asked him to do a painting based on a photo of he and his wife, Roberts took on the challenge. The patron liked the work so much he insisted on giving Roberts $100, and when staff found out about it, Roberts was called in on the carpet.
"They thought I was running some kind of business," Roberts chuckled. "When I stopped drinking it reset me back to who I was growing up in Anchorage, and then it was, 'OK, now what do I to with my time?' My friend Jesse insisted to me, 'you're painting tonight,' and he brought a bunch of paint over and forced me to paint. I did two paintings of trees and they looked kind of like impressionist trees and that freaked me out — freaked him out. Then, I just got hooked."
Ever the renaissance man of self-expression, Roberts threw his full attention into painting, often times painting until the sun rose, and before long was working out of a studio in France and putting on shows around Europe. He soon developed a defining theme in his painting — peoplescapes with masses of humanity interwoven, all at once in the foreground and background. Think Hieronymus Bosch, minus all the Hell stuff. Setting himself apart from the drinking culture wound up being an inspiration.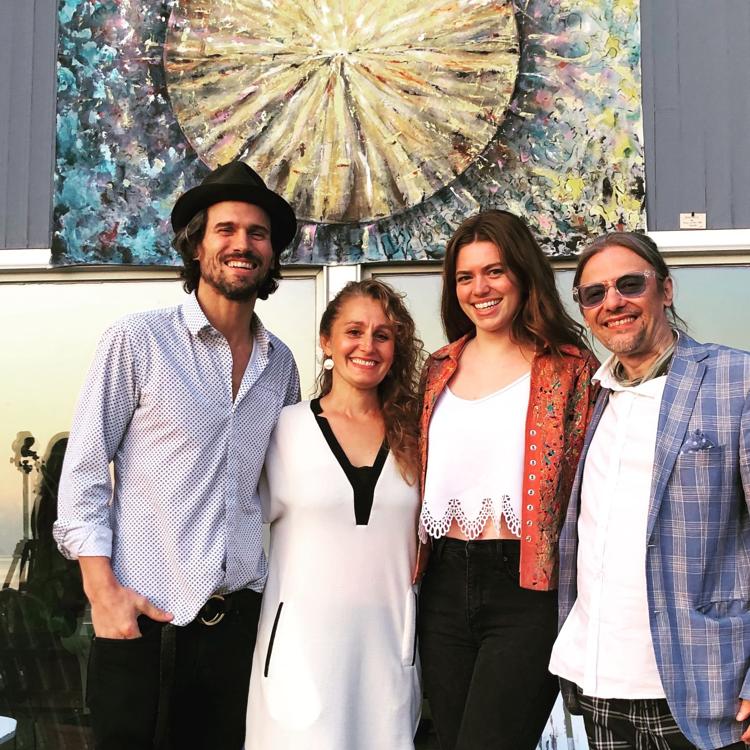 "I started painting these amazing parties and festivals — things I used to go to but now I don't go to as much, so I paint them more," Roberts said. "I'd be alone in Paris painting a party I wish I was at. That was how the peoplescapes started."
With successful European shows under his belt, Roberts returned to New York, where, through pure chance, he ran into Janusz Gilewicz, a Polish-born artist who'd made his name in the early 1990s painting on leather jackets customized for rock stars including David Bowie, Iggy Pop, Joe Cocker, Stevie Ray Vaughn and Eric Clapton. The series was picked up by the high-end retail shop Barneys and set Gilewicz on a path to decades of critical and commercial success.
"This guy says, 'friend, you look like a musician, play us a song,'" Roberts recalled. "He handed me a guitar and I played him and his girlfriend a song. We started talking and he saw some of my work, I saw some of his and he took me in and started teaching me. From there, we started collaborating on pieces together."
That was five years ago, and just over two years after their random encounter, Gilewicz and Roberts put on their first collaborative show.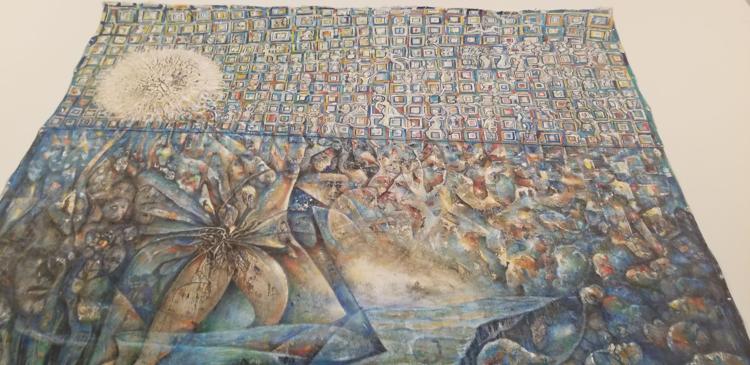 Gilewicz had an understandable soft spot for believing in the power of serendipity. It was just that sort of arbitrary luck that got him his big break with the leather jackets back in 1989, when Gilewicz was new to America having been granted political asylum. His English was still so poor, he traveled with a translator.
"There was this beautiful waitress and he she had a jacket on and said, 'why don't you paint something on my jacket and I'll give you 200 bucks.' So I painted a beautiful angel kissing a woman and the sky,'" he said, adding that he'd put his phone number on the jacket, partly for marketing, partly for purposes of flirtation. He ended up getting a call from a patron with a 'big job' for him. "I asked him how he got my number and he told me about the beautiful girl smoking cigarettes with the number on her back. That's how I started doing the leather jackets."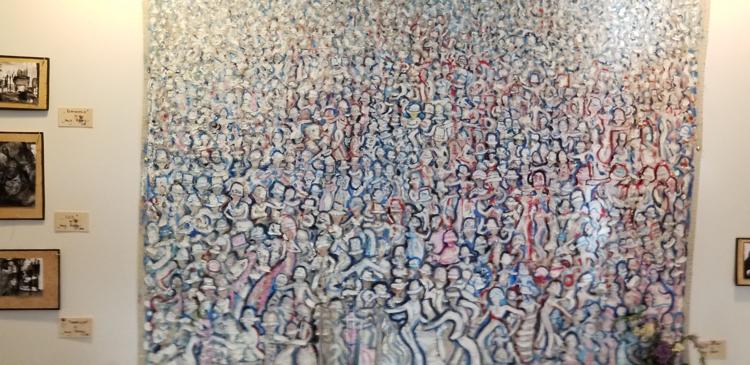 For their collaborative show that debuts Friday at Stephan Fine Arts in the Hotel Captain Cook, Gilewicz and Roberts are showing 30 pieces that for two weeks prior showed in the Bootleggers Cove home of former Lt. Gov. Mead Treadwell. Most of the collaborative pieces are acrylic on canvas — a medium not so different from the work on leather that made Gilewicz famous.
"When we paint we do not figure out what we're going to do before we start to paint — it comes organically," Gilewicz said. "I've realized I've found much more excitement and fun focusing on the process than the final art piece. The process, we don't figure out — we just paint and the colors, and sometimes the canvas gives us directions."
But how can two artists painting on the same canvas at the same time possibly create a cohesive vision?
"I've done a lot of collaborations… here we're kind of merging and using each other; influencing the color, that creates the one body of work. You can see the juxtaposition of two different styles," Gilewicz said. "Sometimes he can do a corner or I can be on a ladder."
"It's not the most common thing for two painters to share a canvas, but he talked me into it and I learned from him," Roberts said. "Sometimes we paint at the same time, but a lot of the times it's one or the other."
The end result of such collaborations, Gilewicz hopes, is a piece that reflects a process that's more cooperative than competitive than most in the usually cutthroat world of high art.
"It was a different approach, more oriented towards the idea of not competing with each other, rather supporting each other. But in the ace of new science we find out a lot of things come from our subconscious so we turn off our critical mind, basically and that kind of manifests itself on the canvas," Gilewicz said. "It can be very competitive; artists guard the way they paint. Doing it together we try to inspire people to not be competitive and try to work in unison, if you see 2 or 3 people or 4 join together and try to create something."
Gilewicz and Roberts are also trying to turn the New York gallery scene on its head with multimedia shows that include music, aiming to replace some measure of stodginess with festivity.
"In New York, openings are wine and cheese, look at the art and go to another gallery," Gilewicz said. "Our shows are different because people don't want to leave. Six hours later, everyone is jamming and having a good time."
You can bet Friday's opening night at Stephan's Fine Arts will feature musicians, including Roberts and his guitar, jamming all night long.
"Our show in Tribeca, I invited a bunch of musicians — classical, horn players, they all came to the opening and everyone who came to the show started singing along; it was a wonderful night," Roberts said. "We had a bunch of dancers wearing (Gilewicz's) leather jackets, climbing ladders, changing jackets — it was mind-blowing a lot of people. We knew we had something there… Our show is 30 different acts — a little musical Lollapalooza that happens."
Friday's debut will be first Roberts' first art show in his home state, though he has been back in Anchorage three times in the last year to visit his parents, Malcolm and Cindy. Roberts' grandfather Erling Roberts was a well-known artist based in London, who painted the official portrait of former Alaska Governor Wally Hickel, which also sits in the Treadwell home.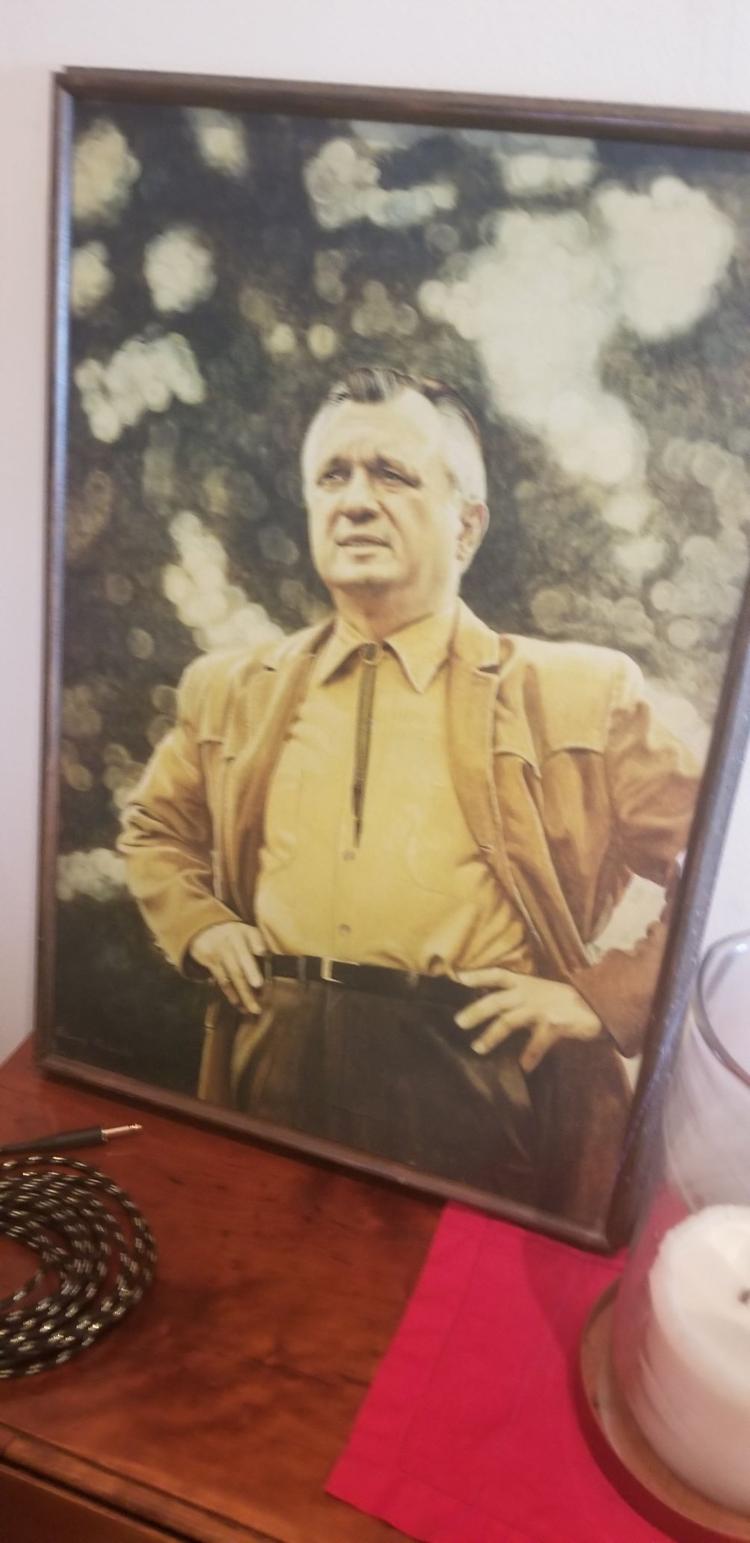 His first hometown show was made possible by one of his oldest friends — Stephan Fine Arts owner Becky Stephan, a classmate of Roberts' at Romig Middle School.
"For the last 20 years there's kind of been a Paris and New York Bret, so we don't really know Bret very well," said Stephan, who wasn't surprised to find out that Roberts had come to fancy the visual arts. "Nothing surprises me with Bret. He can do anything he wants; he always has that confidence."
When Stephan reached out about doing a show in Anchorage, Roberts couldn't say yes fast enough.
"I wanted to come and hang out with my parents anyway, so it was perfect timing," Roberts said. "I told her about Janusz and how he was part of the show… I have a handful of Alaska friends who've bought paintings the last two years, so I've just been letting them know about the show."
The First Friday show runs from 5:30 p.m to 11 p.m.