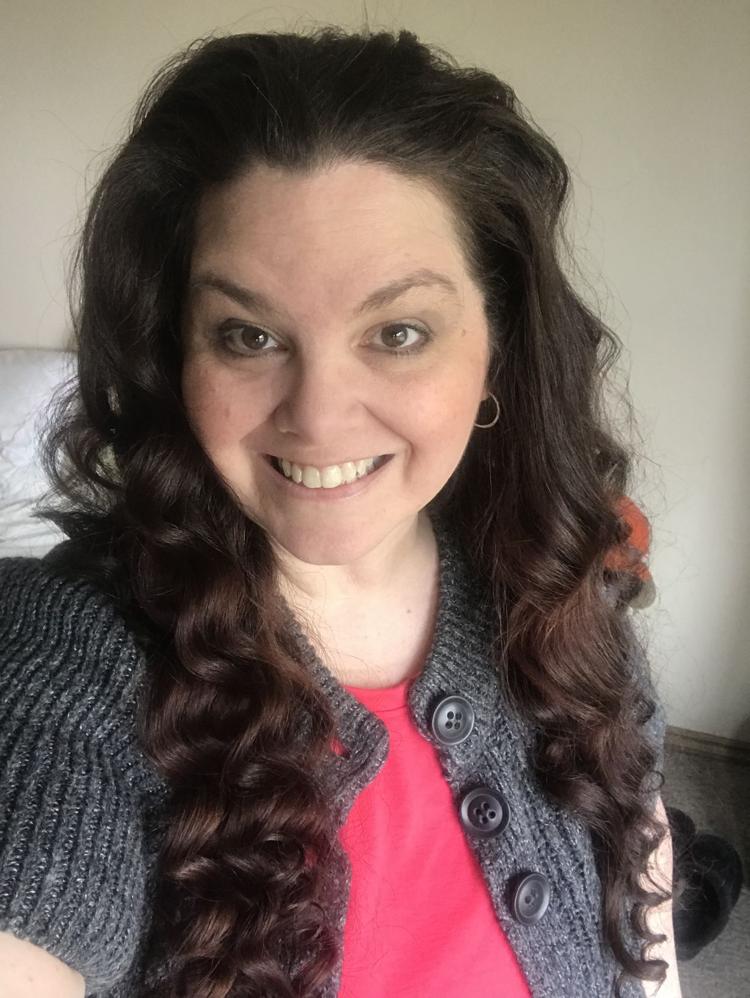 Her artistic journey began because she was invited to a mom's night out event to make bead bracelets.
Jennifer McCarty of Wasilla thought to herself, "sure, why not?"
Besides, she had a challenge she thought she could get an answer to from going to the class.
Being a plus-size gal, McCarty "had issues" as she described it with finding bracelets and necklaces that weren't too tight. Perhaps by making her own, she could create jewelry that fit comfortably.
"At the class, they taught me the technique and I was like, 'I can do this,'" McCarty recalled.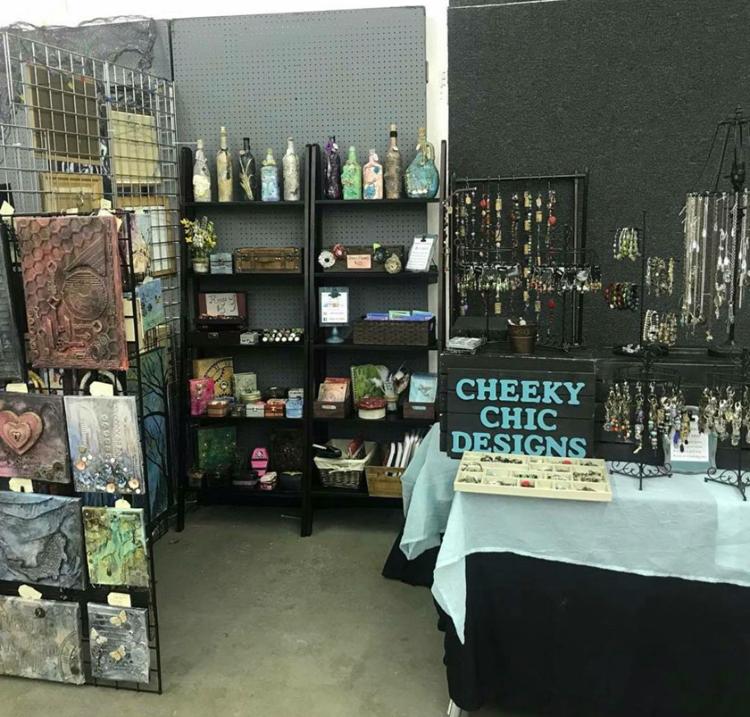 She made jewelry for friends and did beaded tops and full costumes for other friends involved in local theater.
But then she began a vendor at local craft shows and quickly discovered a local craftsman market that was flooded with jewelry.
"I found out the local market is just saturated, so I knew I had to expand to be competitive," McCarty said.
Of course, she started googling to investigate what else was happening on the craft scene. During her search, she "stumbled" upon the work of Gabrielle Pollacco, a mixed media specialist and owner of the online gallery, "Such a Pretty Mess."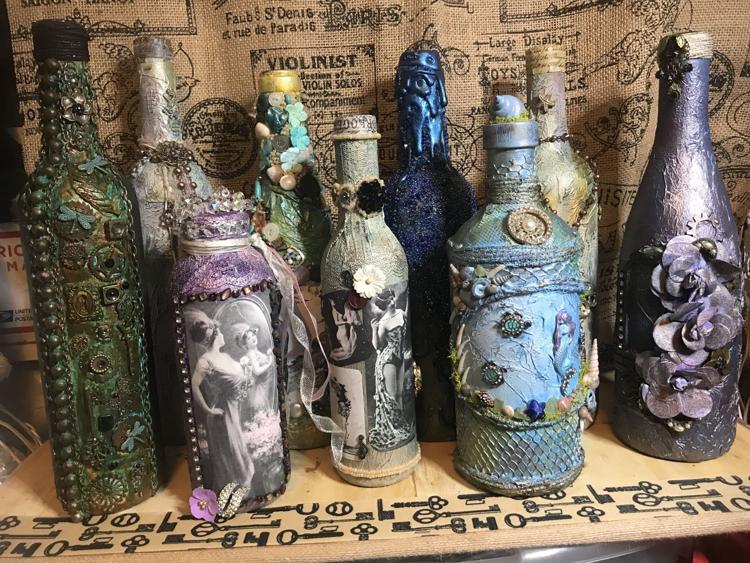 Pollacco has a lot of video tutorials on her site and McCarty was hooked on the demonstrations of how to put layers on scrapbooking pages.
"I thought, you know this texturized stuff looks pretty cool," McCarty said. "I am going to give this a try."
So she bought some materials and tried the technique at home and immediately fell in love with what she discovered.
She now had an artistic outlet by which she could use nearly anything to create layered effects and add dimension to the pieces she was creating not only as jewelry but also on canvas and bottles and well, just about anything she could decorate. She also didn't have to hit the craft store all the time: She was using items already found in home to make her creations. Regular household items such as duct tape, bread bag ties, buttons, charms, bits of glass and just about anything else that would add texture were worked in to her creations.
"I use anything that is unique and has a cool texture to add personality to the pieces," she said. "I love to recycle and upcycle. The opportunity to create something new with something old and give it a new purpose is very fulfilling to me. You never know what you can find at flea market: broken bits of discarded jewelry, little bits of something and bobbles of something else."
She used to chide her husband about being a hoarder. Now, the roles have reversed and her husband is the one giving her chastising looks when she tells him not to put something in the trash because she can probably use it in one of the pieces she is working on.
The texturing method McCarty learned online from Pollacco gave the drawing-challenged McCarty an avenue by which she could create and market artwork.
"I simply cannot draw. I have zero talent in that area," she said. "But with this, I can create."
She made a piece for her mother and then one for her sister as well as for friends. Word began to spread and her abstract style was embraced by attendees at craft shows. A following developed. Her Instagram and FB numbers are on the rise. Her Etsy page has steady traffic. Thus was born her artistic baby: Cheeky Chic Designs.
For the month of June, her work is on display at the All Life Is Yoga studio in Eagle River. Earlier this month, she filled one of the long walls with a variety of sizes of art pieces that also feature her latest-acquired passion: alcohol inks.
This discovery has changed McCarty's abstract artwork in ways she never imagined.
"I love the fluidity of it. Alcohol inks are just so beautiful and have the most unique shimmer," she said. "I love how they blend together. You can start with two very different, very crazy colors that under other circumstances you would think for sure would not work well together and then you just watch them combine on a canvas or a bottle that is covered with the items of texture that also create layers and watching the combination begin becomes almost magical. It is so versatile and the most beautiful patterns are created by the ink being absorbed in to the materials."
McCarty and her family recently moved to a larger home on a 10-acre plot. Her summer plans are already booked with getting settled in and thus, at this point, she doesn't have another show scheduled. She'll return to the craft fair scene this fall.
Until then, she will get her new studio set up and continue experimenting with new ways to layer odds and ends on to canvas, bottles and journals.
"This is a really fun way for me to escape everything and the world and to just retreat to my happy place with my coffee on the side table and my puppy at my feet and just get my hands dirty," McCarty said.
Find McCarty at Cheeky Chic Designs on Facebook or Pinterest.