In the rear of the Smithsonian Arctic Center, on the second floor of the Anchorage Museum, is the Gillam Archeology Lab, where I found Canadian artist Glenn Gear, who relishes his multi-cultural heritage, uniquely incorporating European and Nunatsiavut ethnicity into video games, collages and installations. Based in Montreal, Gear also produces short films which have been shown internationally, and at Canadian locales like the Banff Centre for Arts and Creativity. Gear, a gay Indigenous artist, prides himself on teaching video techniques to aboriginal kids and helping them feel comfortable with their own sexuality. The Museum shares, "Gear explores his identity as an urban Inuk with ancestral ties to Nunatsiavut. His work centers on individual and collective history, exchange between Indigenous and settler populations, folklore, gender and archival material."
On a lab counter were about twenty 8.5x11 photos of his beadwork designs. Gear also makes beaded rings and cell phone 'PopSockets', just for fun. Nearby a computer looped one of his video-collages, which resembled a digital watercolor, serving as background for Canadian Indigenous kayakers, fisherman, or just folks in archival footage, who get cut, pasted and relocated into a new Gear story. He sometimes costumes himself to play some of the parts. On another computer, he was making a new video. It referenced Canadian Inuit throat-singers, now being performed as paper animal cut-outs that he was assembling nearby. The South African artist William Kentridge, who also uses paper cut-outs that he then films in a stop-motion-animation process, came to mind.
The following Friday evening, during an Anchorage Museum Polar Nights, Gear gave a talk in the Smithsonian Arctic Center, where he once again spoke about manipulating what he imagines was deliberately omitted from photographs—some bygone artist's Form and Context. To Gear it's the entry point to a bigger narrative where he can improvise and embellish. Interestingly, he assumes deeper ownership of the reinvented stories in his stop-motion processes, by incorporating his hands holding a ruler, while positioning floral drawings, manipulating line, as he collages present day and antique photos. He also imparts moving footage of Canadian landscaping: snow and ice.
Gear presented his video, 'Kablunât, 2016', about an Indigenous maiden who escapes her abusive father and moves North with her dog. Lonely, she enters into a sexual affair with her pooch. A child is miraculously born who becomes the first Canadian white dude. A Museum placard reads, "Based on an Inuit legend from Labrador, "Kablunât" explores the complex and intersecting histories of early Inuit and Settler life on the North Atlantic coast. Employing archival images, animation, collage and time-lapse video, the retelling of this origin story unfolds in a poetic space between past and present, myth and lived experience. (Runtime 10 min 32 sec)." Gear also embeds word-captioning much like oldie silent movies.
Although Gear does not chastise Canadian white Settlers, he does use the cruelty that was bestowed on aboriginals as poignant narration. Like Alaska Natives, Canadian Bush communities were disrupted and relocated while children were sent to schools where their heritage was obliterated. Other Gear themes respond to Sixties/Seventies Canadian television campaigns that discouraged harvesting of baby seals or reported alleged mass killings of Bush dogs. These ads became detrimental to the Indigenous who now have a hard time making a living, resulting in over-reliance on snowmobiles and over-indulgence in processed foods, not to mention abusing drugs and alcohol, which Gear stresses is symptomatic of stressful lifestyles.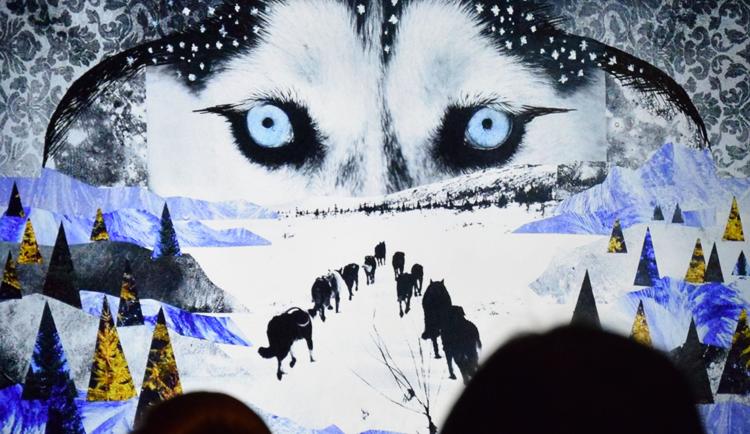 Although Glenn Gear was uber-approachable and understated for a star artist, he was not easy to unpack. When I first encountered Gear in the Archeology Lab, his desire to just kick back and experiment bewildered me. Ok: I work with an acute awareness that my projects have deadlines, whether in essay form or stretched onto canvas. So, the idea of allowing myself to just 'play' lingered with me as I left his presence and drove home. I woke up at 5 AM the next morning, frustrated over Gear's methodology, which maybe I was misunderstanding. Should I blame art school with its critiquing process that can be brutally mean and destroy a student's imagination? And what about an artist's after school existence, becoming a studio hermit, but never feeling alone, as some teacher sits on your shoulder—as I slowly fell back to sleep.
That evening at Polar Nights, Gear went into high gear, engaging with his audience both humorously (those silly Moravian Missionaries) and sternly about 'man's inhumanity to man'. His work ethic was coming into focus: give yourself a chance to let go; splash that paint; draw that line; wiggle your camera settings; push those computer buttons. And it's good to be reminded when approaching a completely foreign art genre, allow yourself time to let the artist's way of working sink in.
I applaud the Smithsonian at the Anchorage Museum for showing Canadian artists at work, as well as their finished products. Flying out of the Ted Stevens Airport, especially on a red-eye, I tend to think of Anchorage as a suburb of Seattle, forgetting that I am flying over some two thousand miles of Canada and its history—I will work to be more broad minded and I look forward to more Glenn Gear in the future.
Mini Sleuth: Glenn Gear's 'Kablunât, 2016' is online.
Jean Bundy aica-usa is a writer/painter living in Anchorage