When three of our grown children relocated to the East coast, husband David and I found ourselves traveling for Christmas/New Year holidays. Sleuthing for art is a good way to pause from competitive family board gaming and over-indulgence of hollandaise sauce and roast beef, too.
At the Hirshhorn DC, 'Manifesto: Art X Agency (thru April 6, 2020)' featured the video 'Manifesto (2015)' starring Cate Blanchett acting out 20th century political artist-statements that reflected political turmoil. MoMA recently added 40,000 sq. feet to their midtown Manhattan flagship. In spite of new space for looping videos, a postmodern floor objects, and an entryway two-floor gift shop with a glass elevator, visitors seemed to flock to favorites: Picasso's 'Les Demoiselles d'Avignon, 1907' and Van Gogh's 'Starry Night,1889'.
At the Smithsonian American Art Museum, DC (also National Portrait Gallery), there was a line to see the Obama portraits. Kehinde Wiley's representation shows Barack in a bouquet of green leaves with multicolored flowers that represent major places he has lived. While I would have liked Obama's shoes anchored into soil instead of floating in the shrubbery, hues of foliage nicely vibrate against the mahogany chair and copper-esque skin tone. OK: I had trouble with Michelle's portrait by Amy Sherald. Michelle's sleeveless white gown with patches of red, yellow, pink and black dominates the picture plane. If viewers look at the edges of the painting, red streaks are visible. Sherald must have originally tried a red background. Michelle's left arm that rests on her crossed knee seems too long for the composition. There is no feeling of bone/muscle structure under the--yes, beautifully rendered skirting. But the overpowering flat baby blue background doesn't carry the eye through the colors of the dress or skin tones. It's not that I don't admire Mrs. Obama; I just don't think the painting leaves viewers with a visual narrative of what an exemplary woman she's become. However, the Smithsonian's gift shop devotes a large section to Obama swag so my comments drown in the hot selling Kitsch. My favorite is Elaine de Kooning's sketchy portrait, of JFK in Irish greens that also creates swag in the gift shop; all works are worth a visit to the presidential portraits.
Trudging through horizontal blowing rain, while hopping Manhattan buses to lunch at the Whitney Museum, was worth getting soaked. Soup and a sandwich overlooking the Hudson River where the ocean liners formerly docked is priceless, especially over the holidays. And the Whitney has the best collection of early twentieth century American art anywhere.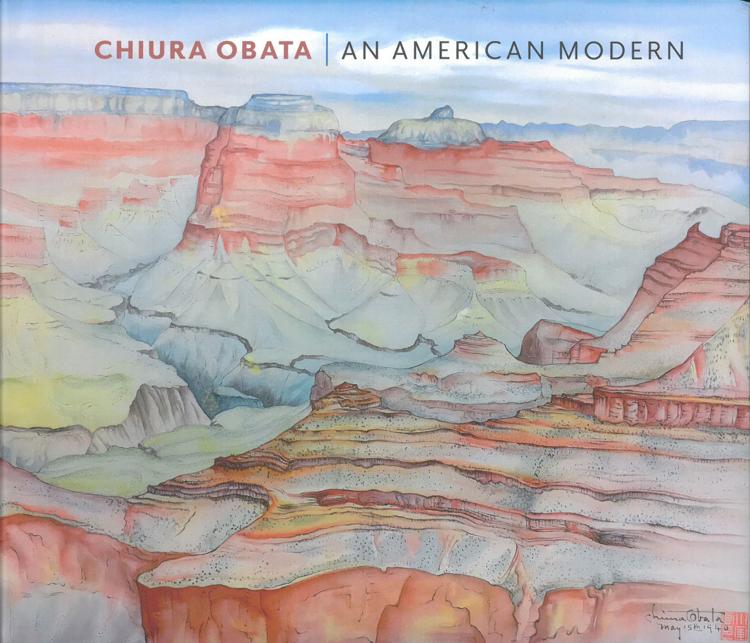 The jewel in my aesthetic sleuthing was the exhibition: 'Chiura Obata: American Modern (thru May 25)' at the Smithsonian American Art Museum, DC. A quote from Asian-American Obata, 1930: "In my small way, I have attempted to offer entire myself—body and soul, to the depiction of the beauty of the world through my humble eyes. That has been my only aim all these long years (catalog 14)." Not only are Obata's drawings/paintings exquisite, his ability to teach at two internment camps was a testament to fortitude that goes far beyond my critiquing. Obata (1885-1975) came to Seattle in 1903. Migrating to San Francisco he found illustration and window display jobs, as well as domestic service and crop picking. Discrimination was rampant; even FDR's New Deal overlooked Asian immigrants. Obata persevered and had his first solo show in 1928.
In 1942, under executive order 9066, he was forced to close his Telegraph Avenue art store/studio where his wife, Haruko, taught Ikebana, and move to Tanforan Detention Center and then to Topaz War Relocation Center, Utah. Of note: Internment, one of America's dark moments, affected Japanese-Americans living in Alaska (like the Kimuras) as well as Alaska Natives who were relocated after the Japanese invaded the Aleutians. In 1943, Obata was allowed to teach off-campus. This privilege irritated a fellow inmate who beat him up. After two weeks of convalescence Obata, along with his wife and two children, were allowed to leave the camp and join their architecture-student son, Gyo, in St Louis, who had escaped internment.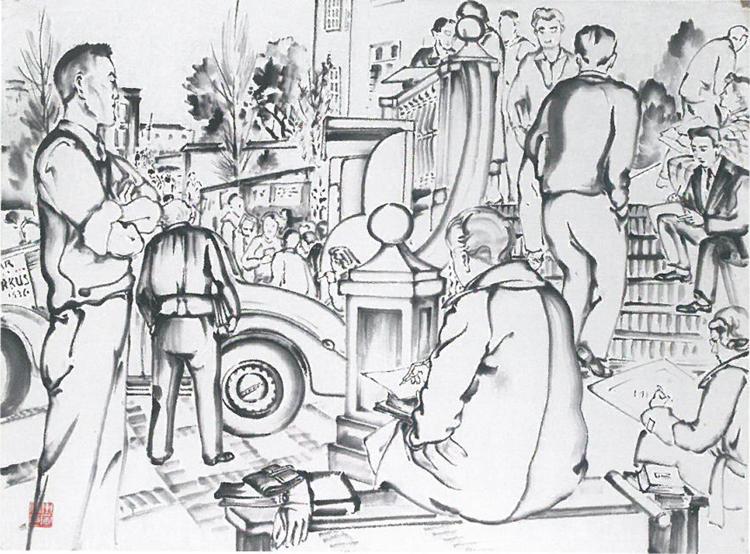 After the war, Obata was reinstated as a UC Berkeley professor, 1945-1953, becoming a US citizen in 1954. He also led aesthetic tours for the Sierra Club and to Japan where he was awarded the Emperor's Order of the Sacred Treasure for promoting post-war friendship.
Obata's style is unique because his early training in the delicate art of Sumi-e, Japanese Ink and Brush painting, overlays with American Modernism's 'John Philip Sousa' brash way of throwing down abstracted shapes onto a flat surface. You could call him the Asian Georgia O'Keeffe. Here are three examples.
Obata catalog cover: is a watercolor on silk of the Grand Canyon, 1940. This work has the essence of a Japanese screen revealing vertically stacked landscapes. He has simplified complex striations of the genuine rock formations. Reds and blues alternate so a viewer's eyes travel horizontally, bumping into the verticality of the rock formations, establishing complex juxtapositions spatially.
Untitled (Variety of Flowers and Floor Tiles, 1930) is a flower arrangement in reds and greens with bits of yellow and brown. Flowers are bold and decisive, not delicate as in traditional Japanese floral painting. And instead of one pot with a single sprig, the composition shows many vertical botanical heads in a shell-like vase, which resembles an eye assessing those looking at the composition. Underneath, tiles that diagonally cut across the picture plane, echo colors of the flowers. Like the Grand Canyon piece, it moves spectators in multiple opposing directions.
Untitled (Art Class at Berkeley, 1934) is a drawing of students coming and going on campus. In the foreground other students appear to be sketching. A car, some shrubbery and architectural elements, lurk in the background. Stacked shapes and decisive lines with minimal shading form a unit of abstracted space, pushing the viewer into the background without perspectival tricks. Essence of Japanese silk screening, with cascading scenes, is also referenced. A great way to plow through a cold Alaskan January is to delight in the art of Chiura Obata.
Mini Sleuth: Video Manifesto (2017), and catalog: Chiura Obata: An American Modern, are available on Amazon. Art mentioned can be Googled.
Jean Bundy aica-usa is a writer/painter in Anchorage