The annual ASD K-12 art show (thru April 7) orchestrated by Leah Maltbie, District Fine Arts Coordinator, is a kaleidoscope of color, texture, and a reminder that talent comes in all shapes, sizes and ethnicities. Last week's Anchorage Museum First Friday was packed with teachers, friends and families who munched cookies as they admired burgeoning artists who bravely lent their drawings, sculpture and photographs for the public to scrutinize. Color values (how one hue reacts to its neighboring hue) were pretty good, as were contextual narratives about being a kid in today's world.  Hoorah! for the ASD, allowing Aaron Porter's (East High senior) video 'To Be', which apparently shows a male in drag, dancing on a beach in a flowing red skirt, as it looped in the atrium, with photo-still featured at the show's entrance. The curating art faculty refrained from enthusiastic cluttering too. Cases of necklaces and bracelets could have been worn on Oscar night and the pottery would look great in a Crate and Barrel catalog. It's impossible to describe every work that spoke to me. I hope my essay entices readers to visit this energetic show.
Spectators couldn't miss the painted bear-proof trash bins sponsored by the Municipality and the Downtown Partnership. Cans painted in both abstract coloration and representational flora and fauna, by students across the Bowl, will be bolted onto downtown sidewalks as part of the city's project to build 'pride of place' and reduce litter.  Some might imagine rendering on trash containers encourages graffiti. George Martinez, Special Assistant to the Mayor explained this is permissible doodling. OK: The Press Sleuth likes graffiti, and a recent New York Times article hails the genre as a recognized gallery-worthy art form.
Two giant murals overpowered the show.  J. Bera's Eagle River High School classes constructed a giant portrait of a young boy, reminding viewers of children in peril worldwide.  The head is made from multiple paper panels similar to a Chuck Close segmented face. On the opposite wall is huge grid of individual black/white portraits from R. Wall's West High classes. This piece can be viewed in its vibrating entirety, or scrutinized for individual parts. Some of the stronger pieces help the weaker ones stand out, which could be a metaphor for human survival, which is not possible without everyone pitching in.  Black and white media is traditionally given to students. It's cheap and a productive space for learning tonal variation before moving on to evaluate color. Take heart: it wasn't until becoming a University of Chicago grad student that I began to understand the push-pull of color.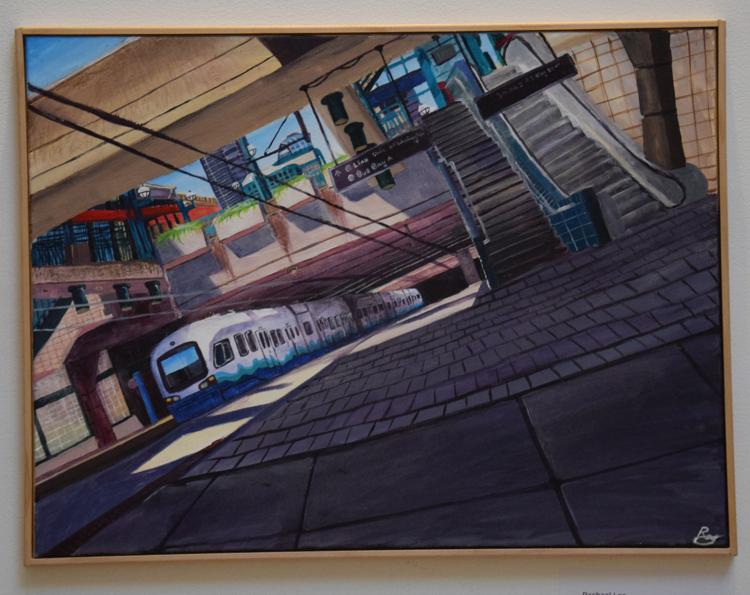 Here are some art works I gravitated to. Rachael Lee's 'Untitled' (Polaris High senior) was the only acrylic work on canvas.  Lee has a good grasp of coordinating color, contrasting light areas against darks, with unique perspectival angling found in the stairs, subway cars and overhead wiring. I get it—the ASD has to be budget conscious when it comes to handing out supplies. It would be nice to see the community provide students with a greater variety of art media. Many local artists have leftover paint and canvas that could be donated to emerging artists. In New York City (Queens) 'Material for the Arts', a division of theNYC Department of Cultural Affairs, runs a store devoted to recycled art supplies--something to think about up here.Katharine Puls (Dimond High sophomore) wove corrugated cardboard into a work surface for her cross-country skier to be positioned. 'Ski', chalk and pastel, shows how ordinary trash becomes a masterpiece. The bumpy surface suggests the rugged terrain that Alaskan skiers encounter too.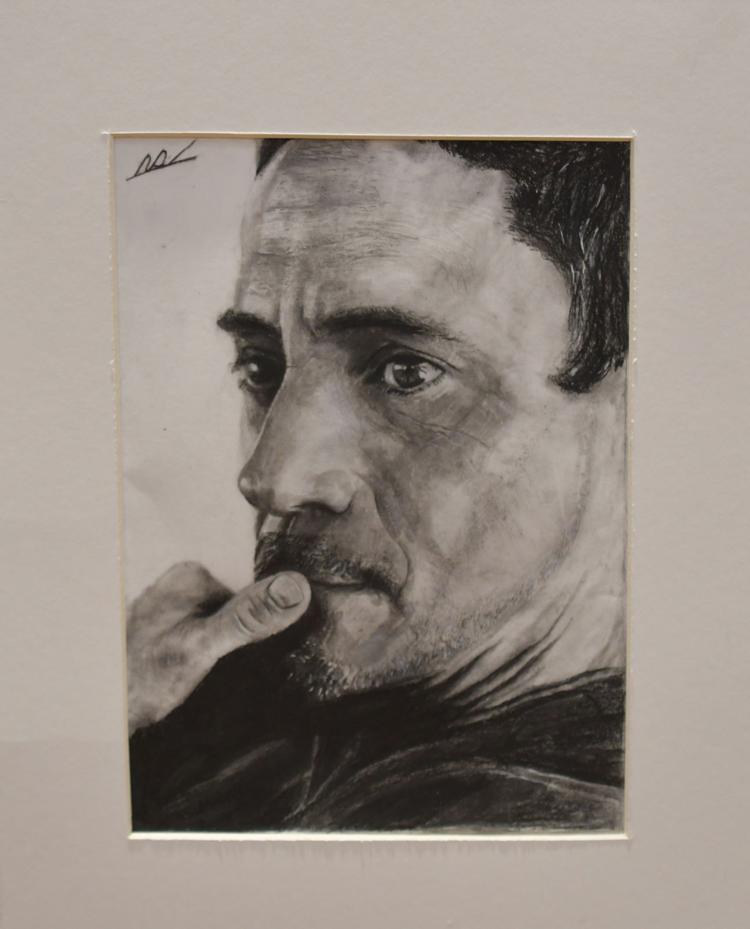 Portraiture was evident as students demonstrated a mature handling of dry-media. Aaron Stocks' (Mears, gr 7) 'Portrait' in pencil is a realistic head of a pensive man, thumbing his mustache. Sydney Bidwell (West gr. 11) 'Mischievous Merriment' in charcoal depicts a man with a turban. The three-quarter pose, head-to-torso with bejeweled hand, is well proportioned throughout.  Malia Main (Dimond High junior) 'Cousin', in oil pastel and colored pencil, shows a teen snoozing on a couch. The foreshortened legs are striking as is the texture of the jeans and fuzzy sox against the nubby, patterned sofa. Emily Collyear (Stellar gr. 10) 'Great Harmony' in graphite, shows values can even be quiet as long as they bounce off one another. She depicts a woman reading. The educated female became a popular motif in Nineteenth Century French Impressionism which brings me to Marley Ireland (Wendler gr. 8).  Her 'Rainy Day in Paris' combines two walking figures and reflects her appreciation for art history as she imitates Gustave Caillbotte's 'Paris Street (1877)'. This arrondissement saw uber-urban renewal, displacing the impoverished for the more lucrative bourgeois population—more diversity issues to contemplate. Jaylah Riggins' (East freshman) black/white photograph 'Feelin' Good' captures a self-confident female teenager. The shadow of the head is noteworthy as long braided hair is shown two ways: directly and in shadow against a textured concrete wall.
Gone are the days when the ASD put up rows of sameness: butterflies to sled dogs. And thank you Anchorage Museum for allowing students to have a chance to show off work in a first-class venue. Decades ago, when I helped put up these shows, they were often relegated to some out-of-the- way high school hallway.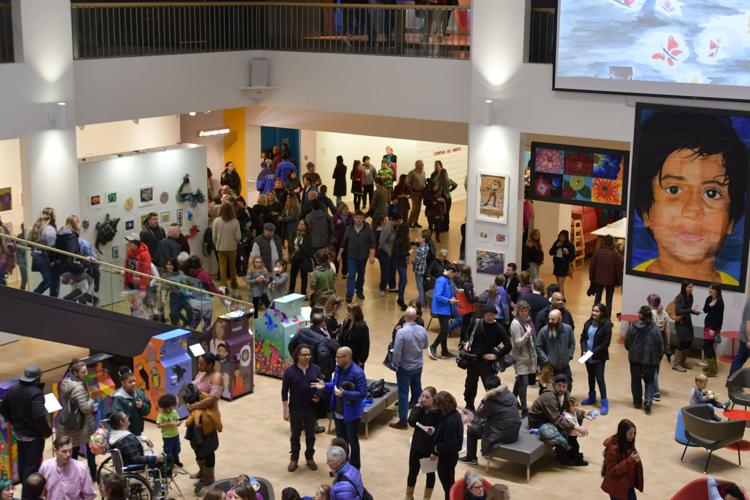 Elementary students who compete with the upper grades are often overlooked. Lilly Montoya (Chester Valley fifth grader) drew two bent hands holding pencils. Not only is the line quality strong, the tension between these two hands engaged in dialogue is appreciated, and not easy to pull off.  
My daughter, Maddy, grew up in my art studio and also made a lot of 'Duck Tape' objectivity at West.  In addition to being an actor in the Off-Broadway 'Puffs', she is the set designer for their traveling shows, too. But many students don't have this advantage, and sometimes parents feel spending time making art means their prodigy will not get into a competitive college. Wrong. It has been recognized that art classes and even doodling are beneficial. Many non-aesthetic graduate schools now want students who have received art training, which taught them to think outside the ubiquitous box. As a Baby Boomer, this writer sees friends taking music, photography, and painting as retirement pastimes.  I once met a returning-to-college executive who enjoyed buying large tubed oil paints that he stacked in clear plastic boxes. He seemed to admire the varying tones more than actually using them to make a composition.
Anchorage is way ahead of many towns in supporting the arts; but hey, we can always do better. Please take time to visit this amazing ASD show. Using art supplies for stress release is better than booze, drugs or cigarettes.
Jean Bundy aica-usa is a writer/painter living in Anchorage