The Anchorage Opera was scheduled to begin its season Oct. 22-24 with the 'Pirates of Penzance', but due to the ongoing Delta variant outbreak of the Covid-19 pandemic, that show had to be postponed into 2022 at a date still to be determined.
AO is on track to go live at the Performing Arts Center Feb. 11-13, 2022 with 'Missing', a modern opera that highlights the tragedy and crisis of missing and indigenous women.
Written by Métis playwright Marie Clements and Juno-winning composer Brian Current, gives voice, in English and Gitxsan, to the stories of missing and murdered Indigenous women and girls. A poetic expression of loss, hope and the spirit finding home. Although the action of Missing takes place in the stark reality of a current epidemic, "it also takes place in the realm of dreams, the land of myth and the caverns of the unconscious. At its core is something very real: how our culture stereotypes Indigenous women and puts them in constant danger of rape or worse" – The Straight, A. Varty. The USA premiere presentation of Missing by Anchorage Opera, Indigenous led and cast, speaks to the tragic situation in Alaska where high violence rates against Alaska Native women has created a culture in which they feel invisible and disposable.
"Missing is an extraordinarily moving and thought-provoking work, and a milestone for the opera world. It has taken a painful and horrifying topic and rendered it into accessible art. Ultimately, its message is a universal one: open our eyes and hearts to each other's pain. By doing so, humanity has a chance for healing and redemption. Missing begins this healing journey in a magnificent mélange of singing, acting and music that, one hopes, will be seen by audiences across Canada and the world." – Roberta Staley, The Whole Note
Anchorage Opera is proud to present the USA premiere production of Missing in February 2022. Originally co-commissioned and co-produced by Pacific Opera Victoria and City Opera Vancouver, the opera, developed over two and a half years, had its world première in Vancouver and Victoria in November 2017.
To raise awareness in our community of the tragic subject of epidemic of missing and murdered Indigenous women, exhibitions and informational tables from individuals and partner organizations whose missions align with the subject will be on display for attendees to view before and after the show.
Intended to foster conversations and promote healing, we invite you to a Talking Circle after each show with the cast and artistic team of Missing to discuss the production and your experience of it.
'Missing' features librettist Marie Clementsan award-winning writer, director and producer who has worked to ignite her brand of independent story-making to a variety of mediums including film, TV, radio, new media and live performance.
Her latest project, feature drama Red Snow has been nominated for 10 Leo Awards, and her feature music documentary The Road Forward, produced by the NFB, premiered at Hot Docs, opened the 2017 DOXA Documentary Film Festival, and closed the  2018 Imaginative Film Festival, receiving five Leo Awards including Best Production, Best Director, and Best Screenwriter.
The Road Forward has screened at over 300 venues in North America and also received a Best Director Award at the North American Indian Festival in San Francisco, as well as a Writer's Guild Nomination for Best Documentary Screenplay in 2018, the WFF Women on Top Award and the WITV Spotlight Impact Award 2018.
Her documentary Looking at Edward Curtis premiered at DOXA,  The Yorkton Film Festival, and on the Knowledge Network. Her multi- award winning films have screened at Cannes, TIFF, MOMA, VIFF, Whistler Film Festival, American Indian Film Festival and Imagine NATIVE Film Festival.
From April 22-24 Anchorage Opera will present Puccini's Tosca.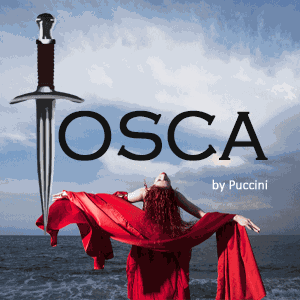 In Tosca, the audience is invited to Step into a web of politics, police brutality, betrayal and jealousy! Set against a backdrop of war, chaos and corruption in Rome, the beautiful, celebrated singer, Floria Tosca, must give the performance of a lifetime to save the man she loves from the tainted hands of the treacherous chief of police. Will she murder for the man she loves? Will she save her lover in time? Will she emerge as the victor or victim of her own destiny? Puccini's sumptuous tale of ill-fated love captivates new and longtime opera lovers alike. With passionate arias and soaring, sensuous melodies, Tosca's power and raw emotion will leave you breathless.