Congratulations to Alaska artist Allison Akootchook Warden, who was among 45 artists and collectives to win an unrestricted $50,000 and a place in aesthetic history along with these former female fellows: Carolee Schneemann, Mickalene Thomas, and Kara Walker, and last year's Alaska recipient Sonya Kelliher-Combs.
"Being a recipient of a 2019 US Artists Fellowship is an honor that is truly transformational, for myself and my artistic practice," Warden told me. "I have met three of my fellow fellows already, and I look forward to the fellowship convening in March. I am deeply thankful to the Rasmuson Foundation for supporting my U.S. Artists Fellowship in the field of Traditional Arts."
About United States Artists (USA)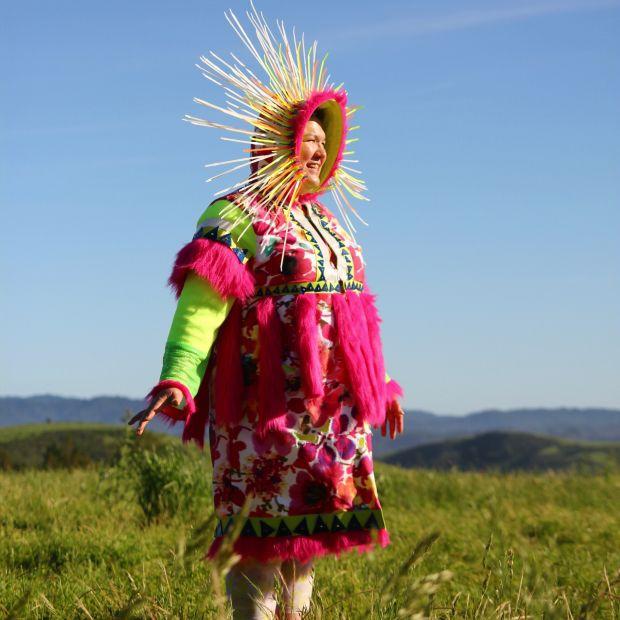 In 2003, the Urban Institute conducted a survey and discovered 96 percent of Americans polled said they valued art while only 27 percent valued artists. Recognizing the need to fund artists, as NEA's budget was shrinking, the United States Artists organization was initially endowed by Ford, Rockefeller, Rasmuson and Prudential Foundations, which believed in helping elevate individual artists. Since USA's founding in 2006, 500 artists have been awarded over $25 million. Their mission statement reads, "We believe in artists and their role in society. Each year we award up to $50,000 unrestricted fellowships to the most compelling artists working and living in the United States, in all disciplines, at every stage of their career," their mission statement declares.
Nominators come from art fields, and working alone choose applicants who have had art training and are working professionals. Once tapped, an artist may apply for the grant/fellowship. Like the Corporation for Public Broadcasting (PBS), USA is happy to accept individual donations—a very good cause!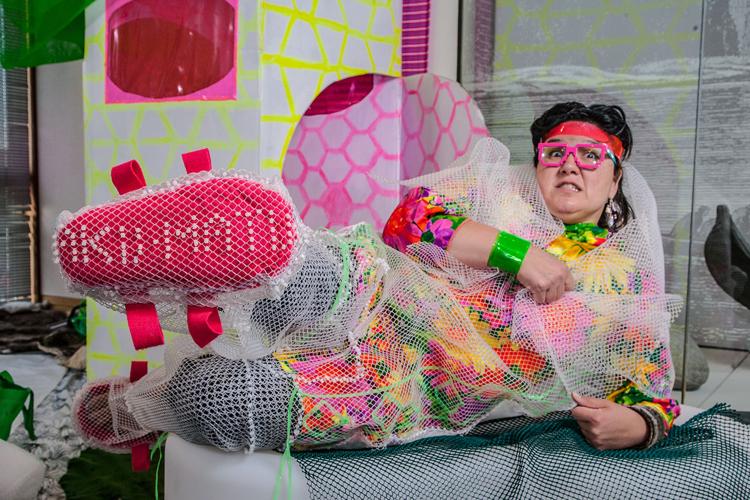 As a freelance journalist, I've had the privilege to chat with Warden at the Anchorage Museum. I first met her in the hallway of the Harstad, Norway Cultural Center during the Arctic Arts Summit, June 2017. Dressed in a psychedelic parka, with what looked like multi-colored drinking straws in place of a fur ruff, Warden, speaking only Iñupiaq, was selling her poetry book: TAIMAN ISAAQ/ AKKUPAK/ (Long Long Time Ago/Right Now). Here's one of her aesthetic tweets that have gone out to over 100,000 fans: "our Ancestors giggle at the new technology of tweeting/ they make sacred ground in the twittersphere/ to connect as Nations here." I bought her book, in which she inscribed, "thank you for all the work you do."
Later that day, Warden performed atop a wooden box, contorting like a pretzel, wearing a t-shirt that said 'Oosik'. Next day, at a Scandinavian gallery party, she jumped into her rainbow-esque dress, and recited more of her poems. Looping in the background during this cocktail hour was her co-produced video made with Sitka filmmaker Nicholas Galanin, 'Envoy (2016)'. One segment shows apolar bear pacing frantically in a not so politically correct zoo. Until recently, zoos kept animals confined as specimens, giving little thought to their environmental needs or welfare. The polar bear has become the poster child of Global Warming as Arctic sea ice, the bear's habitat, is melting. Ironically, zoos may be the only places polar bears will exist, hopefully in better conditions than the one pictured. In Warden's footage, the matted bear, who resides alone in a concrete jungle, represents environmental carelessness at its worst, as well as man's lack of foresight. Although not the cuddly creatures that appear in Disney footage or Coke commercials, Polar bears deserve our respect and help.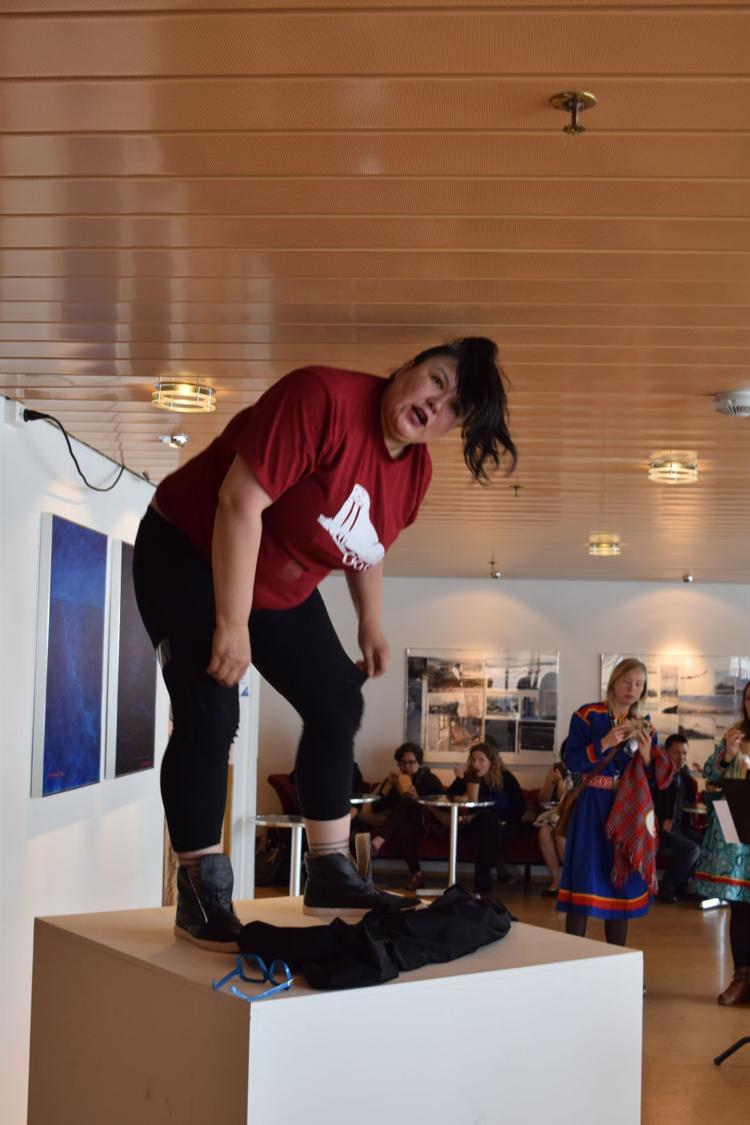 It's hard to catch Warden because she travels to perform or takes part in seminars worldwide. Her poetry speaks about Native issues and Climate Change especially to her Native Kaktovik community. Here's another Warden poem: "disillusioned walrus/ gather on the land/ mourning the ice/ baby rocks dig/ into their thick skins/ the walrus leader/ holds silence."
Warden has participated in the International Circumpolar Hip-Hop Collaborative, part of the Riđđu Riđđu Festivála in Mandalen, Norway. She is also working on a CD entirely in Iñupiaq. Her ability to combine the Iñupiaq language and culture along with the urban African-American Rap beat proves that borrowing/melding different historical genres to create new art forms is healthy and productive even though some believe in cultural purity. Warden leads the way for others to embrace multicultural mergers and acquisitions. Another Warden poem: "she sings a decolonization song/ into the earth/ planting seeds of her Ancestors' thoughts/ how to be you in a stinky plastic world/ be you."
Presently, Warden and photographer Brian Adams, also Iñupiaq, have formed the group 'You Copy?' and are collaborating on an installation called "Everybody will be a Millionaire!" based on the oil findings in Prudhoe Bay and the oil industry in Abu Dhabi, and how these discoveries affected regular folks. Warden and Adams both received 2018 Rasmuson Individual Artist Awards for project research. Photographs of different ethnicities exchanging native costuming, objects and videos are being workshopped as well as a catalogue, all coming to fruition by 2025. With additional funding from the Anchorage Museum, this upcoming exhibition will be seen in Anchorage and somewhere in the Middle East. Worthy of a segue is award-winning Brian Adams. I have critiqued his outstanding photography books: 'I Am Alaskan' and 'I AM INUIT.' I have also written about his camera work visualizing the potential Pebble Mine project, and used his photograph 'Subsistence' of Kaktovik's Mary Rexford at the College Art Association Conference, 2018, as an example of respecting the environment while preserving ancestral cultural heritage.
In the past ten years I have written over 200 essays about artists and their art, and Warden is one of the most sincere professionals I have interacted with. Example: Halloween 2017 she was scheduled to perform at the Anchorage Museum with her self-choreographed troupe, Kisagvigmuit Traditional Dancers, and no one but me, my husband Dave, and a few museum staff showed up to watch. True, Halloween has become a finicky celebration. Many performers would have left in a snit, but not Warden. She performed as if there were a thousand listeners in the audience—that's poise, and guts.
Last November at the AICA-International Congress in Taipei, I had the privilege of reading my paper, 'Arctic Environmental Challenges through Virtuality', which was about the ambiguities of using the internet to broadcast 'Arctic Melt'. One of the art works I chose to illustrate Climate Change was the Warden/ Galanin video 'Envoy (2016)' because, like all of Warden's work, it speaks to a Postmodern agenda of combining Formal aspects of media with a strong narrative and social construct.
Over the phone, I asked Warden what the upcoming US Artists award meant given her many accolades. She said, "It's one of the biggies."In a 1993 'Art in America' blurb, critic Jerry Saltz wrote, "In the end, it all comes down to — what it always comes down to — a life lived in art...." While it is nice to receive awards, especially ones with an attached check, to be an artist you have to have talent and really want the erratic lifestyle, because, like the priesthood, it's a calling. According to Julie Decker, Anchorage Museum Director/CEO, "Allison Warden is compelling as an artist. She is fearless, generates ideas in rapid succession, pushes boundaries, reaches tens of thousands of people, and moved fluidly between visual, performing, literary and social practice work. She is an important voice at an important time."
Mini Sleuth:Warden's poetry, TAIMAN ISAAQ/AKKUPAK (Long Long Time Ago/Right Now) is available at the Anchorage Museum shop. Warden won her US Artists Fellowship January 22, 2019. Go to www.allisonwarden.com for more on this award winning artist.
Jean Bundy AICA-USA is a writer-painter living in Anchorage