By Art Sleuth by Jean Bundy
'Place of Origin', an exhibition of Alaska Native artists (Anchorage Museum collection) overpowered the first floor of the Rovaniemi Art Museum during the recent Arctic Arts Summit, 2019, held on the cusp of Finland's sub-Arctic. I gotta admit, getting to Rovaniemi is quite an excursion. Husband Dave and I flew from Anchorage to Helsinki via LAX and Heathrow. After two days of digesting jet-lag in Helsinki, we took an eight hour day train to Rovaniemi through farms and forests, imagining Nordic mythological creatures. Lots of potatoes are grown in Finland and harvesting trees for paper products is a big business, albeit environmentally controversial. Rovaniemi resembles Fairbanks with its dark winter ski seasons and short green Birch tree summers of endless daylight. Anchorage is not far from Finland as the crow flies, but the spoke and wheel operations of air travel forced us to embark on a circuitous route (bonus: breakfast with son Oliver in LA).
The Arktikum Science Centre/Museum features Finland's long history of Europeans and Sámi subsisting on fish, moose, reindeer and berry-picking. Much of Finland was destroyed by retreating Nazis in 1945, so the fifties saw uber-reconstruction. Arktikum impressively focuses on Climate Change through photography and dioramas, here is a sampling: "Arctic Amplification is a phenomenon that causes higher temperatures near the poles compared to the planetary average because of a combination of feedback processes. For example, when sea ice melts in the summer, it opens up dark areas of water that absorb more heat from the sun, which in turn melts more ice. This 'feedback loop' also includes the effects of melting snow and thawing permafrost. Arctic Amplification is most pronounced in winter and strongest in areas with large losses of sea ice during the summer."
Also on display at Arktikum was the exhibition 'Fringe' featuring clothing and sculpture from recyclables, to a painting of trompe l'oeil embroidery. Norway's Gunvor Guttorm's 'Carafes with knitted cover and reindeer horn lid (2014)' transformed disposable glass bottles into textured objects resembling bodies in conversation. Alison Aune's (teaches at the University of Minnesota) 'Sky (2016)' is a painted portrait of her nephew surrounded by Swedish, Norwegian and Sámi textiles. Aune explains, "I am not only exploring my cultural roots, but I am keeping the imagery alive by re-contextualizing these ancient forms into a new artistic form that explores the intersection of women's material culture, craft and heritage." Iceland's Ásthildur Jónsdóttir hand stitched the Arctic Circle for 'Arctic Aesthetics (2019)' saying she wanted to be "involved with issues concerning the ecology of the planet….[and to encourage] engagement in the beauty of the Arctic, both physically and psychologically." This art is no longer craft morphing into fine art but the essence of ancient artifacts superimposed upon contemporary art making, heralding the aesthetic importance of the North.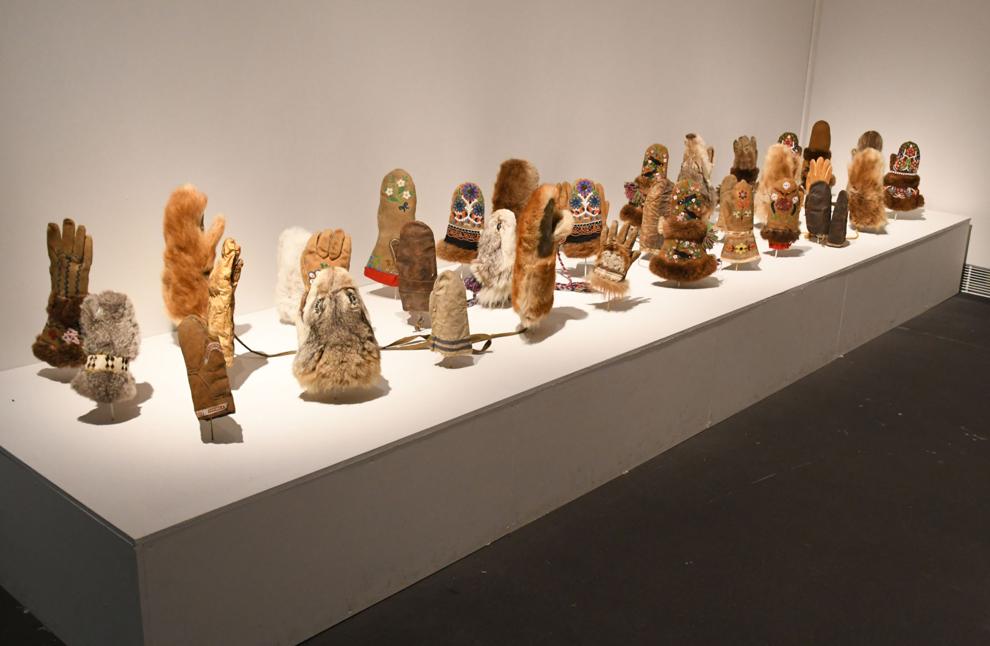 Arktikum wall tags reflected themes that were echoed at the Arctic Arts Summit down the street: "The world is becoming increasingly connected, through shared social, environmental, cultural and economic challenges, requiring different forms of transnational knowledge and solutions; The Arctic is often viewed as a huge uninhabited, wild area. However, there are about 4.5 million people living in the Arctic unevenly scattered among the eight Arctic countries; the Arctic as open and indeterminate space that triggers masculine phantasies of adventure (and hence also tourism); One of the main roots of the indigenous culture is the relation between man and nature. The perspective of Indigenous Peoples in the Arctic consider human as part as the nature in same way as the other elements like vegetation, the minerals and the animals. All elements are also perceived in an equal way." Adapting themes of those who have lived in the Arctic is a start in curtailing Global Warming.
Now for something amusing, maybe? The Nordting Northern Assembly, complete with website and swag for sale, is a group that would like to create a United North. In other words, they wish to bite off pieces of Arctic nations to form a new governing entity. They have also repurposed Trump's slogan into 'Make the North Great Again.' Unabashed to swig lots of vodka, they travel throughout the Arctic beating oil drums while preaching that the control of the North is always located in the South. At the Arctic Arts Summit members handed out paper banners while playing their Pan-Arctic song, a composite of Northern anthems. They made jokes about Ikea and Legos being the highlight of modern Scandinavian culture and turned Ikea dinner plates into drum heads, beating them to chards. As a guest in Scandinavia, I couldn't decide if this group was pure farce or for real. In any case, they call attention to the realities of Climate Change along with the appearance of Arctic sea-lanes making the region very seductive to: filmmaking, mineral exploration, tourism, monetary profiteering, increased pollution, political and territorial disputes, which could destroy more of the indigenous cultures, and Northern virgin territories.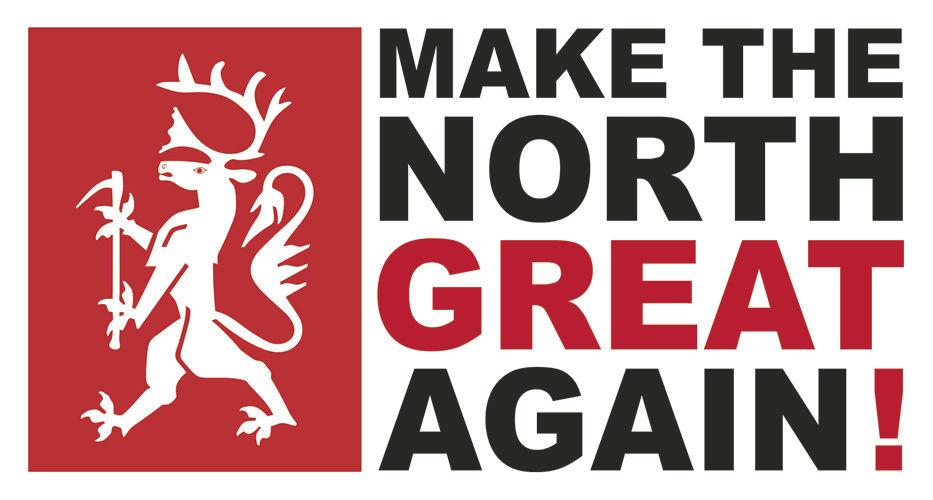 Making art is not only therapeutic; it promotes borderless power of place, and long term cultural sustainability. A speaker at the Arctic Arts Summit pointed out, non-democratic countries fear artistic creativity the most. As the dialectic is never removed from art-speak, some felt white-wall-museums were never suitable to show indigenous art. More was broached: who are you making art for, who is listening to how you want it shown, should the non-indigenous be allowed to judge Native art? This notion expands into another ongoing debate about who should be allowed to appropriate materials and narratives from which or what ethnicity in order to create aesthetically. However, old or new, art and culture can't seem to stop dialoguing, as I came upon snowboards and antique kayaks snuggling up to one another.
For me, a jet-lagged art critic, 'Place of Origin' at the Rovaniemi Art Museum was like finding old friends in a foreign land. According to the catalog this show, a first in Finland, was part of founding a Northern Art Network, 2014 (NAN) designed "to generate more sharing of artworks, artists, and knowledge across international borders and to highlight the relevance of the Arctic region to people throughout the world…. [strengthening] the idea that we share a sense of place, people and landscape."
Here is a smattering of the Anchorage artists on display. Sonya Kelliher-Combs' seventy selected mittens of real fur and hide entitled 'Goodbye' commemorate those, including family members, who have committed suicide, which brought tears to onlookers enjoying wine and finger food after a long day of Arctic Summit contemplative listening.
Joseph Senungetuk's 'Bering Straits Soul on Ice (1971-76)' is a wood, iron and brass sculpture depicting a harvested sea otter with guts full of metal. To Alaska Natives, that which is subsistence-harvested is also sacred, as the mammal donated its life, so its captor might live. The object (a ball with projectiles) that allegedly killed this animal could have mystical powers. However, fur bearing mammals were slaughtered by eighteenth century explorers who sold the hides to repay foundations that funded their Pacific adventures. Many bullets were used in the decades of mass destruction. Natives who helped in the killing were repaid with iron products--useful but not anyway near what the pelts fetched in places like Macau. Here the spectator must contemplate the justification of all killing.
Jerry Laktonen's 'Dunqiiq (2016)' is a mixed media piece that updates traditional mask making using cedar, feathers and cording fashioned into a basketball hoop on a mini court. Laktonen had his fishing career ruined by an environmental disaster, so he turned to his ancestral carving. Basketball pick-up games are common in Native villages and have replaced traditional indigenous sports. The Alutiiq word Dunqiiq could also be a pun on the English term 'dunking' meaning shooting a ball into a hoop. Laktonen is referencing the overlaying of his heritage with Western culture, creating a themed ceremonial mask about leisure instead of narratives about subsistence.
Rebecca Lyon's 'Counting on Liberty (2016)' is one of the few flatworks in this show. The piece depicts the face of her great grandmother, Anastasia, as the Statue of Liberty. Sold into slavery she was purchased by Lyon's Swedish great grandfather. Surrounding the faux Liberty is an Athabascan counting cord with swag that documents the women's rights movement. Lyon glazes her Native and Western thought processes, focusing on injustices generations of women have experienced (some worse than others).
Da-ka-xeen Mehner's' 'Being the Song (2012)' reveals Native faces pushing through traditional drum heads. As always this piece overpowers exhibition space whether in Finland or back in Alaska. Beating drums for pleasure or spirituality can't be accomplished without the touch of the drummer whose ancestral aura continues to possess his innate talents.
It was a trek to reach Rovaniemi, but it was a pleasure and as always a learning experience further enriching my understanding of the Arctic, especially through its diverse people. Taken from an Arktikum Museum wall plaque, "Finland is an Arctic country. Our Arctic nature is a unique and rich environment whose ever-changing climate also creates challenges for everyday life. It requires adapting, expertise and the development of new innovations." The same can be said of Alaska.
Mini Sleuth: Arctic Arts Summit, 2019, Arktikum Science Centre/ Museum, Rovaniemi Art Museum, Nordting (the Northern Assembly) and artists mentioned can be Googled.
Jean Bundy is a writer/painter in Anchorage