"In cities the darkness gobbled me up and spat me out,
my fears scuttled back and forth outside the door.
Now the first birds waken and peck among the fresh snow.
with a pink and icy whisper along her cheek."
- From "The Moving Out," by John Morgan
John Morgan is a New York City-born, University of Iowa-educated poet who moved to Fairbanks in 1976 to direct the creative writing program at the University of Alaska. His work has appeared in The New Yorker, Poetry, The Paris Review and others. Later this month, he will make an appearance via computer screen at a newly virtual Poetry Parley.
His connection with the monthly event came about by way of Cirque, an Anchorage-based literary journal founded in 2009 by poet Michael Burwell. Parley organizer Sandra Kleven is an editor for Cirque, which recently released its 10th Anniversary issue. She says that the attendance for the July Poetry Parley event was on par with in-person numbers, attracting 42 people on the online platform.
"We can also reach other regions and states," she said. "We could likely bring in a few 'famous' poets [...] but mainly, it's the Alaskans from out of town we could reach. This gives everyone more of an audience."
The downside, she says, is that the relationship with The Writer's Block developed over the past few years has been rewarding.
"We will be glad to return," she said. However, she believes extending literary events to a digital arena will continue on in the future to connect Alaskan writers. She has seen success in book launches during this period of social distancing, for example.
Poetry Parley is usually limited to those who can attend in Anchorage, but poet John Morgan was able to participate from Fairbanks because of the new virtual format. Like many local events, the Anchorage literary fixture moved online after the onset of COVID-19 restrictions in March. 
For the past few years, the free event has drawn a full house to the Writer's Block Bookstore and Cafe the third Wednesday of every month. Before finding a more permanent home, Parley popped up in different spaces around Anchorage for almost a decade.
The program works like this: A local writer signs up to read their own work as the featured poet for a given month; The featured poet also selects a 'poet of influence' which is shared with an informal group subscribed by email; Participants call dibs on poems by the poet of influence.
On the night of, the featured poet reads their own work for about a half hour, and a few from their selected poet of influence. After an intermission, participants share the stage one-by-one to share their selections. Past poets of influence have included William Shakespeare, Margaret Atwood and E.E. Cummings. Sometimes the selections trend a tad more obscure with selections from Birgit Begeen Kelly, Stephen Dunn, or Wisława Szymborska.
Their March programming, which was to feature Teri Cairns and poetry by Emily Dickinson, was rescheduled for June due to COVID-19, with fingers crossed. The group used their usual timeslot in May as a 'practice round' for Zoom video conferencing, with a poem to share in hand. From there, they were up and running again in a virtual space. In their next convening, Cairns finally got to share poems of her own in the Japanese form Haibun, which combines prose and haiku, after months of being on hold.
The use of Zoom in lieu of an in-person event opened up an opportunity for poets from other areas of Alaska to read, including Morgan.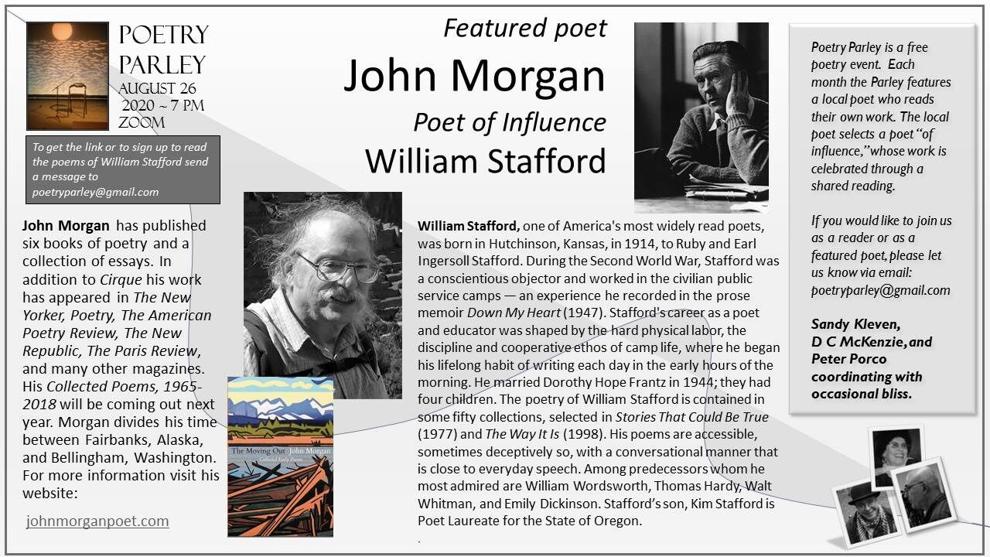 The pandemic hasn't affected his process much, he says, but it has shown up as subject matter. He also meets with a local writing group over Zoom, and has attended personal gatherings via video conferencing as well. While collaborative formats have changed, his writing process has stayed consistent.
"Following Stafford's advice, I get to my computer first thing in the morning, either working on older poems or starting a new one," Morgan said.
For Poetry Parley, Morgan selected Kansas-born William Stafford (1914-1993) as his poet of influence, who is known for his accessible language and pacifism. Perhaps the two are also connected by their alma mater, the University of Iowa, which is nationally recognized for its top-tier creative writing program.
From Stafford's poem "As Pippa Lilted":
Just wait a little more---
That's the right way for us:
There are still openings for reading selections from Stafford's work at the virtual event taking place on August 26th at 7 p.m. Looking ahead, September is Poetry Parley's 'open reading' month, in which multiple poets get the chance to share their own work. To get involved in either, email poetryparley@gmail.com.
Anchorage Public Library is hosting "Poetry Social" online August 13th & 27th, 6-7pm. anchoragelibrary.org
Governor's Arts and Humanities Awards will accept nominations through August 15th. akgovawards.org
Alaska Women Speak is accepting submissions with the theme "Sanctuary" until August 15th. alaskawomenspeak.org
Cirque Press presents The Way to Gaamaak Cove by Doug Pope and Loggers Don't Make Love by David Rowan on Zoom. August 25th at 6pm. Email cirquejournal@gmail.com for the link.
Alaska Writers' Guild Quarterly Writing Contest is accepting submissions until August 28th in its Childrens' Literature category. alaskawritersguild.com