Americans can be very generous when it comes to disaster relief, but can be selfish when it comes to paying higher taxes for social welfare.
The latest pandemic street-protests involve angry folks wanting to return to jobs without contemplating the possible deaths they will cause. On the other hand, relief money coming out of Washington has been slow or insufficient, and there are those out of work with no residual funds, not comprehensible to many. With broccoli the supermarket veggie this week (where has all the spinach gone?) and governors forming coalitions against the mercurial White House, this column looks at four American artists to not only find solace, but revisit U.S. wrong doings, ambiguities, power mongering — or maybe just our stupidity.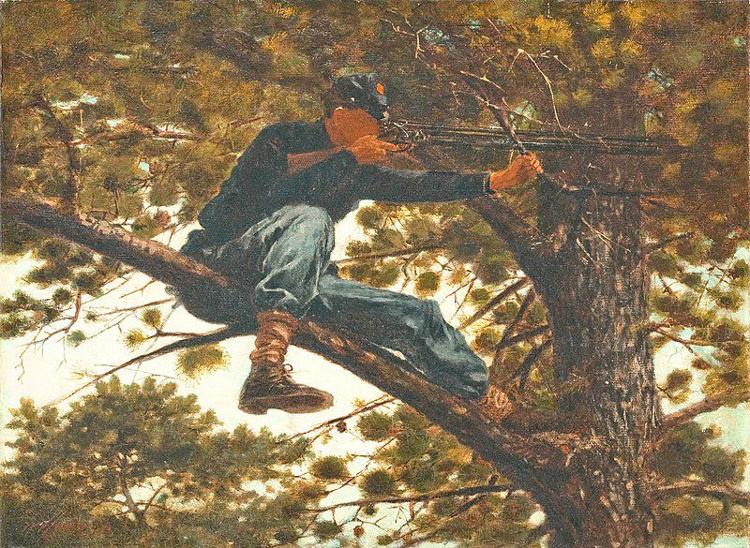 Winslow Homer (1836-1910) was a generational New Englander without much formal training. After taking a few classes at the National Academy of Design he became one of the best artists this country has produced. At one time he had a studio in New York, traveled and painted in Europe, Florida and the Caribbean, always returning to work on Boston's North Shore and on up to Maine, his final home/studio at Prouts Neck.
Homer's colors are rich, and his narratives classic, especially when working in black and white lithography. His greatest achievement was illustrating the Civil War for 'Harper's Weekly', which brought carnage of battle into velvety sofa'd Victorian parlors. 'The Sharpshooter on Picket Duty, 1863' depicts a Union soldier who was trained to hide in trees with the new-fangled rifle, which could kill up to a mile away (Confederates had these specialists, too). This picture resembles an image in a catalog that sold hunting duds, or a Field & Stream-esque gentleman's magazine advertising adventure vacationing.
In reality, this is an American killing in cold blood. I've been told the attire was actually an individual's hunting clothes, while others say these were elite uniforms modeled after sporting togs. Whatever the answer, the appearance of a hunter ambushing a farmer-neighbor puts an up-close-and-personal face on war more than anonymous soldiers lining up and shooting in unison.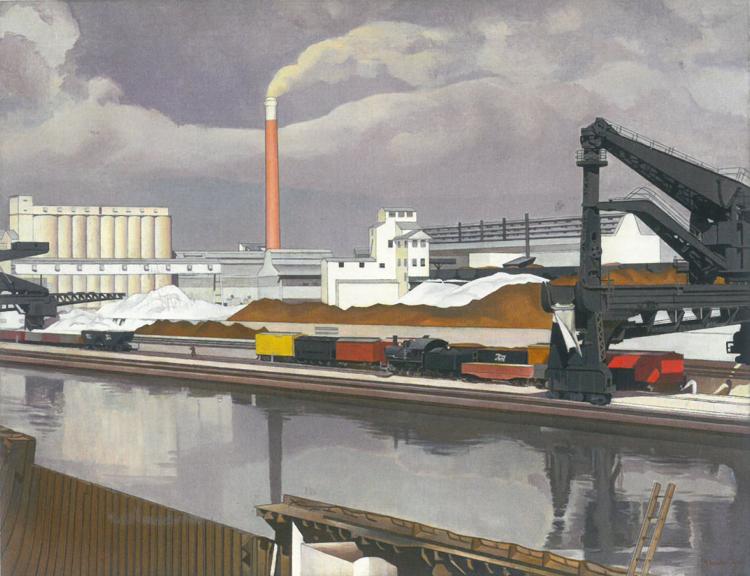 Charles Sheeler (1883-1965) was a painter/photographer from Philadelphia, who died in Dobbs Ferry on the Hudson. Like many European artists of his era, Sheeler was fascinated with capabilities of the machine age, especially after the devastation from World War I. Sheeler's shapes look as if they were made of metal, while his paint surfaces resemble industrial enamels — perhaps because he was hired by the Fords (Henry and Edsel) to photograph their new River Rouge 900 acre auto plant, in Dearborn, Michigan. The complex designed by Albert Kahn, still in use, was built between 1917 -1927 and made for building the Model A that replaced the Model T. Interestingly Sheeler was not allowed to get near assembly lines where thousands of workers fabricated all components on site, while harboring grievances.
The Fords were not the nicest bosses. Employee angst was building, as were coalescing unions. After the 1929 Crash, the Fords reduced their labor force and slashed wages. 'The Ford Massacre, 1932' from Detroit to Dearborn, began as a protest march of 3,000-5,000 workers demanding the company rehire the unemployed, provide benefits, end discriminatory hiring practices, and stop the use of factory spies. Tear gas and clubs to fire hoses and guns resulted in injuries and deaths, with Ford's security and the Dearborn police escaping all blame.
Finally, in 1941, Henry Ford signed a collective bargaining agreement with the United Auto Workers, as laborers were needed to make tanks and trucks for World War II. Sheeler's oil painting 'American Landscape, 1930' resembles an illustration from a children's book. The canal is crystal clear and white smoke rises from a stack above neat piles of materials unloaded from a colorful train, resembling a Lionel set.
Having a six-week contract to document River Rouge and the new model Lincoln must have seemed like being asked by St. Peter to photograph the heavens, especially at the onset of the Depression. Whether or not Sheeler was aware of the Fords' skullduggery, or cared, is unclear.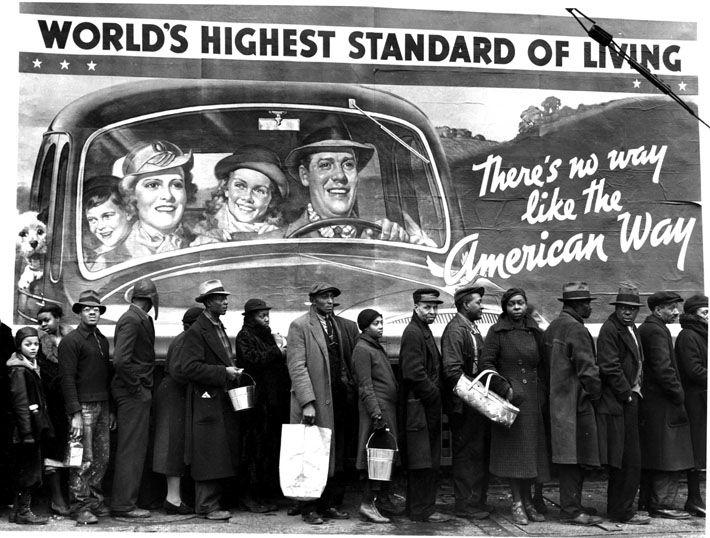 Photographer Margaret Bourke-White (1904-1971) documented the Depression, World War II and Korea, for 'Life Magazine'. Her iconic photograph, 'The Louisville Flood, 1937' shows a bread line of rundown African Americans beneath a billboard of a happy white family, complete with dog, all riding in a shiny new automobile. Ironic verbiage on photo: 'World's Highest Standard of Living' and 'There's no way like the American Way'. Since Covid-19, inequalities have once again surfaced. 'Shelter-in-place' has stressed some working class Americans suffering from lack of savings, while others are forced to keep working and thus are exposed to illness and possible death.
George Tooker (1920-2011) came from Brooklyn, went to Harvard and was a gay man in an intolerant time. 'The Subway, 1950' reveals a brightly lit super-clean station where riders appear suspicious of one another. This was post-war America of suspecting 'Communists under every bed'. The work breathes mistrust helped by the dropped ceiling compressing figures, making them more neurotic. A female, center stage, is wearing a red dress which not only stands out from the camel overcoats and olive railings, but suggests she could be a 'Red', aka a Communist, whom the populace needs to avoid. Today, with no cure for Coronavirus, and everyone being encouraged to wear masks in public, citizens have become more suspect of one another, as depicted in this painting from another era. Our angst and mistrust: "why aren't you wearing a mask; your coughing will make me sick; the government's lifting of sheltering-in-place will cause more illness; the virus will return next winter with vengeance!" Let's hope this Pandemic will make us kindlier, gentler and eliminate the social insensitivity found in these four works… Nah!
Mini Sleuth: 'Sharpshooter' is at Portland Museum of Art; 'American Landscape' at MoMA; 'Subway' and 'Louisville Flood' at Whitney.
Jean Bundy is the AICA-INT Climate Change Envoy.