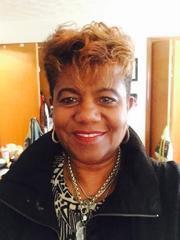 Acrylic painter Vonnie Gaither has been a resident citizen of the Last Frontier since the summer solstice of 1970. The mother and inner city public school guidance counselor has a storied career spanning well over 20 years at Bartlett and East High Schools.
I met with the Maryland native recently over Americanos and as I interviewed Vonnie I felt an overwhelming sentiment of gratitude and developed a genuine respect for her body of work. The topics of civil rights, parenthood and contemporary art inspired by a middle-aged victim of police brutality captured in her piece 'The Mourning' were discussed for a memorable autobiographical questionnaire.
Her pieces were scheduled to be part of the First Friday exhibit this month at the Red Chair Cafe, but Covid-19 put the kibosh on those plans. Her work is available for purchase though Fine Art Alaska at www.fineartalaska.com.
How would you describe your illustrative style of artesian painting in five words?
The unique contemporary artesian painting style I have coined, by myself, is described by the following descriptive adjectives of artistic expression: Self personification, emotional, outgoing, vibrant, while exhibiting artistic contemporary artistic freedom.
What was the Creative inspiration for the Mystical Fireweed and Yellow Pot Acrylic Contemporary Art paintings?
The creative inspiration behind the Yellow Pot & Mystical Fireweed paintings I have painstakingly cultivated essentially highlights the deep appreciation I have for nature and life. I have a deep fondness for natural beauty riddled throughout our scenic environment.
How long have you exhibited Contemporary Art paintings? What has been your motivation as a female canvas artist to continue your artistic recreational pastime of personal enjoyment?
I have painted all of my life exhibiting a variety of unconventional methods with household items and materials. I have possessed a personal longing — or calling — to paint for all of my existence. The art canvas calls me and I enthusiastically labor unto illustrative displays.
What illustrative painting techniques are prevalent in your canvas art paintings?
I have an acrylic painting infused with a contemporary artistry style. The contemporary artistry style I flaunt openly centers in colors — the entire color spectrum radiating the optical sights of the consumer of artistry adoration.
Have you ever participated in a First Friday Art Exhibit in Alaska?
The first Art Exhibit I participated in was at Blaine's Art Gallery of Anchorage of Alaska. I was displayed at Nordstrom, Uncle Leroy's Coffee (eastside), Mini dealership of Anchorage, The Red Chair of downtown Anchorage. I have also participated in First Friday Art Exhibits outside the Alaska in Philadelphia, The Village Coffee of Portland and The Ninth Life Gallery of St. Thomas in the Virgin Islands.
What are your long term goals as a painter?
I want to become an admired contemporary art painter nationally and internationally. I also want to continue to be an accessible contemporary art painter to a wide array of canvas art portrait clientele.