Blue Chair Productions is a breath of fresh air in the Anchorage theatre community. Each production company and black box theatre group has their own vibe and style, and it seems the Blue Chair has cornered the market on thoughtful and emotional entertainment. In their newest production, Ugly Lies the Bone, written by Lindsey Ferrentino and directed by Ryan Buen, the audience is taken on a journey exploring the world of a soldier that has returned from her third tour of Afghanistan but must enter a world where she is still constantly at war.
Newly discharged soldier Jess has finally returned to her Florida hometown. She brings with her not only vivid memories of Afghanistan, but painful burns that have left her physically and emotionally scarred. Jess soon realizes that things at home have changed even more than she has. Through the use of virtual reality video game therapy, she builds a breathtaking new world where she can escape her pain. As Jess advances farther in the game, she begins to restore her relationships, her life, and, slowly, herself.
The very simple set did not change during the 90-minute production, and it did not need to. The use of four projectors made changes in location seamless and kept the production engaging and interesting. Projection designer Ryan Anderson made this possible, and he continues to be a great asset to the arts community in this town. Costumes by Brighton Coggins and makeup design by Erin Dagon Mitchell and assistant Olivia Carman were also very helpful in bringing this story to life.
Colby Bleicher as Jess has delivered a performance in this piece that needs to be studied. The pain that she shows on stage is authentic in every way. Convincing an audience that you are in physical pain constantly is not an easy feat and Bleicher succeeds with every movement. To convince a viewer that you are also tortured mentally is even more difficult because it cannot be done with body movement, but again this actress convinced all spectators of the truth of the character.
The person that I brought to the show with me has been to Afghanistan and also lived through many of the things that this character experienced and remarked that he felt like he saw himself in the performance. Bleicher should count this among some of the best work she has ever done. From the dry, sarcastic one-liner that she delivered to the loud, emotional angry moments, each word was delivered from the center of her being. Her performance was captivating and heartbreaking. She hardly leaves the stage and stays in character the entire time. I wish that I had more space to talk about how impressed I was with her work, but I know that I will never miss another moment of seeing this artist on stage.
With a performer as strong as Bleicher the rest of the cast needed to be able to deliver equally evocative performances, and they all delivered in the best way. The character of Kacie, the sister of Jess, was played by Stephanie Leigh with a fragile strength that is beautiful. While her character annoyed me at first, she brought me in deeper with each revelation. I understood her journey and it also rang true.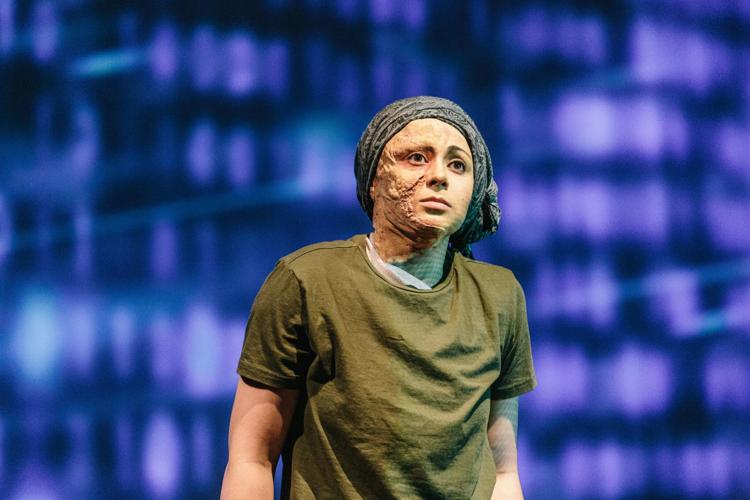 Each of the characters reveals more of themselves through the show similar to how we view people in our everyday lives. The most apparent of these changes happen as we get to know the two men in each of the women's lives. Stevie is the ex-boyfriend of Jess who starts appearing as socially awkward and inept until we discover that his war is settling for someone that is not the person that he actually wants to be with. Jesse Alleva is charming and sweet and is the perfect person to play the gas station clerk that has never lost a torch for his first love. Kelvin, boyfriend of Kacie, played by Kevin Keith, is entirely unlikeable from the first moment that we see him on stage. Character choices like talking with his mouth full, talking over people, and being obnoxious create a persona that most people would find intolerable, and it is easy to understand why Jess does not trust him. There is a visible character arc the further the audience went into the performance and by the end we understand why Kacie would choose this person to be her partner.
The final character in this ensemble piece is never seen. It is the voice of the therapist who helps Jess with her virtual reality therapy is Kimberly LeClair and I was thoroughly impressed with her voice over ability. She conveyed emotion and empathy through just her vocal work and her tone was beautiful the entire time.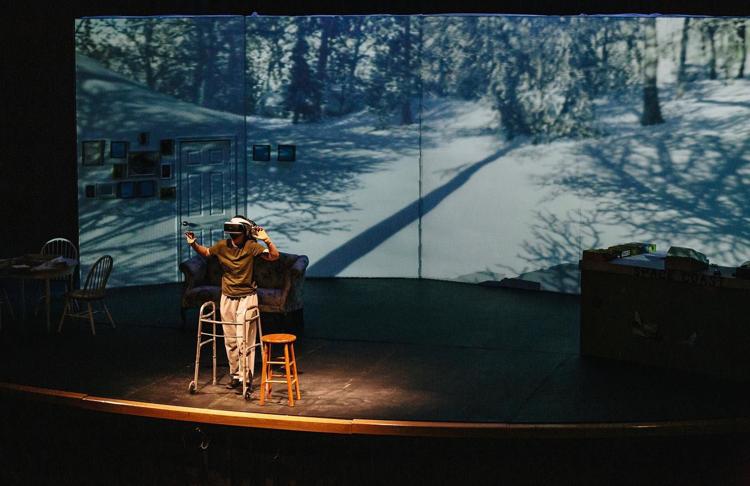 Ryan Buen took on the mantle of not only director, but also lighting and sound design for Ugly Lies the Bone and it is clear that he executed his vision completely. With assistance from Anderson on projections, he created a world for his characters that existed at a tangible level. His choice of actors and the performances that he pulled out of each of them needs to be commended. I, for one, am very excited to see what else comes from his endeavors.
This play was a bold choice from Blue Chair productions but also extremely topical and needed. Trauma is a constant conversation in many circles, and I am sure that this production caused many who viewed it to confront memories and emotions from their past. This is what good art should do. It should be created from deep feelings and inspire them in those that view it.
Blue Chair Productions has carved out a needed space for themselves in the world of performance and I am grateful to be able to view their work.